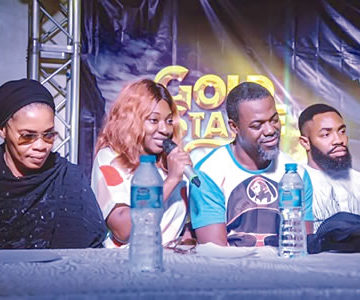 Those who are close to popular actress, Remi Surutu, would have noticed that she has been grieving for weeks over the passing of her daughter, Ileriayo, who many people described as loving and peaceful.
Ileriayo was said to have died of sickle cell anaemia at the age of 23 and her death left her mum, Surutu, in a state of grief. Surutu, R gathered, will now star in a new movie that would also parade popular actors and actresses such as Richard Mofe-Damijo, Alibaba, Sola Sobowale, among others.
The star-studded movie, Gold Statue, produced by Tade Ogidan is currently being filmed at different locations in Lagos, Osun, Ogun, Dubai and London.
It is seven years since Ogidan's his last film, Family on Fire, and the hard working movie director is back at his best to entertain his fans.
The movie parades Richard Mofe Damijo, Alibaba Akporobome, Sola Sobowale, Gabriel Afolayan, Kunle Remi, Rycardo Agbor, Kelvin Ikeduba, Remi Surutu, Olakunle Fawole, Segun Arinze, Francis Onwuchie, Norbert Young, Tina Mba, Bisola Aiyeola, Yvonne Jegede, Etinosa Idemudia, Judith Audu, Greg Ojefua, Kenny Blaq, Kingsley Aroole, and a host of others.
Gold Statue is a comedy adventure drama that follows the adventure of two young men, Wale (Gabriel Afolayan) and Chike (Kunle Remi) in search of a 'Gold Statue' believed to have been a deity inherited by his generation. In trying to locate where the supposed Gold Statue, they have to go through a series of unimaginable ordeal, put themselves through some ridiculous painful situations that left their parents shocked, but the question remains, is there really a 'Gold Statue' or is it a myth?