We.Share empowers over 200 women, children in Lagos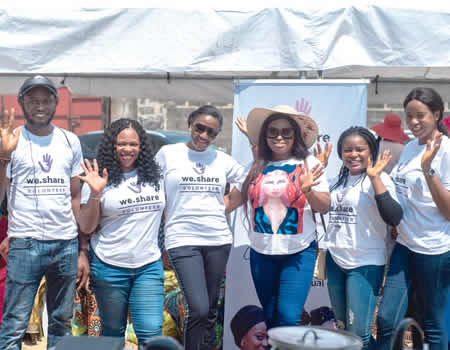 We.Share Foundation recently organised a vocational training for over 200 women and children in Lekki community and environs in commemoration of the 2020 International Women's Day. The initiative was part of the non-government organisation's drive to empower more women and to further advocate for gender equality in the society.
According to the founder of We.Share Foundation, Mrs Taibat Amzat, "the story of women's struggle for equality belongs to no single feminist or to any one organization but to the collective efforts of all who care about human rights."
Mrs Amzat urged the beneficiaries to take the vocational training as serious as possible as it would liberate them from living below the poverty line and empower them to provide for their needs. She also promised that after the training, the most serious and dedicated women would be empowered with their respective training tools to start work as soon as possible.
ALSO READ: FG Reduces Petrol Price To N130 From N145
International Women's Day (IWD) is celebrated on March 8 every year. In different regions, the focus of the celebrations ranges from general celebration of respect, appreciation, and love towards women to a celebration for women's economic, political, and social accomplishments and empowerment.
The women were encouraged to worry less about getting white-collar jobs, as not all of them will be opportune to work in a corporate organization. We.Share foundation promised to provide vocational training for them, so that every one of them can afford to cater to their various needs. Implements are expected to be made available for the women at the end of the training.
A vocational skill's trainer from Iru Local Council Development Area, Mr Banjo further emphasized empowerment which he said is referred to as the worldwide cause of equality.
Coronavirus: Ekiti Govt Confirms Outbreak Of Virus
The Ekiti government, on Wednesday, confirmed that a 38-year man from the state has tested positive for the deadly Coronavirus. The state Commissioner for Health, Dr Mojisola Yaya Kolade, in a statement made available to Tribune Online, said that the victim contracted the virus while driving an American who visited… Read full story