A civil society organisation, "Benue Coalition Against Rape" on Tuesday thronged the major streets of Otukpo, the trado-political seat of Idoma land, Benue South senatorial district to protest against the rise in rape cases in the area.
The protesters who commenced the peaceful protest from railway crossing in Otukpo passed through the Area Police Command, Local government secretariat and terminated at the Ochi'doma palace with protest letters which they submitted in all the points.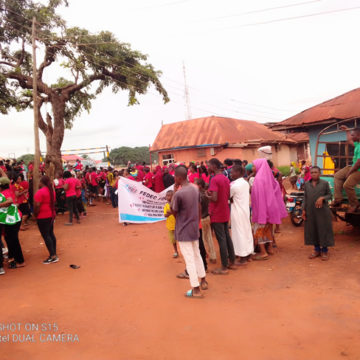 The protesters carried placards with various inscriptions, some read,  "We say no to rape, "All it takes for evil to succeed is for good people to do nothing, "rape victims must get justice" and host of others.
Addressing the protesters, the convener, Yemi Itodo said that the senatorial district had recorded eight rape cases within the last week.
While he decried the increase in rape cases in the senatorial district, Itodo called for serious punishment against rapists in the society which he said could serve as a deterrent to whoever may be nursing such evils.
Also speaking, the convener of Restorer Path Care Foundation group, Evangelist Enuwa Soo who corroborated the convener regretted that the zone had recorded eight rape cases within a week.
"It is very disheartening to say that rape cases have taken over our society, the Idomaland has recorded eight cases in the last week.
She said that the protest was to create awareness among the people, particularly the male children that rape is evil.
She who called for quick justice for rape victims appealed to the government to come out with stiffer punishment for rapists.
YOU SHOULD NOT MISS THESE HEADLINES FROM NIGERIAN TRIBUNE
Nigeria Records 573 New COVID-19 Cases, Total Now 16,658
The Nigeria Centre for Disease Control (NCDC) has announced 573 confirmed new coronavirus cases in the country on Sunday. This brings the total number of confirmed cases to 16,658…Read Full Story