We have no connection with ISWAP to disrupt elections, Shiites tell DSS
•As movement resumes protest in Abuja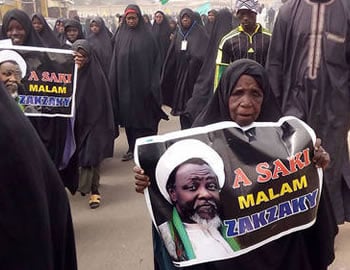 MEMEBERS of the Academic Forum of the Islamic Movement of Nigeria (IMN), on Tuesday in Abuja, resumed their daily protest against the prolonged detention of Sheik Ibrahim El-Zakzaky and his wife, just as the forum denied allegation of working with members of the Islamic State West Africa Province (ISWAP) to disrupt the forthcoming elections in Nigeria.
The forum's secretary, Abdullahi Muhammed Musa, who spoke with the Tribune Online during the protest, said the movement was reliably gathered that the Department of State Services (DSS) was planning to fabricate another lie against the group ahead of February 16, Presidential election.
According to him: "we learnt that the DSS has dispatched letter to Chief of Defence Staff; Chief of Army Staff; Chief of Naval Staff; Chief of Air Staff; Inspector General of Police (IGP); Chief of Defence Intelligence, Defence Intelligence Agency; National Security Adviser and Chief of Staff to the president that the movement is planning a massive violent protest in league with ISWAP to disrupt the coming elections.
ALSO READ: Between Marshal Badeh and Marshal Zhukov
"We have gotten a copy of the paper and distributed it to the people, from one lie to another, they want to cause violence in Nigeria and they want to use us and we will not agree because it will not work.
"For the past 40 years in Nigeria, there was never a record of violence in this movement. We have not been causing violence, we are only protesting. We remain peaceful. So, why should we be violent now? In 2018, they killed 52 members of the movement because they came out to protest against the illegal detention of Sheik here in Abuja, and we never took any law in our hands after that, so is it because they want to conduct 2019 elections that we are now going to disrupt it? He denied.
He, therefore, advised the Federal Government to free their leader, his wife and other captives, saying violating their fundamental right would not be accepted.