We didn't promise that we would deliver in 12 months —Senator Tela, Bauchi Dep. Gov
Deputy Governor of Bauchi State, Senator Baba Tela, in this interview by ISHOLA MICHAEL, speaks on how he has been working with Governor Bala Mohammed Abdulkadir to justify the confidence of the people of Bauchi State in their Peoples Democratic Party (PDP) administration and a number of other issues in the state government. Excerpts: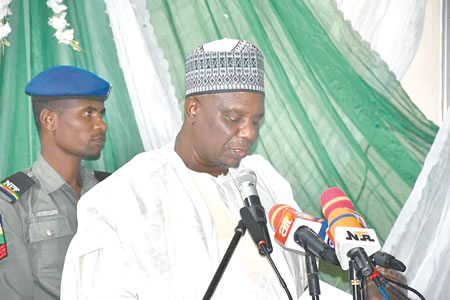 Your Excellency, you have just won the legal battle that ensued after your election, at the Supreme Court. Everything is now left for you to prove that the choice made by the people of Bauchi State is not in vain. How prepared are you to justify that?
That is possible and even before the Supreme Court judgment, we were not unaware of the daunting task ahead of us because, whether you are confirmed by the Supreme Court or not, you must have a programme to deliver to your people. We have always been prepared as to how we will be able to deliver dividends of democracy to the people of Bauchi State. What the Supreme Court judgment did to us was to reinforce us and give us the wherewithal to now go ahead and implement our programmes the way we see or deem it fit. What I mean here is that for example, if you have a programme that is going to run for about a year or two years, it doesn't mean that we will not start it, we might have started it already but we will need time to be able to complete the program. So, what this judgment did to us is to give us the courage to say okay, now the programme that we have started three months ago that is going to last a year or two years, we will now go and finish it up. So I will without any fear of contradiction say that the Supreme Court judgment has given us the wherewithal, the encouragement to deliver those dividends that we have already started doing to the people of Bauchi State. It is not easy and you can see that even after the judgment in Abuja the way people received that judgment it was almost 7 o'clock in the evening but it was like you were in Bauchi because of the number of people from Bauchi who were concerned that trooped to Abuja in solidarity with us and again when his Excellency came back to Bauchi on Tuesday you can see that it took us almost five hours from the airport to reach the Government House, this shows the love of Bauchi people towards us and then it gives you, that you have to sit down and really do something that is going to justify the love and the confidence that the people gave you we are prepared to do it and we will do it by the grace of God.
Now that the battle has been won and lost, do you have an open hand to the opposition?
I don't understand what you mean by won and lost, I thought you will talk to me from my own point. From my own perspective, we have won the battle. I am not aware of any loss, that is not in my own perspective. In any case, my Governor was very clear after the judgment and in his press conference on the relationship that he wants to have with opposition or the losers as you said. So I think his position is very clear about that and I don't differ from that position.
Deputy governors are referred to in some instances as 'spare tyres'. Are you a spare tyre?
Well, it depends on the way you put things to any person, I mean it doesn't mean that a spare tyre does not have its own role. Have a puncture at the middle of the night and 120 kilometers away from town then you will know the importance of a spare tyre. So it's not like spare tyres don't have their own function, they do have. However, I am not a spare tyre, I have specific roles and the constitution is very clear about the roles of a deputy governor in the running of the state or in the running of the country. So, I think we should stick to the constitution and when we stick to it we will not have any problem.
What is the relationship between you and the Governor, both personal and official?
My personal relationship with him is personal, based on what you said, personal.
But how is it?
I don't have to say how my personal relationship with him is but my official relationship with him is that I don't have any issue with him.
Both of you were once in the Senate. Now you are the deputy governor and he is the governor. How do you relate sir?
We related as Senators and we relate now as Governor and Deputy Governor and it may even interest you to know that I was in the Senate before my Governor. He always gave me that respect as a ranking Senator and I appreciated it, but he is the Governor and I respect his position as the Governor and I know that he is the Governor.
What is his leadership style and how have you been able to work together as governor and deputy governor?
Excellent. If you had followed him even from the FCT, you will know that he is a very pragmatic leader and he is all-encompassing, he carries everybody along. In fact he doesn't take decisions alone. He always calls people, asks for your opinion and then if you have, even if he has taken a decision and you have a superior point to his own, he will always go with you. He will apologise to you and then go with your opinion.
Sir, former Governor Isa Yuguda contested and won in the opposition then and later defected to the PDP, the ruling party at the top at that time. Are you and your principal thinking along that line, possibly joining the APC because the assumption is that once you are with the ruling party you will enjoy more federal presence for your state?
I will disappoint you in that because my own style of politics is that I don't speculate. I don't speculate and I don't allow people to speculate for me. When a thing comes that is the time we are going to do it; but I don't speculate that this one is following this or this one is following that one. In politics, no, I don't do that, that's my own style of politics.
Just like you confirmed, people came to welcome you when you arrived from Abuja after the Supreme Court judgement and there is so much expectation. What will be your own expectation from the people of Bauchi State?
The people of Bauchi State have done so much for us. Any time you drive around even in Bauchi town for example or in Azare town with the governor, in the evening or you are going somewhere or to an official function or even to a social function, a mammoth crowd of people will always come out to salute you, to cheer you. The people have done everything for us. It is now left for us to deliver to them. Of course we have challenges: financial, administrative, everything but we have to face it headlong. That is leadership; we have to find a way of overcoming those challenges as leaders. That is leadership. If you cannot do it then you are not a leader.
How prepared and optimistic are you to be able to deliver the dividend of democracy to the people given the several promises you have made during your electioneering campaigns and the lean resources available to you?
It is not like we made promises that we will deliver in 12 months. We made promises that we hope to deliver within the period that we are in office; that is from zero month to 48 months. So we made a lot of promises, yes, but they are not tied to just one or two years or three years. That's why we are taking them gradually based on the needs of our people
Do you think you can deliver?
We hope to, we hope to deliver within the period.
What are some of your challenges? 
You know them now. Finances, I mean the Internally Generated Revenue (IGR) is very low and you have to be able to raise the IGR and without that having negative impact on the economic condition of the people. The IGR is a very low yet you have to generate revenue internally without much burden on the people. We have a lot of deductions from the Federal Government so you have to be able to manage what you have so that with that little that is coming to you, you can deliver on your promises to the people.