We are promoting culture in rural, urban ways —Seraphina Nwankwo of Imisi Gallery
Seraphina Nwankwo, a graduate of Educational Planning and Management from South America University affiliated with Joint Professional Training and Support (JPTS), is the Chief Executive Officer (CEO) of Imisi Gallery. In this interview with TAYO GESINDE, she speaks about her foray into the world of tie and dye and what she hopes to achieve with her designs.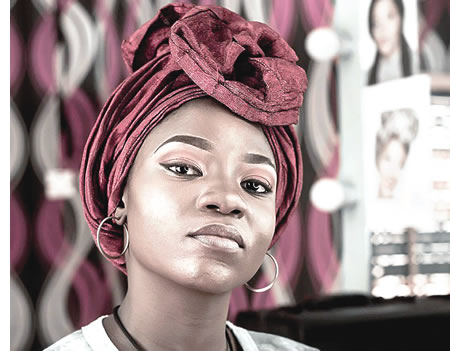 Background
I am the first of the family of six. I have three siblings, two boys and a girl.  I was born into a Christian family. My parents,  Mr. and Mrs. Nwankwo, are both entrepreneurs and I think I took after them in that regard. We are Igbo.
When and how did you get into the tie and dye business?
Right from my childhood, I loved culture and artistic works but I didn't study anything that has to do with that. However, when   the opportunity came, I registered for the training.  After the training, I decided to go into the business. It has been two years since I started the business.
How did you come about the name Imisi?
That is actually the name I intend to give my child.  Imisi means Inspiration. All our designs and colours are God inspired and that is why our slogan is "Coat of many colours." This was as a result of the fact that all the different colours we have, all have their biblical meanings and they contribute to our personalities. For instance, everyone knows that the colour blue stands for love and peace but the biblical meaning of this colour is the presence of God. It also means the word of God and authority. And that is why the sky is blue. Colour Yellow to many people means to be  cheerful or be  optimistic but biblically it is associated with purging and trials. That is where we have the Holy Spirit coming in. Ordinarily, colour Green means growth and fertility but its biblical meaning is immortality.
What were the challenges you faced when you started Imisi?
The first one which every entrepreneur will point out is finance, capital generally. The second is the fear of upholding my passion and having to sponsor it all by myself through God's grace. Another challenge I faced was family, especially how to get my parents to support my dream but now the story is different.
How has the journey been since you started two years ago?
It has been great, interesting and smooth.
 What distinguishes your clothes from the ones sold in the market?
We are more of a modern style and design. We make urban adire wear. We are more civilised and fashionable.  We make adire jeans, sweatshirts, head warmers, skirts, bedspread and pillow case. Basically, we are trying to promote culture in the rural and urban ways. Our designs are quite affordable. Our designs are tailored to meet each customer's need.
Who are your role models in the fashion industry?
I admire "Adire Lounge" and "Melià by Jade"
Where do you get inspiration for your designs?
From my surroundings, nature and colours
What other things do you do aside your tie and dye business?
I am also a make-up artist, a hair stylist and a singer.
Which do you enjoy most, make up, hair styling, singing or adire making and why?
I enjoy adire making more because, it allows me  to express the mind of God as each colour I work with has a biblical meaning. This has helped me to be more creative with my colour combinations before processing the work. For example, since Red signifies "Flesh", it helps me see deeper into the heart of the designs, so I could make a design that would depict the meaning of the colour. So I spend more time on the making and designing  of my adires more than on my other potentials
Where do you see your business in five years time?
In five years time, I see Imisi as a household name both in Nigeria and on the international fashion scene, as well as a source of income for my country.
What advice do you have for the youth?
Trust God, work hard, pray hard, invest in people, believe in yourself, and stay away from negative minded people and mediocres. Always add extra to what you know. That's what makes you extraordinary.