We all lied about our ages in primary school so as to be admitted —Folayan
Joseph Ibikunle Folayan is the first civil engineer in the Northern part of the country. In the last 34 years, he has directed over 600 projects in the geotechnical, agricultural, transportation, housing and environmental engineering for both the public and private sectors. In this interview with SYLVESTER OKORUWA and SEGUN KASALI, he speaks of his life.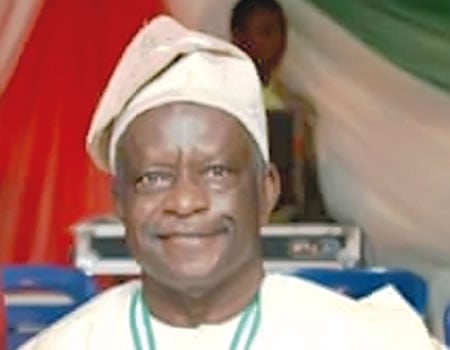 WE hear there was not a single graduate when you finished elementary school in your area
Growing up in Oro, Kwara State, was a challenging experience. We were encouraged to live as young men and to struggle to make it in life. We were sent to schools and there was a healthy rivalry and struggle to make it. Oro community had a neighbourhood called Isie. By the time I graduated from elementary school in 1953, there was not a single graduate in that area. Even in the whole of Kwara, I was not sure there were university graduates. There were not many who finished elementary school. So, there was the struggle to pass examinations and to be selected to the few secondary schools. In the whole of Kwara by 1952/53, there were only two or three secondary schools. It was a struggle to be admitted each year.
What was the motivation?
I was trying to honour my father. He was one of the church leaders of that time and he represented my church at the diocese in Ibadan. Therefore, he was able to mix with the Ijebu, Ijesa and Egba. He valued education and made sure he sent us all to school. Then, if you got to secondary school, which was called G4, you got a job automatically either in a federal establishment, railway or any other. My father never went to school, but we wanted to be educated and we did our best. Luckily, two or three others were admitted into secondary school. My father interacted with educated men who sent their children to schools and he wanted to send his children to school too.
Your case wasn't the same?
I don't know why. I am who I am by the grace of God because I can't sit down here and tell you what I don't know. My elder brother, who is four years older, was asked to repeat the class I was in primary school. That was the last day he came to school. So, how should I be telling you that I was smart and all that? Again, education was not the in-thing then, but our generation and our parents did whatever they could to pay school fees and encourage the children. Very few people  even made it to primary six. Even among those who completed it, very few were able to make it to secondary schools because of the few number of secondary schools then.
You must be a genius…
I am not a brilliant person but I am a hardworking person. I had often told my children that while I was in secondary school, there were 30 of us admitted to Form One in 1954. About five or six of them were more brilliant than me. There was a boy who was very brilliant. If he spent one hour to study, I would spend five hours to make sure he did not beat me. In the first year, I was one of the best, but by the end of the first year, I was among the top two in almost every subject. So, this was possible through hard work and the grace of God. I was among the youngest three in my class. Everybody reduced their ages. At Mission School which I attended, it was stated that if you were more than 14, you could not be admitted. Practically, all of us lied except two or three. For you to be 14 years in 1954, you had to be born in 1940 or 1941. I was born in 1938, but I said I was born in 1941 so that I could be admitted.
Was that common then?
That was in the school I went to in the North. And yes, in the West here, there was no problem if 14 would start secondary school.
Why the difference?
This is because education wasn't important. You would go to the farm. The advantage of having a boy child is to be in the farm so that your father's farm would be bigger. Again, by the nature of the children growing up then, you attended an elementary school and spent nine years there. We were more than 14 when we began. In secondary schools at that time, you spent six years. Then, later on, it became five. Then, by the time my children were growing up, the Ministry of Education said it would be six years again!
What sacrifices did your father make to send his children to school?
He wanted his children, his extended family and those close to him to succeed. He gave his resources to support those who traded and were into business. No amount of money was too big for him to spend on anyone who wanted to go to school. He did not get those material things his friends had.
How about your mother?
Her Christian faith wasn't as strong as my father's, but she was with him all through his struggles. She never attempted to read or write because of her parents. However, I never bothered to ask whether they were married before or after my father learnt to read and write. My mother loved me and I loved her. I had stomachache while I was growing up and ate peppery food then, not knowing that I had done some damage to my intestine. When I was leaving home in 1954 for secondary school, she cried because she was worried about my condition. I got a scholarship to study at the University of Southern California in the United States for my first degree and I went to Stanford for second degree. Every Independence Day celebration on October 1 was fun. In 1967 in Berkeley, one of the students brought akara and moinmoin that had pepper which we all gladly shared to celebrate but when I went back to campus, I had severe stomachache. I went to Stanford Teaching Hospital and after all the necessary tests were carried out, I was told that I had no ulcer. When I told the doctor that I ate bean cake with hot pepper, he said pepper was a stimulant with no nutritional value and that I stayed away from it. From that day, I stayed away from pepper and the frequent stomachache stopped. In 1957, I arrived home on holiday and my mother was sick. I had to take her to a Missionary Hospital in Egbe. When I got there, I was told she had tuberculosis and she was treated. But when I was leaving the country in 1962, the tuberculosis relapsed and my mother died in 1967.
Life after school
I came back after graduation in the US. You had to study History even though you studied Engineering. You had to do Sports before you are able to graduate with B.Sc in electrical, civil or mechanical engineering in the school I went to. So, in the course of studying American history to get a B.Sc in Engineering, I learnt that America wasn't a beautiful, prosperous nation that I met it and I made up my mind to come back to Nigeria because I believe it was God that sent me there.
What happened sir?
When I was there, I made up my mind I would come back home. When I got my doctorate, the automatic thing was that I would be lecturing in the university. Coming from the north, I applied to the Ahmadu Bello University, Zaria, telling them that I am from Kwara and I had my doctorate in Civil Engineering, becoming the first civil engineer in the whole North. My letter got to Professor Ishaya Audu, who was the vice-chancellor and within seven days, I got a reply asking me to send my documents so that they would send flight ticket to me to come back home. There was a company in the United States that sent a Jewish to interview us in order to be employed in their organisation. After the interview, I got a letter of employment. I later resigned from the place I was doing a part-time job. The manager was quite surprised and I told him that people made America what it was and that I would join the people that would make Nigeria great. He said they had wanted to open an office in Nigeria, asking me if they could open office in Nigeria after the Civil War. To cut the story short, I accepted the offer to come with them to Nigeria to open a consulting firm and Progress Engineers and so, I found myself here since 1971.
There must be challenges
There were many challenges. From that time up till today, Nigerians believe whites are superior and better. Only white people used to provide the type of services that I was offered. Number two is that I had no professional senior colleagues. But for the grace of God, we were favoured with landmark projects at Progress Engineers. You should know what I mean when you are to offer service to Shell then. For Shell, you had to be shortlisted and the shortlisting was rigorous. We were shortlisted and this guy had been doing this job for Shell for 10 years and then we were reduced to three – Foundation Engineering, Progress and IGL. IGL is Dutch owned, Foundation is British while Progress is an American returnee. So, the IGL wanted to retain it and went behind to send a quotation and that Foundation and I should submit with an MoU that our quotation would be higher than its own. It would get the job but give us five per cent and it is a three-year project, meaning that we would be doing it for every three years. I felt it was an insult in my own country for a white person to ask me to come and take money so that he can get the job. We later did our bid and we did it at less than 50 per cent. To cut the long story short, we got the job for 10 years
Why were you given the nickname bookworm?
Because I would read for six hours what someone else would read for two hours.
You got this in primary school?
I got it in secondary school. They used to call me 'omoonle' because I never socialised. I was always staying at home. At secondary school, they named me bookworm. At the professional level, they call me ethics man and doyen of consulting engineering.
When did you meet your wife?
I met the lady in 1960. We grew up as friends and I thought she was going to be my future partner. In 1956, the principal of the missionary school preached and it was a male school then. The principal said it was not too early for us to pray to God to prepare our future partners for us so that we would be able to establish a home that will be set on the rock. So I said Lord, prepare me for my future partner but let her be Mary and not quite long, she and I started writing letters. Her photographs were always on my table for the first four years I spent in the United States. I was doing my Masters at Stanford and a classmate, Dele Oderinlo, who is now late, said we should attend a birthday party in San Francisco. I said I was not going because I had homework to do. We had an argument and I eventually agreed. As soon as we got to the party, my eyes were locked on this lady and we exchanged telephone numbers. Though I already had someone I had been writing letters to in Nigeria and I had been in the US for four years with no one, I came to Nigeria with the lady. When we got home, my father, who prayed a lot, didn't say if I should marry her or not. But, it was obvious that God had prepared her for me and prepared me for her. I met the other lady 42 years after in 2013 in Nigeria. She asked me why I dumped her. I was unable to respond. However, we are very close friends till today.