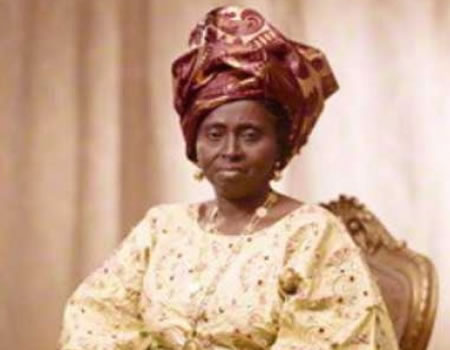 PUNCTUALITY, THE "DISEASE" OF THE conscientious, was still "tormenting" HID at 99. Almost nine decades of "setting forth at dawn" and more than eight decades of unceasing diligence had instilled in her an acute commitment to promptness that could not be dulled by physical feebleness.  Even when the old lady – described by Nigeria's leading satirist and emeritus professor, Olatunji Dare, as an "exceptional matriarch, model and monument" – no longer had a rigorous daily routine in her twilight years, she still woke up early and readied herself for visitors timeously. The process of getting ready took time, tough, as HID's careers were meticulous and understandably patient in recognition of what the Saint Lucian poet,  playwright, and  Noble laureate, Derek Walcott, calls "the bearable truth of old age" which begets "cloud shadows racing the slopes….."
Tokunbo Awolowo Dosumu: "She was in high spirit before she left us and didn't give us room to suspect the contrary as she kept praying for us. Whether she had a premonition about her death, we will never know for sure as she kept singing and praising God. It was her voice of prayer that we heard last. That moment was huge and we are glad to receive her final blessings…."
This day, September 19, 2015, the matriarch was hosting members of her extended family, the Ligu-Ogbodo-Adebowale lineage in Ikenne. She had not attended their meeting for a while. But this day, she decided to host them. And the good host and punctual grand old lady was seated by eight in the morning in anticipation of the arrival of her relations. The younger relations were not as punctual. While complaining about their lateness, she noticed something.
"Is this a cheap or expensive slippers?" HID asked her personal assistant, Esther.
She answered that it was a "cheap" one.
"How much does it cost?"
"Two thousand naira".
"May be you will buy one for me", the matriarch joked.
Esther laughed while promising to do so.
As some of the guests started arriving, HID's oldest granddaughter, Funke also came into the living room. She was in Ikenne to attend a separate meeting – the meeting of the children and grandchildren, in preparation for their matriarch's centennial celebrations. The meeting, a few of which had been held in the recent past, was to hold at Efunyela Hall within the premises. HID asked Funke and Esther to help tie her headgear. They obliged her.
Even in her twilight, with the physical devastating toll that age had extracted, she still cared about her appearance and those of others around her, particularly young ladies……
Babachir David Lawal, Secretary to the Federal Government: "I was with the President when the Vice President broke the news of our mother's transition and you could see from the President's countenance that he was disturbed. As believers, we believe death is the beginning of good things to come and we are consoled by the fact that we know our mother, our grandmother, our great grandmother, our sister, our aunt….has gone to be with the Lord. Therefore, having reached a ripe age, we only can celebrate and thank God for her life, we are not supposed to mourn…. We have this to say that Mama had lived a fulfilled life. Mama fulfilled the saying that "behind a successful man, there is a successful, strong, courageous and bold woman".  I think Mama was that. Mama lived an exemplary life for the Yoruba people and Nigeria…."
Eventually, most members of her extended family in Ikenne arrived for the meeting. One of the key items for discussion was the aso ebi, the cloth that members of the extended family had chosen to commemorate their lineage head's centenary which wasto hold in about ten weeks. They showed her a sample of the cloth and she endorsed it.
The meeting ended and the family members left.
As it turned out, HID just hosted the members of her extended family to a farewell gathering. She will not be joining them for any other meeting, not even for her much-anticipated centennial birthday…..
SAME FOR HID'S PROGENY…..
While she was hosting her extended family, HID's two surviving children, Revd. Tola Oyediran and Dr. Tokunbo Awolowo Dosumu, and their children and nieces and nephews (the children of their deceased siblings, Olusegun, Oluwole and Ayodele) were meeting at Efunyela Hall. They were animated in their discussions about what they needed to do to ensure the most splendid birthday celebration for their mother and grandmother come November 25.
The meeting ended around two in the afternoon and many of the grandchildren left for their homes in Ibadan or Lagos. Before they started the meeting, Funke and her son, Ayodeji, posed for a photograph with their grandmother and great-grandmother, respectively.
After them, Olumide Oyediran shepherded his own family to surround his grandmother for a photograph. He came late to the meeting. Olumide arrived around half past twelve in the afternoon. It was his son. Mofiyinfoluwa's fourteenth birthday that day. He was born on the nineteenth of September (19/09), which is significant for the family because their late patriarch, Obafemi Awolowo, was born in 1909.
The young Oyediran family wanted to take a photograph with Mma to mark Mofiyinfoluwa's birthday. They had brought dresses to change into for the special photograph. But when they arrived, Olumide's mother, Revd. Oyediran, told tyhem not to bother to change their clothes. They went on to Mama's room. They asked Ayodeji, who brought a camera, to take the photograph. Olumide's beautiful wife, Adaora, and three delightful children, Mofiyinfoluwa, Mofopefoluwa and Mofiyinolaoluwa, eagerly posed with the matriarch. Mama was the only one in the photograph who was not looking into the camera. While her descendants were looking to the future, HID seemed to be reflecting on the past – and her progeny's heritage. It would be her last photograph alive…….
Yemi Osinbajo, Vice President of Nigeria: "Even when Papa was not around, Mama was always there, always available, always around. I think that one of the great the great things that has been said is all about her great love for people. She has a personal relationship with practically everybody; those who are family members and those who are not. Many times she would call us up and say you have not called her in weeks and she would remind you of the previous conversation she had with you. She was always very caring, devoted and loving. We all know that she stood by Papa, so solidly that he had to describe her as the most important part of his life. He said repeatedly, aside from describing her as a jewel of inestimable value, that he would not know what he could have done without her but she survived him and lived so long thereafter. We all looked forward to her 100th birthday……"
TO BE CONTINUED
EBINO TOPSY – 0805-500-1735 (SMS ONLY PLEASE)