VOICE OF COURAGE: Selected speeches of Obafemi Awolowo (Vol 2)
Brigadier Mohammed and his team must entertain no illusions as to their instant and transitional role in the affairs of our great country
From a press statement issued by Chief Obafemi Awolowo on 18th August, 1975.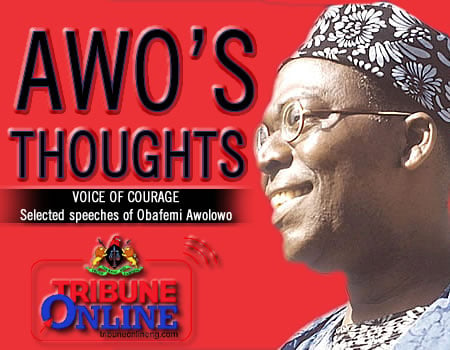 CONTINUED FROM LAST WEEK
"THERE is an urgent and crying need to recognise certain factors which… have not hitherto been given the due recognition, emphasis, and weight that they deserve… '…Because of its youth as an independent sovereign State, …and because of the strains and stresses inherent in it as a multi-national State, Nigeria cannot afford an unduly protracted political and economic illness. The pressing danger involved in the present illness of our country is that it might kill more by its sheer protraction than by its severity.
'…Our Military Administration must be recognised for what it was originally intended and proclaimed to be: an essentially corrective regime, and not a reconstructing Administration with ready and lasting answers to all our political and economic ills.
'In my view, the main task of the military regime is to perform a quick and successful surgical operation … It would be too much of risk for it to attempt to undertake the massive and never-ending task of rebuilding or reconstructing our body-politic. It would be too much of a risk, because the Army would then be embarking on a venture for which it is not by tradition and training equipped, and which by its very nature is an ever-recurring phenomenon in any healthy progressive State.
'…As there are good soldiers, so there are good politicians. Not all soldiers are saints, and not all politicians are devils …
I have no doubt in my mind that if the corrective measures, which our Military leaders have in mind, are prosecuted with fearlessness, impartiality, and despatch, a new breed of politicians, would emerge which would make the welfare of the people the sole object of their public career and pursuit.'
The above quotations are extracts from the speech which I delivered on the occasion of my installation as Chancellor of Ife University on 15th May, 1967, eight years ago. I consider it appropriate to open this statement with them, and to commend them to our present Military Rulers, in the ardent hope that they, unlike their predecessors, will not completely ignore the thought and message contained in them.
I cannot claim to know the new Head of State, Brigadier Murtala Mohammed intimately. But since 1967, and by virtue of my one time position in the Federal Military Government and the War Cabinet, I had had enough glimpses of, and reports about him, and some of the members of his team (particularly the Chief of Staff, Supreme Headquarters, Brigadier Obasanjo, the Chief of staff Amy, Brigadier Danjuma, the Inspector-General of Police, Alhaji Yusuf and the Commissioner for Establishments, Brigadier Oluleye) to enable me to form the opinion that they would succeed where others before them had failed.
But to succeed, Brigadier Mohammed and his team must entertain no illusions as to their instant and transitional role in the affairs of our great country: it is to get us quickly through the long, dark, and dreary tunnel in which we had trudged, doubtfully, painfully, but with recurring faith in an ultimate relief, during the past nine years.
Time was when it had been hoped that we would emerge from this depressing and stifling tunnel, not later than two years after the end of the Civil War. Indeed, advice, indicating November 1972 as the latest and most suitable time for 'handing over of Government to civilians', was tendered to the Head of State. The advice was neither acknowledged nor discussed. Then hopes were raised for 1976. But these were dashed in October 1974, without shame and with total disregard for the deep feelings and yearnings of our people.
Nigerians have never minced words in characterising military rule as a political aberration and abnormality. The most urgent tasks which confront our Military Rulers, therefore, are to terminate this abnormality, and to get us out of the dismal tunnel in an orderly manner, in the shortest time possible.
But in tackling these tasks both the Military and the civilians have important parts to play.
It will be recalled that about midway through the tunnel, that is on 1st October, 1970, the Military formulated in precise terms, the hurdles which they unilaterally thought remained to be cleared before we could again emerge into light, freedom and democracy.
CONTINUES NEXT WEEK