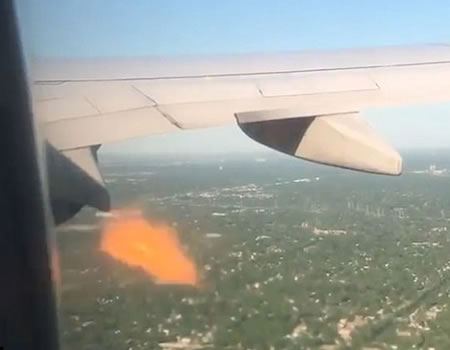 This is the terrifying moment a United Airlines plane's engine started spitting flames after a bird strike mid-flight.
The Miami-bound flight was forced to turn back to Chicago's O'Hare Airport shortly after takeoff at around 8.30am on Thursday.
A passenger sitting in a window seat filmed as the flames shot out from the engine.
'What to do when your plane engine blows and bursts fire? Thank the pilot for landing and have a beer,' he said.
The plane turned around and the passengers were put on another plane around two hours later.
A United Airlines spokesman said the crew successfully shut off on engine after the bird flew into it and landed the plane using the other one.
The airline is also offering passengers compensation.
'The crew opted to shut down one of the engines following reports of a bird strike.
'We swapped aircrafts and the flight re-departed at about 10.40 local time. We're reaching out to customers to offer them compensation,' a spokesman told DailyMail.com.
While there is little to prevent damage once birds strike, it said the company was investigating ways to stop them from flying in to the engine in the first place.