VIDEO: Obasanjo, Gowon, Shoneken, Ekwueme, Diya, Ukiwe, Osinbajo form choir, sing for greater Nigeria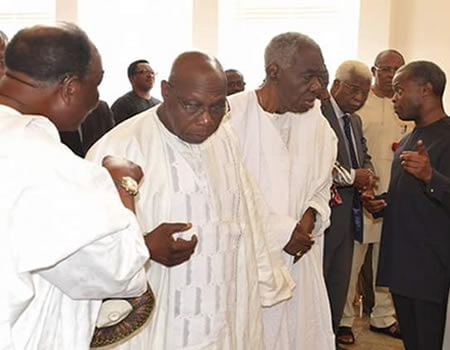 Former Nigerian leaders, Olusegun Obasanjo, Yakubu Gowon, Ernest Shoneken, Alex Ekwueme, Oladipo Diya and Ebitu Ukiwe, to usher in the New Year, sang in a choir coordinated by Vice President Yemi Osinbajo, where he is also one of the lead vocalists.
Nigeria's past leaders sang special hymn for a greater, united and peaceful Nigeria in the year 2017.
They sand lyrics from the hymn, "Oh God our Help in ages past," in their individual local dialects, to usher in the New Year.
The hymn goes thus:
"O God our help in ages past
Our hope for years to come
Our shelter from the stormy blasts
And our eternal home."
Vice President Osinbajo, who posted the video on his Facebook page wrote: "Singing this hymn with former Head of State, Gen. Yakubu Gowon; Former President Olusegun Obasanjo; Former Chairman of Nigeria Interim Government, Ernest Shonakan, Former Vice President Alex Ekuweme; Former Chief of Gen. Staff, Real Admiral , Ebitu Ukiwe and General Oladipo Diya was both an honour and a delight.
"I am confident 2017 will be a great year for us all."