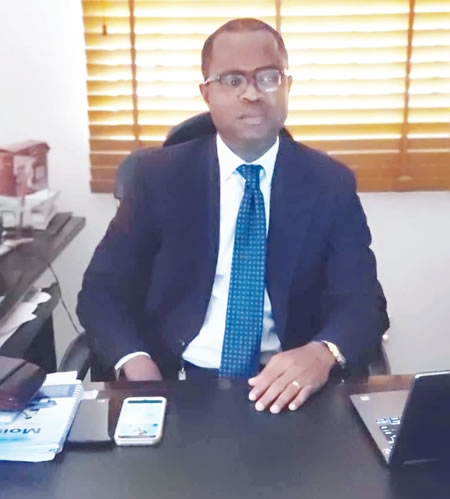 vagina dryness
Peter Inekwe is a chemist and Chief Operating Officer of GreenMeans Ltd, a pharmaceutical distribution company in Lagos State. He spoke to Newton-Ray Ukwuoma about the causes and effects of vagina dryness.
What triggers vagina dryness in women?
There are several factors. One is changes in hormones. Estrogen is a hormone vital for vaginal health. When there is a reduction of this hormone women are likely to experience dryness. The reduction in estrogen can be caused by breastfeeding, chemotherapy, radiation, postpartum and menopause. Also, some medication containing antihistamines as well as asthma medication can also cause reduced vaginal lubrication. Another factor that causes dryness among women is insufficient arousal, stimulation. A woman needs to be aroused through foreplay and in a conducive environment before she can be wet. Anxiety is another factor of dryness. When a woman is stressed because of overwork her vagina comes out dry because less blood flows there. She is therefore more likely to reject her husband's appeal for intercourse because she is not ready. This is one of the present problems of women especially in urban areas where women work as well as men. What should a woman experiencing dryness do? Should she push her man outside?
You promote the use of Moist Personal Lubricant as solution to dryness. Why do you think this is important in our society? 
We live in a clime where it is always difficult for people to discuss challenges like this even though this is one of the problems that trouble the institution of marriage in our society today. We have looked at such situations and we are saying how can we solve this problem? If a woman is not in the mood, she can still use something that serves as a natural means of getting wet. Staying intimate and romantically connected is one of the surest way for a happy lasting marriage. Having a healthy sex life with your spouse improves the depth of love and connection, bonding between partners. Using lubricants eliminates dryness thereby enhances a deep feeling of satisfaction for both partners which results in deep affection for one another. The Bible acknowledges the importance of healthy sex in marriage that is why it admonishes us not to deny one another sex. Instead of a woman to deny her husband sex because of pain associated with dryness causing rift in her marriage, she is advised to use lubricants to enhance her sexual life and bond with her husband.
Are there statistics to back the crisis arising from vagina dryness in married women?
I can't say there is a known statistics. Like I said earlier, we live in a society where people do not talk about these things, but I must talk from my own point of view. I am first a married person before I am a chemist. I also have friends who are married. I know the challenges that arise when a woman is stressed and I also have listened to a number of complaints from other people. The problem of vagina dryness in married women when solved can reduce the level of adultery, cheating and divorce going on in our society as a result of not having adequate sex. I believe that the churches need to talk about it, the marriage counsellors need to talk about it, the hospitals need to talk about it, and together we must fight to ensure the institution of marriage remains the way God ordained for it.
How long does the use of lubricants last during an intercourse?
This can vary depending on the condition of the environment in which it is been used. A warm and open place will cause quick evaporation and dry out. In a cool and conducive environment it can last up to 15-20 minutes before drying out.
Does regular use of lubricants have side effects?      
Moist personal lubricant for instance does not have any adverse side effects. Being water base, it may dry out leaving a residue derived from the other ingredients in tits formulation which can easily be washed off.
Isn't it possible that the lubricant can be abused?
The target market are the spouses who are having challenges. It is possible that people can use it for some other purposes, people we do not intend to sell to. But it is basically intended for families that are going through such challenges.
This is why we specify that this product is for women that are having challenges in their marriages. The opportunity for abuse is speculated just like everything else in life. You have a phone met for the good of mankind, but there are those who abuse it for their own ends. People abuse drinks. We cannot control everything, but we make sure that we promote the purpose it is meant for. It is valuable to the system and the economy as well.
In your opinion, what is the major challenge of drug distribution in Nigeria?
Counterfeit drugs. Most of the products we distribute are all registered. But somehow you find that they are soon counterfeited. I have, however, come to understand that one reason for counterfeiting sometimes is when a vacuum is created along the distribution chain. What I mean is when a product that is doing well in the market momentarily goes off market it creates a vacuum for unscrupulous people who  do not have the interest of the end users at heart, they go and make these counterfeit products to keep the distribution chain going. I believe, however, that as long as the products are always in the market the room for fake product will not be there. Another thing is that NAFDAC must needs up their ante, every product that comes into Nigeria must be monitored. We must resuscitate the normal random sampling to make sure ever batch is certified. The bottom problem is do not create a vacuum for your products.