Utomi, Mabogunje, Joe Abah, Obaseki, Ajimobi make case for reinvention of nation's civil service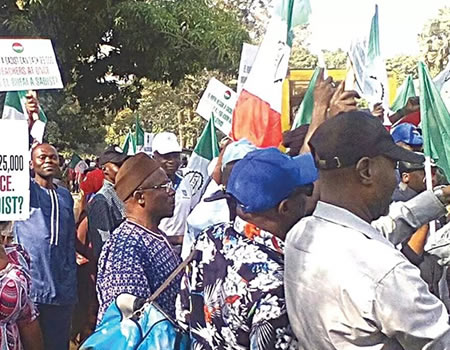 For the civil cum public service to desist from being a conduit pipe for draining public resources, there is the need for public service managers to discard old skills and acquire 21st-century competencies.
Such, which include Information Technology compliant, becoming critical, innovative and creative thinkers, as well as collaborating across institutions for up-to-date knowledge, are principles suggested would transform Nigeria's public sector.
This call for inclusiveness and reinvention of the nation's public service for effectiveness and efficiency was made by a cross-section of dons and public office holders at the launch of graduate programmes in public administration and public policy of the Ibadan School of Government and Public Policy (ISGPP), at the school's premises, Ibadan, on Wednesday.
Speakers to include Founder and Director, Centre for Values in Leadership, Professor Pat Utomi; Chairman, ISGPP, Professor Akin Mabogunje; Professor Gabriel Moti of the Department of Public Administration, University of Abuja, stressed the need the states and federal government to constantly re-train the competences of their public service managers to match the pace of development in the world.
Noting the dynamism of public systems across the world, Utomi, who chaired the event, emphasized that public service managers must be quick to respond to competitiveness by collaborating, shaping culture and setting standards.
ALSO READ: PenCom recovers N1.34bn pension in third quarter of 2017
Mabogunje, on his part, said capacity building and reorientation was imperative for public sector managers for them to be more focused on attaining service objectives.
Delivering the lecture titled, "Governance Competencies in the 21st Century: Birthing the New Age Nigerian Public Manager", Moti called for a new co-equal relationship between civil society, public sector and private sector to improve public administration.
To improve public sector performance, Moti prayed for a redesign of the curriculum for training public service managers to adopt cutting-edge management skills.
In his comments, Pro-Chancellor, Lead City University, Ibadan, Professor Jide Owoeye called for the collaboration between the town and gown if institutions were to move forward.
In the same vein, keynote speaker, Governor Godwin Obaseki prayed that the elite realise their role to clear the rot in public administration system, build institutions, and provide competitive remuneration that will motivate workers to work efficiently.
To correct the 'dislocated' public service, Obaseki, represented by Head of Strategic Planning Team in Governor's office, Professor Julius Ihonvbere, harped on the need to correct the nation's basic education system and re-train people on entry into the public service.
In his remarks, Governor Abiola Ajimobi, represented by his Special Adviser on Efficiency, Dr Isaac Ayandele, prayed that governments at all levels, devote more funding to human capital development.
He emphasised that the 21st-century public administrator must be dynamic, pragmatic and ICT compliant.
Commenting on the discourse, Country Director, DAI, Dr Joe Abah, said the public service must build capacities and be a facilitator for economic growth such that it delivers commercial outcomes.
While speaking, Executive Vice Chairman, ISGPP, Dr Tunji Olaopa harped on the need for institutional reforms, that engender value-based institutions, targeted skills, competencies and scientific technocratic spirit meant to address destructive and professionalism limiting anti-intellectualism in the policy space.
He decried that the nation grappled with a human capital crisis, coupled with the failure of reform efforts to build new skills and competencies.
He further attributed the ineffective public administration system in the country to the absence of a competency-based human resource system, performance management practices and inadequate investment to drive home reform efforts.
He lamented the lacuna in public administration in the country with lack of creative, committed, resilient, multi-skilled and thoroughbred public managers.
While noting that the nation needed a new generation of public managers who possessed broad generalist and specialized knowledge, skills and competencies, he called for the strengthening of learning infrastructures and contents that serve governments and its agencies.
Furthermore, he harped on the need for public administrators to be trained to have the capability of adapting to changes in today's ever-changing world.
Other personalities at the event were, Director, ISGP Graduate Programme, Professor Bayo Okunade; Director, UI Business School, Professor Adenike Osofisan; Dr Stephen Lafenwa of the Department of Political Science, University of Ibadan; Dr Akeem Amodu of the Department of Politics and International Relations, Lead City University, Dr Akeem Amodu.