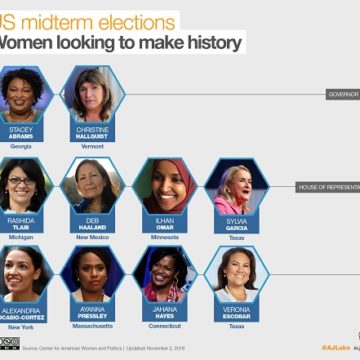 Nearly two years after women spilled out into the streets of Washington and in cities across the country in defiance of the inauguration of President Donald Trump, the United States is sending more women than ever before to the House of Representatives.
The record number of women who will be members of the incoming class of legislators could have a stark effect on politics in the nation's capital, particularly within the Democratic Party, after a midterm election that was widely seen as a referendum on Trump's first term.
According to data compiled by The Associated Press, 237 women ran for the House as major-party candidates this year. Women held 84 out of 435 House seats, a record Aljazeera reported.
But in the early hours of Wednesday morning, women were on track to surpass that margin, ushering in some new faces to Congress as Democrats sought control of the House.
Among them is Jennifer Wexton, a Virginia state senator who defeated incumbent Barbara Comstock in one of the most closely watched races across the country.
And Alexandria Ocasio-Cortez, the former Bernie Sanders organiser who won an upset primary victory over a senior House Democrat, will also head to Congress.
ALSO READ: Friendship between leader of Russia probe, fired FBI director very bothersome
The Election Day gains by women were the capstone on a midterm election that has been defined by the energy of women, both on the political left and right. Women not only ran for office at an unprecedented rate, several knocked off white male incumbents during their party primaries.
They mobilised on the grassroots level and played larger roles as donors than in previous election cycles.
There was also a historic gender gap that showed women more supportive of Democrats than Republicans.
According to VoteCast, women voted considerably more in favour of their congressional Democratic candidate: About 6 in 10 voted for the Democrat, compared with 4 in 10 for the Republican. Men, by contrast, were more evenly divided in their vote.
In victory speeches across the country, women acknowledged the groundbreaking year.
"I am so honoured to share both the ballot and the stage with the many visionary, bold women who have raised their hand to run for public office," said Ayanna Pressley, who became the first black woman elected to Congress from Massachusetts.
"Now, listen, I know for a fact none of us ran to make history, we ran to make change. However, the historical significance of this evening is not lost on me. The significance of history is not lost on me, including my personal one."
Former Health and Human Services Secretary Donna Shalala acknowledged that both of her opponents in the race for a House seat from Florida were women.
"This is the year of the woman, and the fact that women were willing to put themselves on the line is important, whether they've been Republicans or Democrats," said Shalala, a first-time candidate for elected office.