US-Iran tensions: What it could mean for Nigeria
What this could mean for Nigeria
Nigeria with the second highest crude oil reserves in sub-Saharan Africa (about 37 billion barrels of proven oil), after Libya, has a lot to achieve from the ongoing rift.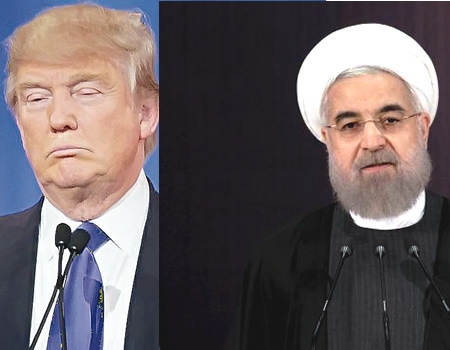 Tensions between the United States and Iran are rising to the brink of a catastrophic military conflict, which would again affect the balance of the international system.
This row between the two countries which has been an age long one began afresh when President Donald Trump pulled the US out of the deal Iran signed with six world powers (US, UK, France, China, Russia, and Germany) in 2015, and later announced plans to send more troops to the Middle East, while the US placed sanctions on Iran.
Iran responded by threatening to break the uranium stockpile limit set by world powers in a 2015 nuclear deal, accusing European countries of failing to live up to their promises of protecting Iran's economy from US sanctions.
The attacks on two Japanese oil tankers in the Gulf of Oman, caused more rift between these two, the US blamed Iran for the attack, but Iran denied any involvement in the attack.
Also, tensions escalated when Iran shot down a US drone, claiming it was in its airspace which the US military denied. President Trump reportedly approved military strikes against Iran in response to this action but changed his mind stating the potential casualties would be too great.
ALSO READ: Hong Kong activists call on G20 leaders to help 'liberate' city
Tension continues to grow and the current situation marks the latest in a series of heated confrontation between the US and Iran, and if rows continue to escalate, experts warn that oil prices could rise as multiple countries could be drawn into a conflict that could lead to more destruction across an already war-torn Middle East.
What this could mean for Nigeria:
A fifth of the world's oil passes through the Straits of Hormuz, between the Persian Gulf and the Gulf of Oman, any instability in the region would lead to increase in the world's oil price.
Nigeria with the second highest crude oil reserves in sub-Saharan Africa (about 37 billion barrels of proven oil), after Libya, has a lot to achieve from the ongoing rift. That means Nigeria could increase its output of oil production and grow her revenue.
Iran conflict with the US would create an opportunity for oil-producing countries to increase the global price of oil, gain new customers who will have to cut ties with either party and support their allies in executing ban, sanctions, and restrictions placed on each other.
More than any other country, Nigeria perhaps needs the oil price to rise to boost its foreign earnings which will, in turn, boosts its economy, and conflict between these two countries would help achieve that goal. Growth in Nigeria's oil revenue would provide economic growth and financial increases, which could assist development in other sectors of government.
The Organisation of the Petroleum Exporting Countries (OPEC), might also be a factor to put into consideration, principles and regulation put in place to coordinate and guide Member Countries' oil policies, so as to ensure price stability in the world oil market, to obtain a stable revenue for oil-producing nations and to provide a regular, reliable, efficient and economic supply to consuming countries and a fair return to investors.
This has been a major source of concern because member states including Nigeria have not been adhering to these rules.
On a more rational note, taking a look at thing from a realistic point of view, another Gulf war this time between the US and Iran is bound to favour Nigeria, in the aspect of increase in oil price worldwide, growth in her oil revenue, and favourable alliances that could be forged during period of conflict.
It is important to note that government revenues in Nigeria decreased to N798.82 billion in the first quarter of 2019 from N1,121.55 billion in the fourth quarter of 2018, according to Global Economic Chart. Emphasising on the fact that conflict between these two would lead to a major increase in our revenue input and provide more financial strength for the country to develop other sectors of the country.
War is condemnable, it threatens peace and orderliness in human communities. And if this option is considered in resolving the Gulf crisis should diplomatic approaches fail, it is bound to be major bloodshed for both parties, the US and Iran (taking into account support from Russia). In war situations, though devastating, still, some countries take advantage of it.
If well positioned, Nigeria is bound to gain from this conflict, and as an expert in international relations and diplomacy, it is necessary to note that "the international system is an anarchical platform and the only permanent thing is interest." Nigeria may gain from another Gulf war.