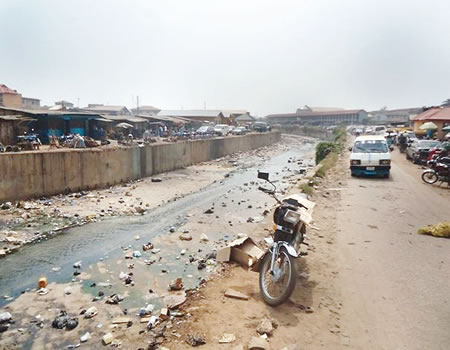 To safeguard human health and the environment, areas surrounding Ogunpa require urgent clean-up, especially for lead and copper.
This is according to a study conducted by a team of researchers from the University of Ibadan, titled, "Soil Pollution by Toxic Metals near E-waste RecyclingOperations in Ibadan, Nigeria".
The team comprising Michael Adesokan, GilbertAdie, and Professor OladeleOsibanjo from the university's Department of Chemistry, conducted the study against the background of unsound recycling of e-waste which has been said to release toxic metals into environment with resultant negative consequences to human health.
The study assessed soil contamination with lead, copper, chromium, nickel and cadmium arising from crude e-waste recycling in which soil samples were collected from the vicinity of high-, medium- and low-activity recycling operations in Ogunpa in Ibadan, Nigeria as well as from the Botanical garden of the University of Ibadan for background samples.
Ogunpa Market is one of the biggest markets within Ibadan Metropolis where used electrical electronic equipment and automobile spare parts are sold.
The results of the study, recently made available to Ecoscope, "indicated enrichment in soil by all metals, especially lead and copper, which were many times higher compared with background concentrations. Additionally, average lead and copper concentrations were higher than regulatory limits for soil set by selected countries across the globe."
The study however stated that "Other metal concentrations, although with higher concentrations compared with background levels, were within the permissible limits in soilsaccepted by many countries across the globe."
Within the study published in the September 2016 Journal of Health and Pollution it was stated that humans are exposed to pollutantsarising from crude e-waste management through skin contact, inhalation of burning smoke/dust and dietary intake through contaminated water and food. Children and adults, especially lactating mothers, working or living near crude e-waste recycling sites are at risk of health problems related to e-waste. Children are more vulnerable to the toxic effects of these contaminants due to their high gastrointestinal uptake of heavy metals.
Increases in spontaneous abortions, stillbirths, prematurebirths, reduced birth weights and infant lengths in pregnant women exposed to heavy metals from e-waste sites have been documented.
The study recommended that "regulations guidinge-waste recycling activities in Nigeriaare urgently needed, along withcleanup of soils around Ogunpa which are polluted by lead and copper."