(UPDATED) Ikoyi building collapse: Sanwo-Olu declares three-day mourning
•25-year-old lady dies five months to completing NYSC •I wanted my son to learn a vocation, says father of 16-year-old victim  •36 dead bodies recovered —NEMA •Corpse of Femi Osibona, developer of Fourscore Homes, recovered from building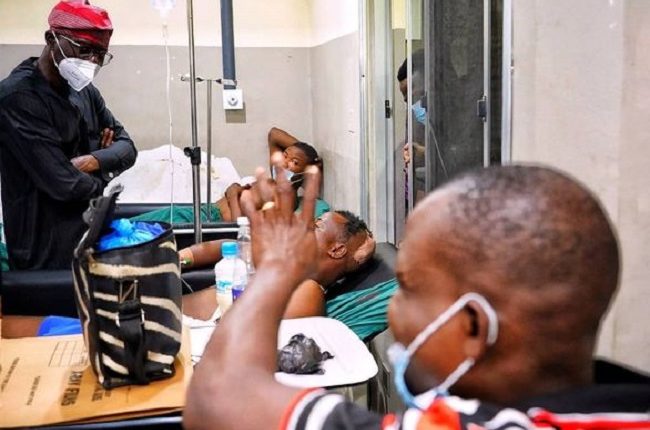 THE Lagos State governor, Mr Babajide Sanwo-Olu, has declared three days of mourning over the 21-storey building that collapsed in Ikoyi on Monday. 
Governor Sanwo-Olu gave this directive on Thursday in a statement issued by the Commissioner for Information and Strategy, Mr Gbenga Omotoso, a copy of which was made available to newsmen covering Alausa, Ikeja. 
The governor also directed that all flags be flown at half-mast in public and private buildings, while official engagements would be cancelled during the mourning period. 
"Governor Babajide Sanwo-Olu has declared three days of mourning over the Ikoyi building collapse, which occurred on Monday. No fewer than 32 persons are believed to have died in the incident. 
"All flags are to be flown at half-mast in public and private buildings and official engagements cancelled during the mourning period," the statement said. 
The statement said the state government, once again, commiserated with all those who lost their loved ones in the unfortunate incident, disclosing that Gover- nor Sanwo-Olu had visited the site thrice to encourage the rescuers and con- sole relations of those who were believed to have been trapped in the building. 
According to Omotoso, the governor was on a visit to the hospital on Thursday to cheer up those injured before swearing in a six-man panel of inquiry headed by Mr Toyin Ayinde, president, Nigerian Institute of Town Planners, to find out why the building went down and recommend measures to prevent such incidents. 
Corpse of developer, Femi Osibona, recovered from building
Meanwhile, fresh fact has emerged that the body of Femi Osibona, the owner of Fourscore Homes, the company in charge of the collapsed building, has been recovered. An impeccable source in Lagos government, who spoke in confidence with the Nigerian Tribune on Thursday evening, also confirmed this. 
Before this, an official of the National Emergency Management Agency (NEMA) also confirmed that Osibona was found dead by rescue workers four days after the building collapsed. 
"No one could ascertain the number of people trapped in the high-rise structure, as there was no manifest provided on the site to indicate the names of workers as of the time the building caved in. 
"There is still no official figure of how many people were in the building when the structure caved in," a National Emergency Management Agency (NEMA) official said. 
However, publisher of Ovation International, Chief Dele Momodu, wrote on his Facebook page: "Good night my very dear friend and brother 'Femi FourScore Osibona'… RIP.' 
He wrote that Femi Osibona had been confirmed as one of the casualties of the collapsed building. "May the souls of the departed rest in peace,' he said. 
According to a report, it was also believed that other persons trapped under the debris are Wale Bob-Oseni, a US-bound real estate dealer and executive director of African Bureau for Legislative Empowerment; Onyinye Enekwe, personal assistant to Osibona, who got employed last week; Zainab Sanni, a 25-year-old female National Youth Service Corps (NYSC) member; and Emmanuel Abel, a 16-year-old boy who had travelled from Abuja to work at the site. 
Lagos CP confirms Osibona's death
The Lagos State Commissioner of Police, Hakeem Odumosu, confirmed the recovery of the body of the developer of the collapsed building to Nigerian Tribune. 
Odumosu said the late Osibona's police escorts had insisted that he was still under the rubble as the rescue and evacuation exercise were going on. 
"His police escorts identified him when his body was brought out by the emergency responders. They arrived there with him. 
"They had insisted that he was still there and they even described the cloth he was wearing, so when they saw the cloth, they identified him," Odumosu said. 
Meanwhile, NEMA says it has so far recovered 36 dead bodies from the collapsed building at Gerrard Road, Ikoyi, Lagos. 
NEMA acting coordinator, Lagos State Territorial District, Mr Ibrahim Farinloye, confirmed this on Thursday. 
He added that nine injured persons had also been pulled out from the rubble as rescue operations entered its fourth day. Farinloye said the survivors included a female and eight males. 
He said three females and 33 males were the unidentified bodies as of Thursday morning. He said the operation would continue to ground zero as the agency had a mandate to rescue and recover trapped victims whether dead or alive. 
The 21-storey building under construction collapsed at about 3:00 p.m. on Monday, trapping several workers. 
The incident has brought all commercial activities, including vehicular movement around the area to a halt. 
The Police Area "A" Commander, ACP Bode Ojajuni, alongside operatives of other security agencies, including the Army, Nigeria Security and Civil Defence Corps (NSCDC), LASTMA, Federal Road Safety Corps (FRSC), among others, have been on ground to ensure smooth rescue operation since the incident occurred. 
It was observed that the scene has turned to a tourist attraction of sort, forcing a hike in public transportation, particularly by commercial motorcyclists. 
Sanwo-Olu swears in six-man panel of inquiry
Governor Sanwo-Olu on Thursday swore in a six-man investigative panel on the collapsed 21-storey building, charging the Architect Toyin Ayinde-led body to do its job without fear or favour. 
The governor added that Lagosians and the country as a whole deserved to know what led to the incident and forestall future recurrence. 
Other members of the panel sworn in on Thursday at the event, which took place at the Five Cowries Terminal, Ikoyi, which would also serve as the sitting venue of the body, are: Dr Akintilo Idris Adeleke, a town planner; Yinka Ogun- dairo, an architect; Godfrey C. Godfrey, a builder and Mrs Bunmi Ibraheem, while Mrs Ekundayo Onajobi will serve as secretary. 
Sanwo-Olu, while noting that the inauguration of the panel was an indication that the state government was, indeed, prepared to unravel what happened to serve as a lesson, said coming generations would not "forgive us if we do not do the right thing. 
"Life is something that we need to continue to cherish. We can't lose it at shortest time even beyond our expectations. The constitution of this panel shows that we want to know what really happened so we can all learn and ensure we can live in a safe environment," Sanwo-Olu said. 
He said members of the panel had 30 days to complete their investigation, but could request for more time. 
"No one can describe the pain families of the victims are going through. We believe justice will be done and lessons learnt will be used to guard our path forward. The whole nation is watching," he said. 
Also, the chairman of the panel, Mr Ayinde, in his vote of assurance, said this particular period is a sad moment for Lagos State, assuring that the panel would chart a new course with its report at the end of its sitting, even as he commiserated with the state government and families of those affected. The governor, who left the venue for the collapsed building site, met and interacted with all the first responders to enable him assess the extent of ongoing rescue operation. 
Addressing newsmen thereafter, Governor Sanwo-Olu said, come Friday, experts would be coming to conduct integrity test on the two 15-storey buildings still standing on the site of the collapsed structure, declaring that nobody knew the structural integrity of the two buildings still standing. 
"Nobody knows the structural integrity of the two buildings still standing. Tomorrow [today], professionals are coming here to test the structural integrity of the two buildings still standing," he said. 
Sanwo-Olu said the bodies of the dead would, as from today, be ready for release to their families for burial, as autopsy was being rounded up on them. 
The governor said the process was taking long because corona inquisition, among others, were being conducted, saying such could also reveal more information about few of the affected. 
The governor, who frowned at some of the negative reports on the collapsed building, said 36 bodies had so far been recovered from the rubble, adding that 19 missing people had been reported by families of those still looking for their loved ones following the opening of a register for such on Thursday. 
Meanwhile, chairman of the six-man panel, Mr Ayinde, has said the committee will need all documentations relating to the failed high-rise structure, among others for a thorough exercise. Ayinde, who was reluctant to speak with the Nigerian Tribune exclusively when called on his mobile phone after the inauguration of the panel to know the next plan, said: "We cannot release any information until we complete the findings. 
"Work is in progress. We have just been inaugurated; we are going to structure out what to do." 
Having noted that there had been many committees of enquiries into building collapse incidents in the past, Ayinde said what would make his committee different from others would be to find a lasting solution to the menace of building collapse which had claimed several lives and investments in the state. 
"We will request for documentations, site visits and others. These are some of the requirements we need for a job like this. We will make this panel different from others in the past in order to solve the problem," he said. 
Governor Sanwo-Olu, who was at the site of the collapsed building on Wednesday, vowed that the state government would not leave any stone unturned in investigating the circumstances surrounding the collapse of the building. 
25-year-old lady dies five months to completing NYSC
A 25-year-old lady identified as Miss Sanni Zainab Oyindamola has been recovered dead from the building just five months to concluding her National Youths Service Corps (NYSC). 
Her close friend, who preferred to remain anonymous, told Nigerian Tribune that the deceased's place of primary assignment was in the collapsed building. 
The source said the deceased's mother had been in a coma and thereby hospitalised since her dead body was recovered from the building on Wednesday. 
She said her friend had told her she was tired of going to the building as there was no lift and was, therefore, contemplating redeployment to Oyo State before the incident. The friend added that the deceased used to sell shoes, bags, and others items online as her side hustle. 
"She was a very good friend. We still went to a party together on Sunday. Throughout Saturday and Sunday, she was still with me in my house. 
"She stayed at Odunlami Street in Lagos Island. She told me she was tired of going to work, as there was no lift in the building and that she was thinking of redeployment to Oyo State. 
"We both went to Osun State Polytechnic, Ede, before she went further for Higher National Diploma (HND). 
"As I am talking to you, her mum has fainted and has been hospitalised since yesterday [Wednesday] that her dead body was recovered," she said. 
I wanted my son to learn a vocation, says father of 16-year-old victim
Also, the father of a 16-year-old apprentice, Emmanuel Abel, who is still missing, has lamented that his dream has been shattered. 
The father, Abel Godwin, said his desire to let his son learn a vocation before securing admission into the university has cost him the boy's life. 
He said Emmanuel had travelled to Lagos with his master, who was one of the artisans contracted for a job in the collapsed building. 
Abel said: "Emmanuel would have been be 17 on December 30. He finished secondary school at 15, and I registered him for apprenticeship when admission didn't come. 
"They should allow me to check the bodies that have been recovered; the governor promised to do so today [Thursday] but he has not spoken to us. We are hoping on God to see my son either alive or dead. I am not fighting for justice; I just want to see my son alive or dead. 
"I took him to his workshop in Abuja with my wife. I drove my son to the workshop at about 5:00 a.m on September 26, and they left for Lagos in my presence," he recalled. 
"On Wednesday, I saw five dead bodies and one survivor, but nobody has assured me if I would be able to see my son. 
"I want the pressmen to ask the government about the whereabouts of my son. My son came from Abuja. It's not hunger that brought my son to Lagos; I wanted him to get something doing because I won't live with him forever." 
YOU SHOULD NOT MISS THESE HEADLINES FROM NIGERIAN TRIBUNE
Lagos Is Second Least Liveable City In The World For 2021
Lagos is the second least liveable city in the world for the year 2021. This is according to the most recent annual ranking put together by the Economist Intelligence Unit (EIU)…
FACT CHECK: Did UNICEF Say Blocking Children's Access To Pornography Constitutes Human Rights' Infringement?
CLAIM 1: A Twitter user claims UNICEF said any efforts to block children from accessing pornography might infringe their human rights.
VERDICT: MISLEADING!