UPDATE: Reps swear in Doguwa, 5 others after rerun elections
• As APC caucus returns Doguwa as majority leader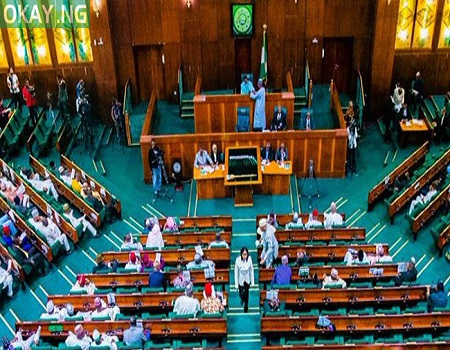 The Speaker of the House of Representatives, Rep. Femi Gbajabiamila, on Wednesday, sworn in Rep. Hassan Ado Doguwa and five other new members of the House who won their rerun elections during last Saturday rerun elections conducted by the Independent National Electoral Commission (INEC).
Other lawmakers that were sworn-in are Hon. Munir Baba Dan-Agundi ( Kano, APC), Hon. Alex Egbona (Cross-River, APC), Hon. Miriam Onuoha (Imo, APC), Hon. Datti Yako Alli (Kano, PDP) and Hon. Jafaru Mohammed Auwalu (Baichi, PDP).
Immediately after the exercise, the Speaker announced the unanimous decision of the APC caucus to return Hon. Ado Doguwa as House Leader, the seat he vacated in November last year when he was sacked by the Court of Appeal along others.
While announcing Rep Doguwa as the House Leader, the Speaker said, "by the unanimous contention and agreement, the APC caucus in the House has agreed to return Rep. Ado Doguwa as the Leader of the House of Representatives."
ALSO READ: Insecurity: Ganduje backs community policing
The Speaker's announcement was greeted with wild jubilation by members who had been chanting Leader, Leader, Leader before and immediately after he was sworn in.
The Chief Whip , Rep. Mohammed Tahir Mongunu, then moved a motion for Doguwa to resume his seat as the House Leader and was seconded by Rep.Taiwo Onanuga which was unanimously supported by members,
Before the plenary session, from the main gate of the National Assembly to the entrance into the gallery of the House of Representatives, Rep Doguwa and other lawmakers from Kano state and their supporters had taken over the Assembly Complex and its environs thus making the entrance into the gallery difficult.
The inauguration was witnessed by Kano Governor, Dr Abdullahi Umar Ganduje, Senator Kabiru Gaya, Senator Barau Jibril, Senator Ibrahim Shekarau, party leaders from Kano and a large number of the party faithful.
The normal plenary proceeding at the House was temporary stalled due to the large crowd at both the gallery and inside the Green Chamber who came in their large numbers to witness the occasion.
Doguwa thanked the Speaker, the entire House leadership, other lawmakers and the entire people of Tudun Wada/ Doguwa Federal Constituency and other notable personalities of Kano State for his re-election saying that the re-run election is his sixth term into the House.
The delegation from the Kano State led by the State governor, Alhaji Abdulahi Danguje, was made up of former governors, Senators, supporters of All Progressives Congress (APC), traditional and religious leaders amongst others.