[UPDATE] LOCKDOWN: Keeping people indoors too long can have unpleasant repercussion — Archbishop Kaigama
•Cautions security agents on intimidation •Calls for accountability of funds donated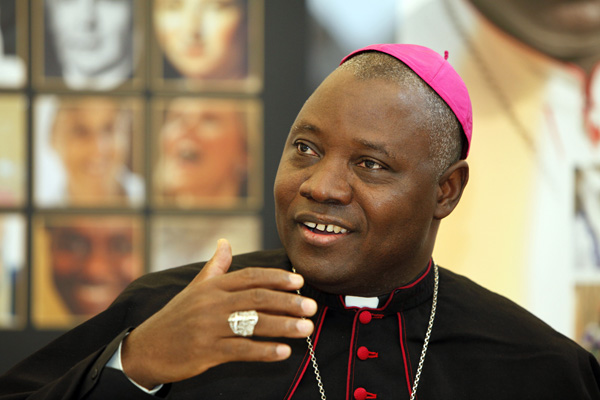 The Catholic Archbishop of Abuja, Most Reverend Ignatius Kaigama, on Sunday, warned that there could be repercussion for keeping people indoor for too long.
This is just as the clergy charged government to ensure that food, water, electricity and basic medical care were provided for citizens as they observe the lockdown.
Kaigama who gave the charge in Abuja while celebrating mass at Our Lady Queen of Nigeria Pro-Catheral Church to mark this years Palm Sunday, called on security agents to discharge their duties without intimidating citizens.
Recall that President Muhammadu Buhari had imposed a two weeks curfew in Abuja, Lagos and Ogun State as part of efforts to contain the spread of the deadly Coronavirus.
ALSO READ: https://tribuneonlineng.com/nine-months-after-suspected-killers-of-funke-olakunrin-pa-fasorantis-daughter-land-in-police-net/
"Since this is the peak of the Lenten season, if we procrastinated, this is injury time. Do more: alms, prayer, fasting. Government, apart from
imposing understandable restrictions of movements in order to minimize the spread of the coronavirus must ensure that people don't suffer lack of food, water, electricity and basic medical care.
"Those entrusted with the responsibility to remedy this unfortunate situation must make judicious use of funds donated or provided by government and see to the adequate provision of medical equipment to hospitals and the safety and effectiveness of health workers.
"Keeping people indoors for too long can have its unpleasant repercussions.
"Psychological support and spiritual and pastoral care must be available in some form or the other. Security agents must be understanding and gentle with people who are full of anxiety and fear. There must be no intimidation or extortion.
"We as a church must sacrifice from the little we have in solidarity with those infected or affected as well as those who stay home with very little to survive on", Archbishop Kaigama said.
He admonished Catholics and the entire Christians to continue to keep the faith stronger and not allow the spread of COVID-19 distance them from God.
Archbishop Kaigama while explaining that this was the period to show love and to care for others, noted that it was nobody's fault that the coronavirus pandemic had kept everyone at home.
"During this period, we intensify our prayers, we intensify  our charity toward others, especially the poor, the marginalised and the deprived in the society," he said.
The clergy assured that a cure for COVID-19 would be found soon, he also urged Nigerians to be at peace and to maintain law and order.
While citing the examples of how Priests and Bishops celebrated mass secretly during persecution in Madagascar and Chinese Communist, Kaigama urged Christians to pray ceaselessly during this difficult time.
The Abuja Diocese CatholicBishop said the Priest and Bishops found a way to keep the Church going even during the toughest times.
"So, we must say masses and have devotions in our homes regularly.
"This is the period to draw closer to God and trust him more than before. We must develop ourselves spiritually and trust God.
"We must not make the mistake of saying that Jesus is on holiday, as Jesus is everywhere and never on holiday."Jesus could visit you at home just as he visited Martha. So, you must be prepared at all time to receive him," he said.
YOU SHOULD NOT MISS THESE HEADLINES FROM NIGERIAN TRIBUNE
Buy and read digital replicas of your TRIBUNE titles by subscribing through E-VENDING
PHOTOS: Chief Of Army Staff Visits Soldiers Injured During Boko Haram Attacks
Following the attack on troops of the military outfit, Operation Lafiya Dole, by the insurgent Boko Haram in Gorgi, Borno State, the Chief of Army Staff, Lieutenant General Tukur Buratai, on Sunday, April 5, visited some of the injured soldiers in 7 Division Medical Services and Hospital at Maimalari Cantonment… Read full story