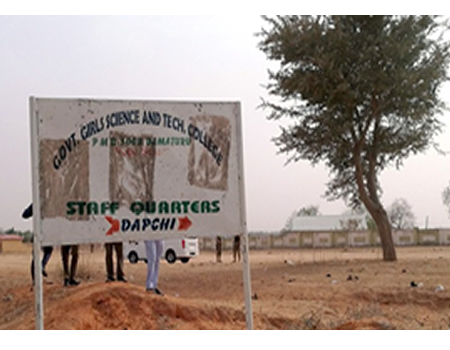 THE federal government on Wednesday explained how about 101 Dapchi school girls and a boy were, on Wednesday morning, returned by the Boko Haram abductors after one month in captivity.
Minster of Information and Culture, Lai Mohammed and his Defence counterpart, Mansur Dan-Ali, who briefed the State House correspondents on the matter, said it followed an agreement reached with the insurgents.
Mohammed said the girls were released unconditionally and no ransom was painful.
He said: "The report we got was that one condition the insurgents gave was that they will be the ones to drop the girls and they dropped them in the early hours of this morning."
On how it became that easy, the minister explained: "Like I said in the statement released to you early, once violence and confrontation were ruled out and negotiation started, there was a deliberate pause on the part of the military. In other words, it was agreed that there will be no force, there will be no confrontation, that was why it was possible for them to drop the girls.
"It was part of the agreement that they will release the girls there will be no violence nor confrontation. And don't forget that the lives of this children are much more important to us than any cheap victory."
ALSO READ: BREAKING: Boko Haram frees some of 110 kidnapped Dapchi schoolgirls
Mohammed further said: "The girls were released unconditionally, no money changed hands. They only had one condition, that they will return them to where they picked them. So, in the early hours of today, they did return the girls and most of them went to their parent's homes.
"As of now, I can confirm that 91 (now 101) girls and one boy have been released. The event is developing.
"Many of the girls that were released were not dropped in one place. Somewhere dropped on the road and they went back naturally to their parent's Houses.
"They are now being asked to come and be documented at a centre and as at five minutes ago, I was told 91 girls and boy had been documented."
On how come there was a boy among the girls released, he said: "I can tell you that is authentic. Whether they picked the boy or not, I can't hazard any guess but don't forget even in a girl school, which is a boarding school there will be parents, there are teachers who can have children amongst them. But what I have been told is that 91 girls and one boy have been documented. "
Mohammed also spoke on a federal government delegation that will depart for Dapchi and what they aim to achieve, saying: "Well, I think the issue of the delegation until we clear with relevant security authorities, is not something I can talk about right now. We are constantly talking to those on the ground. Don't forget as of now that area has become an operational area and so we have to take advice from the security operatives on what to do.
"What is important is that we must be able to brief you regularly as regards development and we are constantly in touch with authorities in Dapchi."
The minister similarly spoke preventive measures to avoid a repeat of the abduction, stating: "If you remember, immediately this thing happened, Mr President actually directed the security agencies especially the Nigeria Civil Defence Corps, to man every school.
"But you see we must look at this thing in context. If you look at other countries like the US, Florida you saw how gunmen entered the school and killed about 17 pupils. Insurgency all over the world is a global issue and the government must always be on its toes.
"One of the things we have done today is that we have tried to secure the schools and there are even efforts on the part of the government to even merge some schools, schools that are far flung."
The minister revealed that the freed girls will be quarantined and counselled for a while before release to their parents.
According to him, "I speak to you now they are at General Hospital in Dapchi and some of the counsellors are there with them.
"Just as we did when we had the first set and second sets of the release of the Chibok girls, they will be quarantined and psychologically be counselled before they go back to their schools."
He said the freed girls were likely to meet with President Muhammadu Buhari in future.
"I want to guess yes but I cannot say so. Things are still just developing," he said.
On the allegation by one of the parents that his daughter was not released because she refused to renounce her faith, Mohammed stated: "Are you aware that one of the parents said his daughter was not released because she refused to renounce her faith.
"You see, all we can tell is what is gotten from our sources on the ground. As this things develop we will let you know."
Also speaking Minister of Defence who had earlier announced that the girls would soon regain their freedom, said:
"Basically, I want to speak on the impression that people had that we cannot get the girls released. If you can remember the last interview I had with Channels Television, I said in two weeks, two months or less we are going to get the girls released and this has happened.
"So this is a result of the efforts of Mr President and the Commander in Chief of the Armed Forces for the support he has been given us and the output is showing now.
On the negotiations that went in before the release, he said, "I did say even if you are going for negotiations, if you are not doing so from the point of strength then you cannot make it."