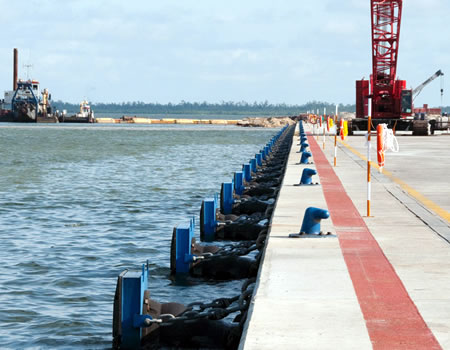 A maritime security expert, Olugbenga Leke Oyewole has decried the states of many jetties and creeks scattered across the nations waterways, lamenting that only God knows what would have happened if the Russian vessel carrying dangerous weapons had not been detained in South Africa.
It would be recalled that South African authorities detained a Lagos bound Russian vessel filled with dangerous arms and explosives at Port Elizabeth.
Speaking to the Nigerian Tribune exclusively, Mr. Oyewole who served as a Director with Global West Vessel Specialist Nigeria Limited (GWVSNL), a firm once mandated with provision of platforms for the maintenance of Nigeria's maritime security; stated that with the many unmanned creeks and jetties scattered across the nations waterways, Nigeria's maritime security remains a pipe dream.
ALSO READ: The murdered traditional ruler in Ekiti
According to the maritime security expert, "First and foremost, investigations should explore ways of finding out the identity of the consignee? If we are to look at this perspectives critically, how did the weapons in wrong hands in the country today, how did they come into the country in the first place?
"The weapons in the hands of Boko Haram terrorist, herdsmen and others, how did they come into the country in the first place? Our maritime security and surveillance of our waterways in particular are flawed.
"We have only six ports which are well manned with security presence. Even the Customs goes out of their way at times to help nip in the bud importation of dangerous arms and ammunition into the country. But we have so many creeks and jetties scattered everywhere. Many remain unmanned. This jetties and creeks lead to different towns and villages in this country.
"This arms laddened ships could anchor on the sea at night while smaller vessels and speedboats are used to evacuate its content into the country through this jetties and creeks. It is very unlikely that ships carrying dangerous weapons will discharge their contents at well manned ports like the seaports and the airports, although some might come in through our porous borders, but we should suspect our creeks and jetties more because many remain unmanned.
"We should count ourselves lucky that the Russian vessel carrying dangerous arms and explosives was detained in South Africa. These importers of arms and ammunition are getting smarter every day. They know the Customs are there to truncate their efforts at the seaports and airports, including the security operatives. But who is talking about the creeks and jetties?"