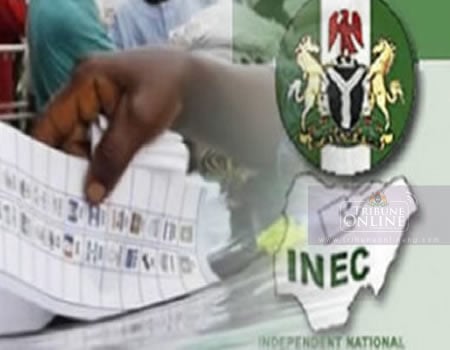 THE Peoples Democratic Party (PDP) on Sunday took to task, the Independent National Electoral Commission (INEC) Chairman, Professor Mahmood Yakubu, over the declaration by the electoral body that there are no underage voters in Kano State.
The leading opposition party described the assertion as "a despicable act of cowardice and threat to our nation's democracy."
In a statement issued in Abuja by PDP National Publicity Secretary, Kola Ologbondiyan, the party maintained that the INEC Chairman, "in allowing the All Progressive Congress (APC)-led Federal Government to push him to make such false declaration, despite manifest documentary evidence in the public domain and even by INEC officials, has cast a huge doubt on the sincerity of INEC to conduct a fair, free and credible elections, come 2019."
The party said the commission has obliterated a huge part of its honour by denying what is obvious to all instead of taking urgent steps to clean up the register and correct all anomalies ahead of 2019 general elections.
The statement added: "When Prof Yakubu set up his committee of handpicked INEC officials, instead of deploying stakeholders, comprising of political parties and credible NGOs, the PDP immediately alerted of a grand design to use the panel to arrive at predetermined findings and cover the illegality for the APC. Today, we have been vindicated.
Ali's book launch: 43 years after, Obasanjo reveals how Gowon tongue-lashed him over diplomatic issue with US
"We invite Nigerians and the international community to note the sequence of plots by INEC and the APC to hide the existence of underage voters in Kano and Katsina states.
"Nigerians will recall that when the issue first came to the fore, the APC mounted a staunch and unyielding defence for INEC, thus betraying their vested interests in the illegality.
"INEC, on its own part, issued an initial reaction confirming the existence of underage voting in the February 10, 2018, Kano council poll but attempted to shift the blame to the Kano state government which conducted that poll.
ALSO READ: 2019: INEC urged to confront challenges of underage voting
"When confronted with the fact that it was INEC and not Kano state that registered the minors and issued them with valid voters card, the commission again tried to exonerate itself by claiming that its officials registered the minors following threats by the communities.
"In the face of these INEC's embarrassing dances, how then did Prof. Yakubu's committee arrive at its findings when even officials of INEC, including those who superintended over the registration of the minors, had already declared the reasons behind their action?
"The entire world is shocked at how INEC under Prof. Yakubu is caving into pressure by APC to manipulate processes leading to the 2019 general election.
"In any case, we hope Prof. Yakubu understands that the APC is only setting him up against Nigerians but we caution that he should not allow himself to be used to throw our nation into chaos and confusion.
"He should, therefore, extricate himself by allowing a credible inquest that will sanitize the register in Kano, Katsina and other states as nothing short of that will be accepted by Nigerians."