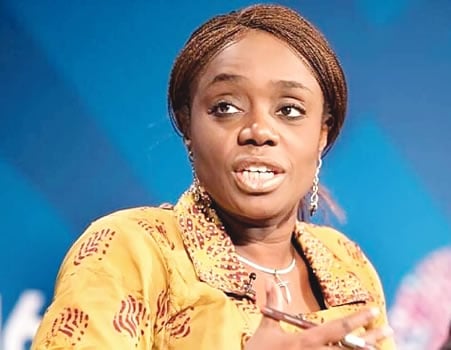 The United Nations has appointed Nigeria's Minister of Finance, Mrs Kemi Adeosun, into the Investments Committee of the United Nations Joint Staff Pension Fund (UNJSPF).
According to a statement, on Sunday, by the Minister's Special Adviser, Media & Communications, Oluyinka Akintunde, the appointment is for a period of one year.
The Under-Secretary-General of United Nations, Jan Beagle, who confirmed Adeosun's appointment, disclosed that the appointment took effect on January 1, 2018.
Beagle said, "On behalf of the Secretary-General, I have the honour to inform you that at the 55th plenary meeting of the seventy-second session of the General Assembly, the General Assembly decided to appoint you as an ad-hoc member of the Investments Committee for a one-year term of office, beginning from 1st January 2018.
"I would like to take this opportunity to congratulate you on your appointment and wish you success in your work."
The Representative of the UN Secretary-General on the Investments Committee of the UNJSPF, Ms Carolyn Boykin, also congratulated the Minister on her appointment and welcomed her to the Committee.
Boykin explained that the purpose of the investments of the UNJSPF was to secure the pension entitlements of the international civil servants who participate in the Fund.
"The fiduciary responsibility is to all parties concerned and it is the responsibility of the Secretary-General to ensure that those investments are managed to preserve the capital of the Fund and to obtain a long-term real rate of investment return that is line with the actuarial assumptions, without jeopardising the capital of the Fund by taking excessive risks," Boykin stated.
The UNJSPF is a Fund that provides UN pension, death, disability and the other related benefits for staff of the United Nations and the other organisations admitted to membership in the Fund.
The Fund was established through UN General Assembly resolution 248 (III) (passed December 1948) which came into effect on the 23rd January 1949 making it a permanent retirement scheme.
It currently serves 23 member organizations, with 128,262 active participants and approximately 75,000 retirees in nearly 200 countries.
Mrs Adeosun has accepted the appointment.