Miss Abimbola Afolabi, a 500 level Psychology student of the University of Ibadan, defeated 10 other contestants to win the second edition of the Miss Western Nigeria 2017 beauty pageant and went home with the star prize of a new salooñ car.
The keenly contested beauty, pageant held at Lagos Chamber of Commerce and Industries (LCCI) building in Alausa, Ikeja, Lagos State, last Saturday, witnessed the display of western cultural heritage from dancing to singing of Yoruba songs and drama.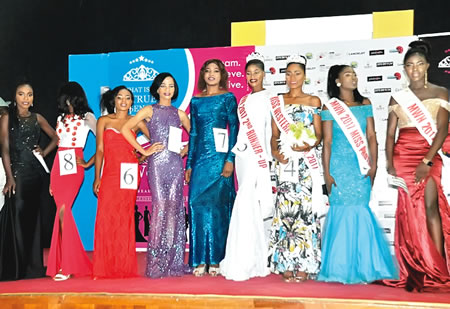 The chairman, Dawn Global Platform Solution Limited, organisers of the Miss Western Nigeria, Mr Adebayo Adeleke, told Saturday Tribune that the contestants were selected from nine states across the country which include six south-western states and three other states — Kwara, Edo and Kogi. While the winner of the pageant got a new saloon car, the first runner-up got N150,000; second runner-up up N100, 000 while others got consolation prizes. He added that the aim of organizing the event was to showcase the rich cultural heritage of the Yoruba race and also to create awareness about Yoruba culture. "We just want to maintain our cultural heritage that will help to groom our young ones. The winner, Miss Abimbola Afolabi, is expected to choose a health related pet project during her one year reign," he said.
The winner said that her aim of contesting for the pageant was to positively impart the values and norms of the Yoruba race.
————————————–
Made-in-Aba attires: Politicians who are blazing the trail
Aba clothiers can imitate any designer merchandise. Name that designer clothe, wristwatch, shoes or bag, there is a made-in-Aba version for it. Before now, made in-Aba clothes, like other made-in-Aba products, were treated with derogation and disdain. Aba, the "commercial-hub of Abia and the entire SouthEast" and which is fast assuming the leadership of the Small and Medium Scale Enterprises (SMEs) of the nation is now the destination for fashion. There are reports that wears sewed in Aba are exported to neighbouring African countries, repackaged and smuggled into Nigeria as foreign clothes.
Due to the dwindling economy and the need to revitalise it, there have been campaigns spearheaded by political officeholders on the need to embrace and patronise the made-in-Nigeria attires. Among some of these political figures championing the cause are:
Senator Ben Murray-Bruce: Senator Ben Murray-Bruce, representing Bayelsa-East senatorial district, is an advocate of made-in-Nigeria goods. He recently traded his designer suits for a made-in-Aba attire, which he coordinated with his son. Posting the picture on Instagram, he captioned it "My son and I dazzle in made in Naija clothes as we promote #BuyNaijaToGrowTheNaira"
Senator Chris Ngige: The Minister of Labour and Employment, Chris Ngige, once revealed that he is an ardent patron of made -in-Aba products. At the launch of the 'Change Begins With Me' campaign in Umuahia, he disclosed that all he wore on that occasion were made in Aba. Ngige said he was used to buying his wears from Malaysia before he realised that such items were actually made locally, particularly from Aba and exported to Malaysia.
Senator Bukola Saraki: The Senate President, Dr Abubakar Bukola Saraki, has redeemed his pledge to patronise made-in-Nigeria goods. During the recent Made- in-Aba Trade Fair in Abuja, Saraki  promised to be an advocate of increased patronage of made-in-Nigeria goods as a show of patriotism. During one of the Senate plenaries, Saraki was pictured wearing  a  made-in-Aba attire.
Governor Okezie Ikpeazu: In the same vein, Governor Okezie Ikpeazu of Abia State, during his inauguration speech after being sworn as governor, vowed to only wear made-in-Aba attires throughout his tenure and beyond not because of lack of options but, according to him, "because it is good to be proud of what we have, especially if it's the best", he said.