'Two out of my wife's 8 lovers are dead; she draws knife, broken bottle at me when we fight'
•He's dating my best friend, rented an apartment for her —Wife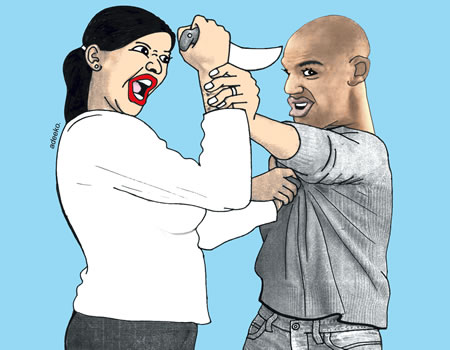 A man in his 40s, Lekan Yusuff, has approached the Ile Tuntun Customary Court, Oja Oba/Mapo, Ibadan, Oyo State, seeking that an end be put to the 10-year-old wedlock with his wife, Damola Yusuff.
Lekan in his suit stated that his wife was troublesome, promiscuous and violent. According to him, he had had enough of his wife's atrocities and therefore implored the court to put a stop to their marriage.
Damola did not agree to claim.
"My wife has no morals. She is loose and a difficult person to live with.  I have no control over her and she never ceases to embarrass me.
"Anytime I show my displeasure at her style of living, she gets mad and draws knife and broken bottles at me.
"She not only fights me. She has also fought with all our neighbours at one time or the other. As a result, they keep their distance from her, "the plaintiff told the court.
"My lord, my life is not safe with her because she's promiscuous. She has strings of lovers. She is actually befriending eight men and I know five of them. Two of these men as of today are dead.
"She has no time for me since all she does is sleeping around. She will leave home as early as 6:00 am and won't return until 10:00 pm. She, therefore, doesn't know how our children fare each day. She's obviously not interested in our welfare.
"My lord, worst of it is that she has no regard for my family members. She insults and fights my mother, brothers and extended family members.
"I have reported her to her parents on several occasions but she has refused to change despite the advice given her.
"My lord, I want us to go our different ways. I want to live the remaining of my days in peace," Lekan stated.
"My lord, my husband can kill," Damola said.
"We got married 10 years ago, but he has been dating my best friend over eight years.
"He even went as far as renting an apartment for her. He has failed to feed and clothe me and our children. Neither is he interested in our children's education, yet, he throws money around.
"We often fight because he doesn't want me to work and I always tell him I'm not ready to wait on him for money for my needs. If I stop working, my children and I will suffer because he prefers spending his money on his mistress.
"My lord, all he said is lies. I cook for my family members before leaving home in the morning and also on my return in the evening around 6:00 pm.
"My lord, I'm a decent human being and don't engage in immorality. I don't have lovers. My husband is always accusing me of engaging in extra marital affairs. He will beat me and pull out my hair.
"Despite maltreating me, I'm not ready to divorce him because I still love him and our children," Damola said.
Ruling after listening to the couple, Agbaje adjourned  the case and ordered  both to come to court with their children and parents.