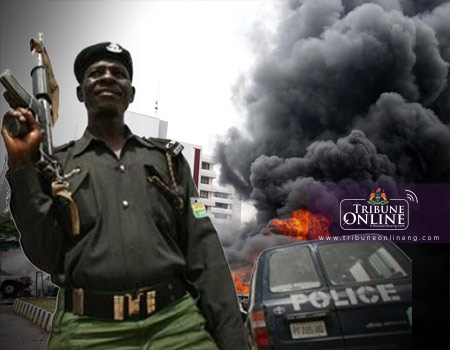 Two female suicide bombers have died in Maiduguri while eight other commuters close to the explosions got various degrees of injuries after the duo attempted  killing others along which is the usual trade mark of boko haram.
Borno state police Pro Victor Isuku said they detonated the IEDs they were carrying on them against a vehicle on a feeder road off the Maiduguri /Mafa highway which leads to Cameroun.
Eye witnesses however hinted that their destination must have been the notorious muna garage make shift idp camp close to the NDLEA checkpoint on the Maiduguri, Muna, Ngala international high way which has become their easy target for sporadic attacks.
Because they were spotted by security personnel only the two bombers died in the explosion while eight others including a personnel of National Drug Law Enforcement Agency sustained injuries, and are responding to treatment after the insurgents slammed themselves on their vehicles.
The vehicle, a golf taxi cab with reg. no XA 479 DRZ which carried bags of charcoal with two female passengers and a Tricycle known as keke Napep close to the scene of explosion were badly affected by the explosion.
Meanwhile more police men have been posted to boast the Borno state command which is yet to get up to fifty percent of its expected staff strength for its role in protecting towns and villages recently freed by the military from the pangs of boko haram.