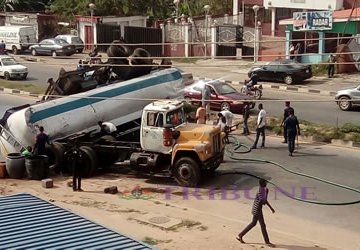 TWO persons have been reported dead in a fatal accident involving NNPC petrol truck at Oyun community along Old Jebba Road, Ilorin, Kwara State on Wednesday.
The Nigerian Tribune gathered that the petrol tanker driver was trying to avoid hitting a commercial motorcycle rider who had overtaken him when the accident happened at about 
5:00 pm.
It was also gathered that petrol content of the fuel tanker gushed out as people watched helplessly.
It was also gathered that two of the occupants in the NNPC petrol tanker died on the spot while the motorcyclist was at large.
The development, which caused panic and apprehension among residents of the area, also resulted in heavy gridlock of vehicles along the road, as many people were seen trekking to their different destinations
The men of the fire service, the Kwara Road Maintenance Agency (KWARTMA), the road safety corps, and the police were seen at the scene of the accident to forestall any break down of law and order
Efforts to evacuate the tanker and the occupants trapped in it were still ongoing as at the time of filing this report.