Tribune's anniversary book for public presentation in Ibadan today • 6 banks, Danjuma, Daniel, Fasoranti, Koleoso, Raji receive Platinum recognition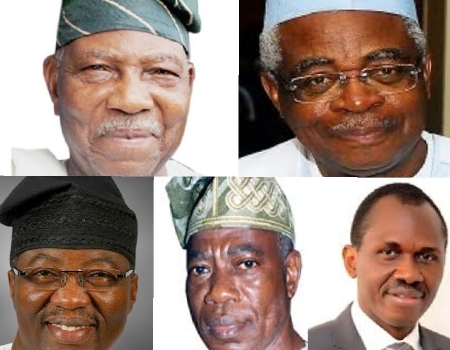 A book chronicling the 70-year story of the nation's oldest surviving newspaper group, the Tribune titles, is billed for public presentation on Thursday (today), at the International Conference Centre, University of Ibadan.
The public presentation of the book, "70 Years of Progressive Journalism," which is the grand finale of the year-long celebration of the 70th anniversary of the African Newspapers of Nigeria (ANN) Plc, publishers of the Tribune titles, commences at 11.00 a.m.
The ceremony will also witness conferment of the Tribune's Platinum Service and Excellence Recognition on seven illustrious Nigerians as well as six outstanding financial institutions.
The book presentation will be chaired by Emeritus Professor Oladipo Akinkugbe, a world-class physician and academic and a former vice chancellor of both the University of Ilorin and Ahmadu Bello University, Zaria, as well as the pioneer chairman of the Joint Admissions and Matriculation Board (JAMB).
The book's chief presenter is Chief Afe Babalola, a leading light of the legal profession and founder of Afe Babalola University, Ado Ekiti (ABUAD).
Erudite traditional ruler, who is also a repository of Yoruba history and culture, the Alaafin of Oyo, Oba Lamidi Adeyemi, is the Royal Father of the Day, while the Olubadan of Ibadanland, Oba Saliu Adetunji, is the Royal Host.
The Tribune's Platinum Service and Excellence Recognition is a celebration of excellent service delivery at the community, political and corporate levels. Five individuals and six organisations are to be honoured for various reasons.
General Theophillus Danjuma
General Theophilus Yakubu Danjuma, former Chief of Army Staff and former Minister of Defence, is an outstanding military officer, a quintessential businessman, an exceptional philanthropist and a non-repentant defender of the people.
General Danjuma, who enrolled in the Nigerian Army in 1960, retired in 1979 as a Lieutenant General. In between, he was with a United Nations (UN) Peace-keeping force in Sante, Katanga Province in Congo. He also attended the International Court Martial in Trinidad and Tobago as Nigeria's representative, where he was appointed president of the tribunal. He later served as a General Officer Commanding (GOC) before his appointment as the Chief of Army Staff.
After his retirement, he went into business. He established Nigeria American Line, Comet Shipping Agencies, South Atlantic Petroleum Limited and NatCom Development and Investment Limited.
He later joined politics and was appointed Minister of Defence in 1999 by President Olusegun Obasanjo. He was also nominated as chairman of the Presidential Advisory Council by Acting President Goodluck Jonathan in 2010.
As a philanthropist, General Danjuma established the TY Danjuma Foundation in 2008 to alleviate poverty in communities by providing basic amenities, education for children and young adults while also providing free medical care for indigent people.
When herdsmen attacked Taraba, his home state and everybody chose to keep quiet, General Danjuma opted to speak in defence of his people, even at a great risk to him.
ALSO READ: Corruption: Judicial process too slow for me ― Buhari
Otunba Gbenga Daniel
Otunba Justus Olugbenga Daniel is a Fellow of the Nigerian Society of Engineers (NSE), the Institute of Directors, Nigeria and the Academy of Engineering.
OGD, as he is popularly called in political circles, is the founder/chairman, Kresta Laurel Limited, Lagos, an engineering firm specialising in elevators, power systems, overhead travelling cranes and hoists, which has remained a leader in its area of competence.
He served as Ogun State governor between 2003 and 2011 and brought positive innovation and productive dynamism into governance. In terms of people-oriented programmes, it is widely acknowledged that Otunba Daniel restored hope, rehabilitated infrastructure, re-engineered institutions and firmly put in place an agenda of modernisation in Ogun State.
Today, Ogun State has become the investment destination of choice, not only in Nigeria, but also on the West coast of Africa as a result of what he did while in office. His programme on Public Private Partnership attracted several businesses into the state during his tenure, taking Ogun State into the rank of the world's emerging markets.
Otunba Daniel established Nigeria's first University of Education, founded four ICT polytechnics, constructed three world-class stadia, rehabilitated over 2,000 kilometres of road in four years, resuscitated and expanded several agricultural plantations, attracted local and Foreign Direct Investment (FDI) and initiated the Olokola NLNG project, amongst others.
Chief Reuben Fasoranti
Chief Reuben Fasoranti, leader of Afenifere, the pan-Yoruba socio-political group, was groomed by the sage, Chief Obafemi Awolowo and Chief Michael Adekunle Ajasin, former governor of the old Ondo State.
Pa Fasoranti, who worked as a teacher, rose to become principal of two of the foremost secondary schools in Nigeria. He was principal of Olivet Baptist High School, Oyo, as well as principal of Christ School, Akure. He served as Commissioner for Finance in the administration of Chief Adekunle Ajasin in Ondo State between 1979 and 1983.
Chief Fasoranti was named in 2008 as the leader of Afenifere after the demise of Senator Abraham Adesanya.
A thoroughbred progressive politician, committed Awoist and uncompromising patriot, Chief Fasoranti has dedicated his life to the fight for true federal structure in Nigeria.
Chief Michael Adeniyi  Koleosho
Chief Michael Adeniyi Koleosho, the Babalaje of Sakiland, is an exceptional grass-roots mobiliser and organiser. An outstanding public servant, businessman and politician, after his tertiary education, he worked at the then Saki District Council where he became the first indigenous head of the Health Department. After 10 years in the service of the District, he resigned his appointment to set up his own business.
He established Esmak Nig Ltd in 1976 as a business outfit with specialisation in merchandising and transportation. He later moved into real estate, agriculture and banking, among others. In 1979, he was elected a member of the old Oyo State House of Assembly on the platform of the Unity Party of Nigeria (UPN). Shortly after his inauguration as a member of the House, he was nominated as a commissioner by the then governor of Oyo State, Chief Bola Ige.
Chief Koleosho served first as Commissioner for Establishment and Training and later as Commissioner for Works.
Ahead of the 1998 election, Chief Michael Adeniyi Koleosho was elected the Oyo State chairman of the Afenifere, the pan Yoruba socio-political group. He was also the chairman of the Alliance for Democracy (AD) in Oyo State. Following the success of the party at the polls and the emergence of Alhaji Lamidi Adesina as Oyo State governor, Chief Koleosho was appointed as the Secretary to the Oyo State Government. Chief Koleosho served as national deputy chairman of the Alliance for Democracy. He later served as its national chairman.
Mr Adewale Raji
A seasoned technocrat and administrator, Mr Adewale Raji, Group Managing Director of Odu'a Investment Company Limited, is a 1985 History graduate of the University of Jos and a pioneer member of the MBA Class of Lagos State University.
He worked with PZ Cussons Nigeria Group, where he rose to become Managing Director – Distribution Services, overseeing the conglomerate's Strategic Business Unit (SBU) which is responsible for outbound Logistics and Customer Services.
He was appointed the 8th Group Managing Director/CEO of Odu'a Investment Company Limited in 2014.
Through his Growth, Profitability and Sustainability plan, his team has succeeded in revamping the conglomerate's dwindling fortunes. He has also returned the company to the path of profitability and dividends payment to shareholders through prudent management of resources.
Mr Raji's five-year tenure as Odu'a GMD has just been renewed by the governors of the six South-West states of Oyo, Ondo, Ogun, Osun, Ekiti and Lagos, who are the conglomerate's shareholders.
Access Bank, FirstBank, United Bank for Africa, Fidelity Bank, Zenith Bank and Sterling Bank are also being recognised for excellent banking services delivery.