Tribune, agent of national unity ― Awardees
•5 Govs, 4 ex-govs, Adenuga, CBN gov, Adebutu, Akeredolu, Abdullahi receive Tribune Platinum awards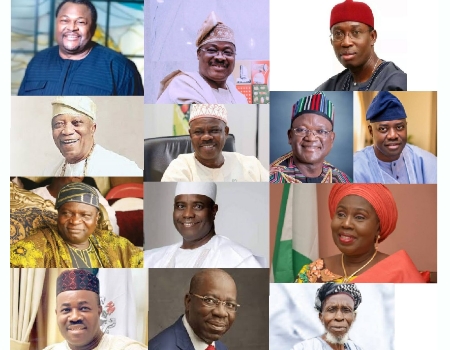 Muson centre, Lagos, was lit with the presence of dignitaries across all strata of the Nigerian society as Nigerian Tribune, on Tuesday, marked 70 years of its establishment with an award ceremony.
The award ceremony was to honour illustrious Nigerians who had distinguished themselves in public service, nation-building, humanitarian services, and enterprise.
From one recipient of the Tribune platinum award to the other, it was a barrage of appreciation and commendations for the Tribune titles' accuracy, truthfulness and commitment to the unity and socio-economic development of the society through the course of 70 years.
The recognised personalities were the Central Bank Governor, Mr. Godwin Emefiele; Executive Chairman of Globacom, Dr. Mike Adenuga; the Odole of Ife, Sir Kessington Adebutu; and Imam Abubakar Abdullahi; state governors, Aminu Tambuwal (Sokoto); Ifeanyi Okowa (Delta); Samuel Ortom (Benue), Godwin Obaseki (Edo), Seyi Makinde (Oyo).
ALSO READ: USAID partners Bauchi to boost reading culture among primary schools pupils
Other award recipients were the wife of Ondo governor, Betty Anyanwu-Akeredolu; former governors, Godswill Akpabio (Akwa Ibom), Ibikunle Amosun (Ogun), Olagunsoye Oyinlola (Osun), Abiola Ajimobi (Oyo).
In her remarks after bagging her award, Anyanwu-Akeredolu expressed surprise at being considered a recipient of the Champions of Humanitarian Award.
Betty appreciated the fact that women were being recognized for their community and humanitarian service rendered.
While speaking on the motivation behind her monumental projects in the country, Akeredolu attributed the giant strides to her father who was the head of a school.
She noted that the discipline instilled in her prompted actions of being responsible for whatever she does today.
Adebutu who was awarded as Nigeria's Most Timeless Business praised the fact that another feather had been added to his cap while praying that Tribune will live eternally.
In his own response after receiving his award, Akpabio, represented by his Chief of Staff, Sir Etakamba Umoren, appreciated the management of Tribune for honouring him four years after he left the office.
This gesture, Akpabio said, showed that Tribune was good at keeping records.
ALSO READ: Tribune has contributed greatly to political economy of Nigeria ― Ooni
Receiving the Tribune's Platinum Humanitarian Award for single- handedly rescuing over 262 Christians from the hands of deadly gunmen in Plateau State in 2018, Imam Abdullahi expressed surprise.
The 83 year- old Imam, who spoke through Abdulahi Umah, said he never expected any reward from human beings hence was surprised that Tribune deemed it fit to recognize his humanitarian gesture on the day in question.
He held that, on no account, should any Christian or Muslim be subjected to horrendous death.
On his own part, Oyinlola noted that the award was special to him as it signified that he remained relevant even nine years after leaving the office.
Oyinlola mentioned his greatest achievement as governor as being able to broker peace between Modakeke and Ife indigenes after over 100 years of hostility.
While receiving his award, the CBN governor, Emefiele said lauded the truth and passion that Tribune has upheld for many years.
In his own remarks after receiving the award as "Torchbearer in Education Development", Tambuwal called on President Muhammadu Buhari to urgently rejig the nation's security architecture of the country so as to tackle its myriad of problems.
He disclosed that the total reshuffle of the top security hierarchy remained the best solution, noting that most of the present service chiefs and heads of security agencies in the country had been given enough opportunity to prove their mettle.
Makinde, who was represented by the deputy governor, Rauf Olaniyan, said the programmes of the current Oyo state government were inspired by the strides of Chief Obafemi Awolowo.
Makinde, who bagged the "Pacesetter in Integrity in governance award", said it was particularly inspired by the rural development, health and education programmes of the late sage.
ALSO READ: #TribunePlatinumAwards: My greatest achievement as Osun governor ― Oyinlola
Speaking after receiving his award, Ajimobi expressed excitement at being honoured for three reasons.
First, he stated that he appreciated the fact that he was recognized in spite of the cliche that Nigerian politicians are mischievous, deceitful and untruthful; second, he said it loved the fact that he shared the same birth month with Tribune to the extent that he was born a week after the birth of the papers; third, he noted that he was a major beneficiary of the performance of the late sage, Chief Obafemi Awolowo, and was the longest tenant in the office built by Awolowo in Oyo state.
The roll call of dignitaries included Chairman, ANN Plc, Ambassador (Dr). Olatokunbo Awolowo Dosumu; daughter of the sage, Reverend Mrs. Tola Oyediran; the Ooni of Ife, Oba Enitan Ogunwusi, represented by Alara Oolaye of Ara kingdom, Oba Adebisi Kayode; elder statesman, Chief Ayo Adebanjo; Mr. Godwin Emefiele represented by Deputy Governor, Operation, Mr. Are Shonubi; Dr. Mike Adenuga represented by National Coordinator for Global, Mr. Yomi Ogunbamowo.
Speaking, Awolowo-Dosunmu assured teeming readers of the Nigerian Tribune Newspapers of the publication's readiness to go the whole hog.
She identified the part of the strategies being adopted by the newspaper to stay relevant for the next decades as continuously innovating and using technology to drive its operations.
"A lot of questions have been asked and one of such is whether Tribune will survive the next 70 years. By the grace of God, this company will not just be around for 70 years, but for a multiple of 70 years.
"We have the talents to survive. We will continue to strategise. We know that the future of the world and that of journalism is digital, and this we are aware of. We have therefore decided that the new Tribune House will serve as our digital hub.
"We believe the Newspaper will continue to serve this generation, and the next," she stated.
Oba Ogunwusi, in his remarks, said Tribune had contributed so greatly to the development of the political economy of Nigeria and humanity in general, by its many years of reporting in a truthful and accurate manner.
The monarch, who chaired the event, said there would be a need for real freedom of the press in the country to enable newsmen to do their work, especially uncovering hidden things more effectively.
ALSO READ: #TribunePlatinumAwards: Tribune is known for keeping records ― Akpabio
While congratulating the Tribune Newspapers for coming thus far as well as all the award recipients for the honour done them, he urged them not to rest on their oars but to see the recognition as a call to a higher duty.
Earlier into the event, Managing Director and Editor-in-Chief of Nigerian Tribune Newspapers, Mr. Edward Dickson described the Tribune titles as a national institution that unifies all Nigerians regardless of differences in social status, religion, and tribe.
Other dignitaries include Oyo deputy governor, Mr. Rauf Olaniyan who represented Makinde; Edo Deputy Governor, Philip Suaibu who represented Obaseki; Delta Deputy Governor, Mr. Kingsley Otuaro who represented Okowa; Admiral Akin Aduwo; spokesperson of Pan-Yoruba socio-political group, Mr. Yinka Odumakin; the doyen of advertising in Nigeria, Mr. Abiodun Sobajo; former Minister, Demola Seriki; Senator Kola Balogun representing Oyo South.