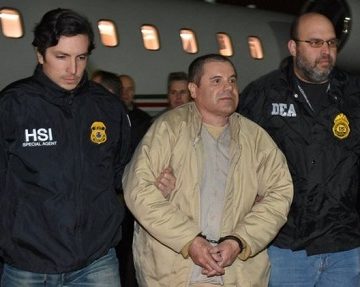 The trial of drug kingpin Joaquín "El Chapo" Guzmán is starting in New York under intense security.
Guzmán was arrested in January 2016 after escaping from prison through a tunnel five months earlier.
The Mexican is accused of being behind the all-powerful Sinaloa drug cartel, which prosecutors say was the biggest supplier of drugs to the States.
Key associates, including one of his former lieutenants, are expected to testify against him.
Joaquín "El Chapo" Guzmán – once one of the world's richest men – ran the Sinaloa drug cartel in northern Mexico. He was captured in January 2016, having escaped twice from jails in Mexico.
The US Drug Enforcement Administration says the Sinaloa cartel is behind a huge trade in meth, cocaine, and heroin in the US.
ALSO READ: Turkey arrests 61 soldiers over terrorism charges ― State media
He is accused of being behind the manufacture and distribution of cocaine and other drugs – as well as ordering the killing of rivals.
He was finally arrested in January 2016 after a shoot-out with Mexican marines in Sinaloa. It later emerged he'd been interviewed by actor Sean Penn while on the run.
The first time, in 2001, he did so by hiding in a laundry basket. The second time, in July 2015, he fled through a mile-long tunnel dug underneath his prison.
Former associates, including a one-time lieutenant to Guzmán who pleaded guilty to a trafficking conspiracy in Chicago last week, are expected to testify.
El Chapo's lawyer told the BBC the list of people called to testify for the prosecution was "slop".
The anonymous jurors, who were all selected last week, will receive armed escorts to and from the court in Brooklyn every day.
Meanwhile, authorities have put in place a secret plan on how to accommodate Guzmán during the trial that would prevent them having to shut the Brooklyn Bridge every day, as has had to happen during previous hearings – he has been kept in a high-security prison in Manhattan.