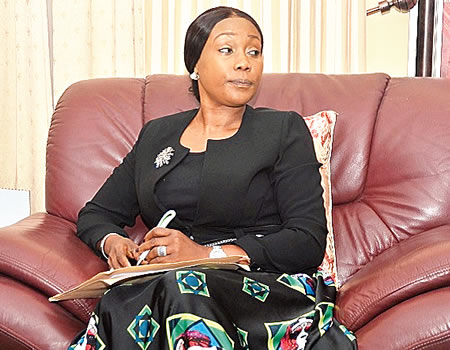 The National Agency for the Prohibition of Trafficking in Persons (NAPTIP) has commenced full implementation of its comprehensive rehabilitation and empowerment package for survivors of human trafficking across the country.
The agency has also offered automatic employment to three of the survivors and group empowerment of three others.
Director-General of NAPTIP, Dame Julie Okah-Donli, speaking shortly after the documentation by the newly-employed survivors, said the gesture was in fulfillment of the mandate of the agency.
She said other survivors had been penciled down for empowerment following their graduation from the training scheme of the comprehensive rehabilitation and empowerment programme of the agency.
ALSO READ: LAUTECH: Alao-Akala should not confuse a framework for an agreement 
The comprehensive rehabilitation and empowerment package of NAPTIP designed for survivors of human trafficking include rescue, reception, sheltering, counselling, training, empowerment, monitoring and disengagement.
The latest beneficiaries of the scheme include three of the survivors rescued and trained by the agency in higher institutions of learning in Nigeria, and who had successfully graduated with good grades, and offered employment by the agency.
Three other beneficiaries who were trained on catering services were also empowered with fully furnished ultra-modern restaurant located within the ever-busy Upper Mission Road of Benin City, Edo State.
The NAPTIP boss said, "NAPTIP, as an agency of government created to tackle incidence of human trafficking in Nigeria, is more determined ever than before to fulfill its mandate. It is also important to point out that the agency has been reloaded in line with the global tricks and trends in human trafficking."
"Aside from the multi-dimensional awareness and public enlightenment aspects of the mandates of the agency that have been scaled up, we have commenced full implementation of its comprehensive rehabilitation and empowerment programme.
"In the past, the agency normally empowers survivors by providing them with starter packs after training.
"This practice has not really yielded the desired result as some of the survivors, especially the few desperate ones have, in the past, yielded to pressures from relatives, sold off such equipment and in most cases re-trafficked themselves.
"This is why the agency has decided to adopt this new procedure by,  first of all, training them on basic business management, rent shops and pay the rent for one year, equip the shops with the necessary tools, register a business name for them and handover the business to them.
"In addition to this, officers of the agency are assigned to monitor them from time to time, with a view to assisting them to solve any emerging issues that may confront them as it is customary with new ventures of that nature. This monitoring will be done for a period of one year after which the agency disengages from them," she said.