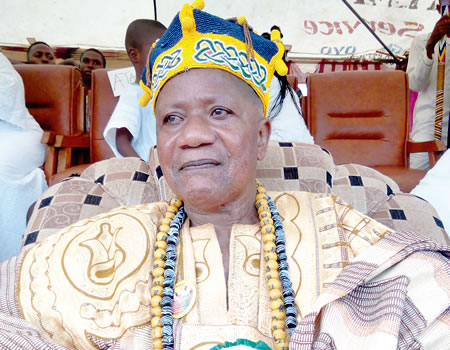 The Alajase Onikoyi-Abesan of Port Novo, Benin Republic, Oba AbdulYekeen Ajasa Sanni , in this interview by TUNDE BUSARI, speaks on the place of the Yoruba people and their culture.
It has been observed that you are very passionate about the Yoruba people. Why this?
Let me start by telling you that being a national of Benin Republic does not remove the blood of Yoruba in my vein. I am not only a Yoruba who found himself in Benin Republic due to the European arrangement in the 19th Century, I am also, as you can see, a traditional ruler to my people in Benin Republic. To add to that is that I am the representative of the Alaafin of Oyo out there. I want to believe you understand that traditional rulers are the custodian of culture and tradition. I must use the opportunity to assert my Yoruba-ness so that those who did not know would know the coverage of Oyo Empire before the white man came and divided us into two different countries.
Does that suggest you are not happy being carved out of your origin?
It makes no difference to say I like or I don't like it. We are talking of political arrangement our forefathers had no power to resist. It is okay. Life continues. But there is nothing that has advantage that does not have disadvantage. There is no place like home. Oyo is our home and I am happy we are back here. I am happy we have our father here who is always looking forward to seeing us around him.
You must have also observed that Yoruba culture is being eroded in your country.
We should not deceive ourselves; our culture is no longer what was bequeathed to us by our fathers. Our culture is being trampled upon by foreign influences both in our country and here in Nigeria. Because we are geographically close, we know what happens here in Nigeria. And don't also forget that I said I am the representative of the Alaafin, we discuss a lot on this issue and efforts we, traditional rulers, should make in reversing the unfortunate trend.
Can you be specific on areas you want the Yorubas to work on to save their culture?
First and foremost, our language is important to us. It is the means of our identity among other ethnic groups. So, we must start from there. We must not allow the language to die. I have travelled to other countries and I have seen how important the Yoruba language is to those people. They teach it in the US, Brazil, Cuba and other countries. It is like those countries know what we don't know about our language. I am using this opportunity to call on traditional rulers to take a lead in rescuing our language from impending danger. From my end, I am doing all within my power to ensure I am counted among those who insist that the Yoruba language must be spoken and spoken well as a means of communication both in the private and public.
Your names sounds Islamic. How do you strike a balance between your culture and your Islamic religion?
That is exactly what we are talking about. I was born a Muslim but how should that take my culture away from me when the Arabs also have and protect theirs? That is the point we should emphasise and clarify. My culture is my culture and nothing should be allowed to come in between my culture and my religion. It is unfortunate that we allowed foreign culture to blackmail ours, dismissing it as idolatry. Again, as a traditional ruler, I am in the best position to clarify this and protect our culture and tradition and custom. Being a Muslim has nothing to do with it. As a matter of fact, I am the father of Muslims, Christians and others.
Traditional rulers, by right, can have as many wives as they desire. How many wives do you have?
It is true that traditional rulers enjoy that privilege. But things are changing because life is dynamic. But I must educate you that you have no right to ask of the number of wives that I have. There are some questions you should not ask a traditional ruler.
Is it insulting to ask sir?
I am not saying that. But I am the custodian of custom and tradition and I must be seen to protect them. This is what the custom says. You have no right to know the number of wives that I have. Okay, I am the husband of all women in my domain. An oba is even given wives free of charge by parents. He is the husband of all including the sick. Can you imagine that, including the sick? That is the position of an oba in his town. So, it is needless to ask of the number of wives an oba has.
How old are you, Kabiyesi?
You have come with another one. I have told you that there are some questions you should not ask a traditional ruler. How old I am should not be your concern or the concern of the public because it is not necessary. It is not necessary because an oba is the father of everybody. He is the oldest in the town. You can now understand what I mean better that knowing my age is unnecessary, and should not be probed further.
When did you ascend the throne of your forefathers?
I can't answer this question.
Why do you think you can answer this and leave out your age when the two questions talk of figures sir?
This one is for record purpose. I became the Alajase Onikoyi Abesan of Port Novo in 1972.
I observe you talk of the Alaafin with so much respect. What are the other connections you have with him?
I have said it that the Alaafin is our father, any time, any day. How can anyone write the history of my town without a mention of the Alaafin? That history is not complete. He has shown to us that he is a good father who looks after his children at home and in the Diaspora. He has never made us to doubt his genuine concern for us. I can remember during the era of Soglo when the Yorubas were being marginalised. The Alaafin came and visited the president. He held a meeting with him and things changed for better. The Alaafin told him to accord us better treatment and he obliged him. Now, we are enjoying the effect of that visit. This is a demonstration of a true father to his sons. There are so many occasions when his interventions saved situations. I can go on and on about the role the Alaafin plays as our father.
You look good in your aso oke fabric. Are you wearing this because you came for an event in Oyo?
You are asking me this question because you are meeting me for the first time. To start with, do you expect me to wear something else today? Our dressing is part of our culture. Our dressing differentiates us from other ethnic groups. Why won't we, therefore, wear what is our own? If I claim to be promoter of our culture, how would I justify that if I don't wear our dresses? There is no time I am in this robe that I don't feel proud as a Yoruba. Our dresses command instant respect. It is authority. I am appealing to our youths to embrace our dresses to promote our local industry.