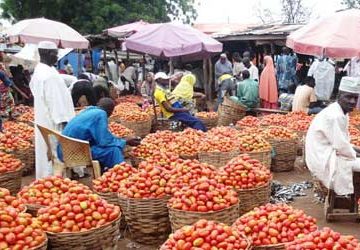 PRICES of food items have increased in the last one month in Kaduna metropolis, a check by the News Agency of Nigeria (NAN) reveals.
A check at the Central Market, Kaduna, on Friday, revealed that rice, beans, millet, maize, wheat and soya beans were the most affected, while the prices of semovita and spaghetti are stable.
A 100kg of local rice sells at N45, 000 as against N40, 000 a month ago, and a 50kg of foreign rice has increased from between N13, 000 and N14, 000 to N15, 000.
Similarly, a 100kg of red beans has increased from N30, 000 a month ago to N35, 000, while the same quantity of white beans now sells for N38, 000 as against N35, 000.
A 100kg of maize also increased from N9, 000 to N10, 000, while 25litres of vegetable oil that sold for N11, 600, weeks ago now sells at N12, 000.
A measure of millet goes for N200 as against N180; wheat costs N400 per measure as against N350 and garri costs N250 presently against N180 a month ago.
However, a measure of sugar has gone down from N750 to between N580and N600; same goes for a measure of flour which now costs N350 as against N400.
The price of 25 litres of palm oil also dropped from N11, 200 to N10, 500.
Alhaji shuaibu Rufa'i, a foodstuff dealer at Bakin Dogo Market, attributed the rise in prices of food items to the lingering fuel scarcity in the country.
Rufai told NAN that the current fuel scarcity has pushed transportation cost high, thereby forcing traders to equally increase prices of food items to avoid running at a loss.
"Transportation fare has increased following the lingering fuel scarcity, which invariably led to increase of prices of food items by farmers who transport them to the market and the dealers.
"The central idea of any business is profit, and to remain in business, one must ensure that return on investment is above cost price," he said.
Malam Bala Adamu, a consumer, decried the increase in the prices of food items, saying that the development has continued to impact negatively on the lives of the poor.
"I bought a 50kg of rice last months at N14, 500 and now it has increased to N15, 000. People are suffering, with the poor struggling to have just a meal a day," he lamented.
James Emmanuel, a Kaduna resident, called on the government to urgently solve the problem of fuel scarcity so as to reduce the suffering of the poor masses.