Toyota predicts 5% growth for Nigeria's auto industry in 2018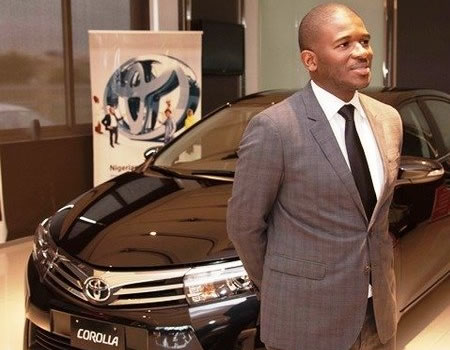 Toyota Nigeria Limited (TNL) has predicted five per cent growth in Nigeria's automobile industry, against the 48 per cent drop it witnessed in the sales of new vehicles in the last nine months of 2017.
The Managing Director, Toyota Nigeria Limited, Mr Kunle Ade-Ojo, who disclosed this while addressing journalists in Lagos, said about 7,000 new vehicles were sold in the first nine months of the year.
He said the sales represented 48 per cent drop from the total 14,500 units sold in the same period in 2016.
With the statistics he gave on the performance of the auto industry in the third quarter of 2017, he said with the gradual improvement in the economy, the growth is visible.
"From the importation point of view, there is a slight improvement because, in the first quarter, we had about 90 per cent drop, but as of the third quarter, the drop had reduced to 62 per cent.
"As of the end of the third quarter of the year, the vehicle sales were 7,000 units compared to about 14,500 last year, which is a drop of about 48 per cent in sales," Ade-Ojo said.
Notwithstanding the drop in sales, the TNL boss said Toyota still recorded the highest market share in Nigeria's automobile industry with 22 per cent as of the third quarter of 2017.
With the gradual restoration of the economy after the country exited recession, the TNL boss said the auto industry could grow by five per cent in 2018, while also predicting that the Toyota market share in Nigeria will rise to 24 per cent at the end of the year.
Assessing the performance of his product, Ade-Ojo said Toyota Hilux which belonged to the pickup commercial segment, contributed about 70 per cent of the about 1,900 units of vehicles sold by the Toyota Nigeria through its dealers between January and September 2017.
Among the Toyota top seller models, which Ade-Oyo mentioned included Toyota Hiace and Avensis.
Ade-Ojo said: "This year, if you look at the ratio sale of vehicles, most sales were more of commercial vehicles," but in 2018, he said, "we hope to see a bit of balancing with the recovery of passenger vehicles."
Owing to the last country's economic recession, he said sales of vehicles were negatively affected, but "as the economy improves, so will there be balancing of sales across the models and vehicle segments," Ade-Ojo said.
The economic recession, he said also affected the fall in the importation of vehicles, in the last one year, he also blamed this on an upward review of import duty from 22 per cent to 70 per cent, while also mentioning the drop in the dollar and other foreign currencies value as a contributory factor.