Top militants flee, as troops raze down shrines, camps in Delta creeks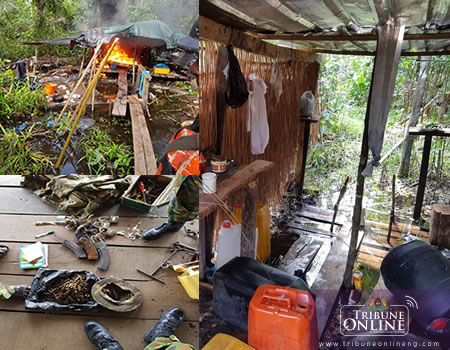 Scores of suspected top militants lurking around various shrines and camps in parts of creeks of Delta and Edo states are reported to have fled on sighting troops of the ongoing Operation Crocodile Smile II on Tuesday.
The troops were said to have stormed Ajakurama, Gelegele and Egbema kingdom in Warri North Local government Area of Delta State early hours of Tuesday leading to the several militants from the communities.
Several arms, ammunition, and tools were recovered from the shrines and militant houses raided.
A witness, who craved anonymity, told journalists that "militants flee the town when army stormed the area with large troops which could best be described as the worst for the militants in the recent times.
"This is because attempts by the army to carry out operations in the area has not yielded little or no result."
It was gathered that Ajakurama community, considered as a militant hotspot in Warri North Local Government Area was completely combed by the troops and their hideouts cleared.
Tribune Online learned that notorious militants such Felix Odowu, Osuwo Osiya and gang leader, Double Prince, had all fled to neighboring Ondo State following a hot chase by the soldiers.
It was also gathered that one Blessing Magic, the allegedly most bloodthirsty who led the Lagos attack at Ikorodu river where many soldiers lost their lives some time ago, was one of the top militants who also fled the camp when the soldiers stormed the area.
It was further gathered that One Godwin Namu, a priest in charge of the militant's shrine called "Egbesu" has allegedly fled to Abere and Okomu forests in Edo State while troops are on their trail.
Consequently, other shrines and houses said to be owned and inhabited by militants were also destroyed in the raid.
The traditional ruler of Egbema kingdom, HRM Agadagba G. E. O Tiemo, during an audience with journalists, threw his weight behind the operation.
"Though the militants threatened to stage a comeback, but the army are adequately ready to deal with, I must say that the Chief of Army Staff Lt Gen Tukur Yusuf Buratai deserved to be praised for bringing Operation Crocodile Smile to the creeks of Delta.
The good work done by troops of 19 Battalion since commencement of the operation is quite commendable. We have never had it this way before. This one is total," the paramount ruler noted.
Meanwhile, the Foundation for Human Rights and Anti-Corruption Crusade (FOHURAC) and the Ijaws People Development Initiative (IPDI) have accused the military of carrying out a wanton attacks and destruction of Ajakurama community.
Leaders of the groups, Alaowei Cleric Esq. and Comrade Austin Ozobo, in separate statements made available to Tribune Online described the operation as an invasion of a sleepy rural community that is not home to militants as alleged.
"Our attention has been drawn to a news currently flying on air that a combined military contingents have launched a coordinated attack on Ajakurama Community in Edo State.
"The news of the unprovoked invasion came to us as a rude shock even we are yet to get detailed information about the destruction.
'Due to the assurances the defense headquarters has been given to the Niger Delta people that its ongoing military drill is a friendly one, we thought that the exercise will be friendly.
"However, to our dismay, what we are seeing is a complete disappointment. Operation Crocodile Smile 11 is becoming a tool of war to be launched against Niger Delta communities," the duo averred.
They alleged that some powerful individuals had hijacked the military operation, calling the defense headquarters to prevail on its overbearing and power-hungry officers to order.