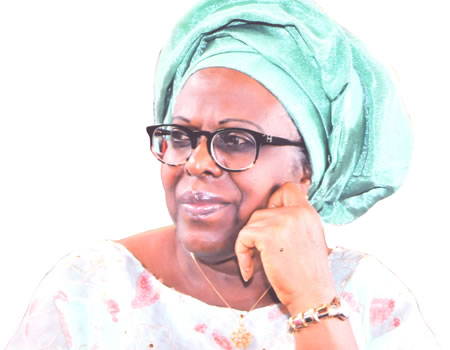 TOMORROW, Saturday, February 17 will fling open the activities marking the 70th birthday of Ambassador Dr. Tokunbo Awolowo Dosumu. She is a woman who should be celebrated by all those who believe in dealing with personalities who make history and who also ensure society benefits from the history they are making. She had a very humble background, having been born by parents who believed in the cause of the common people. The Western Nigerian Ministry of Information did a film production on how Tokunbo Awolowo  Dosumu was one of the beneficiaries of her father's free education programme in those days of Western region.
At that time, Tokunbo Awolowo Dosumu was living with her parents at Oke-Ado in Ibadan. When Tokunbo finished her primary education programme, she progressed to St. Annes Girls Grammar School at Molete, Ibadan for her secondary school education. Then she went from there to University of Bristol in the U.K. where she later qualified as a Medical Doctor.
On her return to Nigeria, she got married to her heartthrob, our friend Gbolahan Dosumu. They were married in October 1973. Tokunbo has always shown her love for the poor and needy. The husband and herself started an hospital that looked after the interests of the common people.
During the second republic politics, herself and her husband opened a clinic on upper Ikorodu Road area of Lagos where they attended to workers, students and less privileged people.
The hospital also cared for the members of staff of the Unity Party of Nigeria (UPN) founded and led by her father Papa Jeremiah Obafemi Awolowo. I am not sure that the UPN ever completed the medical fees of staff members that visited the hospital before the December 31, 1983 coup.
What was important to Dr. Olatokunbo Awolowo Dosumu was not the amount of wealth that could be generated from an enterprise that emanated from her father but the services that could be rendered to the poor to have a decent living.
She continued with rendering such humanitarian services even after the death of her parents to those who have worked with the family.
When the driver of Papa Awolowo died, (Mr. Samuel Adewodu) at Ilishan some four years ago, Tokunbo was on hand to assist the family of the late driver in giving him a befitting burial. When Romanus Ibegbulem died a year ago, Tokunbo equally assisted "ROMY" family in giving him a befitting burial.
When Alhaji Abimbola Awofeso (Tokunbo's first cousin) died, a year ago, Tokunbo was on hand to ensure a good burial for him.
Our own Abimbola Awofeso popularly known as "WITH INK IN MY BLOOD" was the son of Papa Awolowo's immediate younger sister Mama, Alhaja Hanatu Awofeso. (When I heard of the death of Abimbola Awofeso, I immediately contacted our aunty Pastor (Mrs.) Tola Oyediran who is Tokunbo's elder sister to find out the arrangements being made for the burial of Bimbola Awofeso. Aunty Tola confidently told me that Tokunbo will give details of such arrangements.
Ambassador Dr. (Mrs.) Tokunbo Awolowo Dosumu has a Midas touch. Anything she touches or handles becomes an instant success. She has shown this  trait in the way she manages the  Awolowo Foundation – (The philosophy of the emancipation of the common man).
It is very important to mention the notable role that Tokunbo has been playing in the activities of the Yoruba Unity Forum – an organization founded by her mother, Mama H.I.D Awolowo.
Interestingly, Tokunbo is a Vice-Chairman of the Yoruba Unity Forum that has Retired Bishop Gbonigi as Chairman and Engineer 'Tony Adefuye as General-Secretary.
Among the public contribution to society include her being appointed Chair-person of the University of Lagos Teaching Hospital Management Board.
She was appointed Nigerian Ambassador to The Netherlands by former President Olusegun Obasanjo.
She was equally a member of the last Constitutional Conference appointed by former President Goodluck Ebele Jonathan.
Tokunbo's Wemimo is married to us the Ijesa people (through the family of Professor Anifowose). Ambassador Dr. (Mrs.) Tokunbo Awolowo Dosumu is a kindhearted woman whose philosophy centres around live and let live. I can only end by wishing her a Happy Birthday and many more years of useful service to Nigeria her motherland. I also end this tribute with the following famous biblical passage of:
"Our God that has created the mountains of old, deserves all the praises and thanksgiving"!
We are sorry for our errors
Last week, we published on this page that my mother Mrs. Elizabeth Fehintola Babatope died 41 years ago, we apologize for this historical blunder. My mother actually died 49 years ago when I was aged 26 and a final year student of University of Lagos, Akoka, Yaba.
We equally goofed on the correct names of my mother's first cousins Chief Abiodun Lamikanra and Chief Poju Lamikanra.
EBINO TOPSY – 0805-500-1735 (SMS ONLY PLEASE)
ALSO READ: Gani Adams lauds Awolowo for cultural–tourism insight •Bags Culture Promoter of the Year