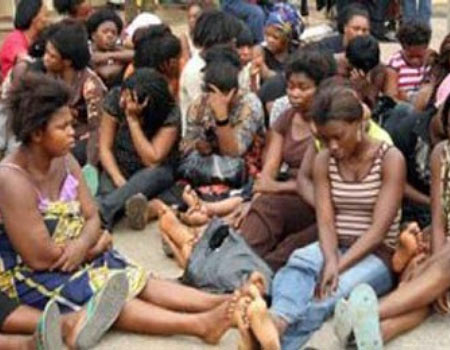 FOUNDER of Women Trafficking and Child Labour Foundation, WOTCLEF, Mrs Amina Titi Abubakar has called for collective efforts and innovative ways to tackle irregular migration and human trafficking in Nigeria.
Abubakar, the wife of former Vice-President Atiku Abubakar, made the call over the weekend in a keynote address at the 2018 Family Banquet and Awards night of Mbaise Secondary School Old Boys Association, MSSOBA, Abuja Branch.
News Agency of Nigeria, NAN reports that Abubakar, who was represented by Convener Women for Atiku 2019, Mrs Blessing Egbara said bold steps must be taken by all segments of the society to check the phenomena, which were destroying the Nigerian youth, who were searching for illusive greener pastures abroad.
According to her, the UN estimates that no fewer than 214 million people live outside their countries of origin, out of whom no fewer than 72 million are victims of human trafficking.
ALSO READ: My govt of national unity will end reign of cabal, Atiku tells CUPP
She noted that between 750,000 and one million persons are trafficked annually in Nigeria with over 75 per cent of those trafficked across states.
Abubakar said the crime of trafficking in persons generated not less than 150 billion dollars annually, according to UN estimates.
"The push factors which are factors within a source country that encourage the citizens to want to leave at all cost, include bad government, poverty, low wages, insurgency and war, lack of opportunities, economic hardship.
"The pull factors are factors at the dream country that encourage people to want to come there at all cost, perceived better opportunities, cheap labour, positive economic situation, political and social stability and so on," she said.
Abubakar said that government at all levels had failed to provide conditions which would discourage youths from embarking on dangerous adventures through illegal migrations, while the private sector did not see it as its responsibility to act to change the trend.
She called for stiffer sanctions against human traffickers as well as the institutionalisation of structures that would discourage youths from engaging in dangerous adventures.
Chairman of MSSOBA, Abuja Branch, Mr Gordian Ihuoma said that the association decided to deliberate on the subject of human trafficking as a way of enlightening the public on the dangers inherent in the practice to discourage youths from such adventures.
He said there was hardly any family or person in Nigeria today that did not someone affected by illegal migration