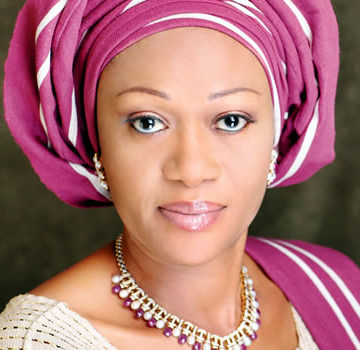 CHAIRMAN, Senate Committee on Environment, Remi Tinubu has called for an increase in the budget allocation to the Federal Ministry of Environment.
Tinubu made this call on Tuesday, when she led other members of the committee, to include Senator Foster Ogola, on a courtesy call on Governor Abiola Ajimobi, at Governor's office, Ibadan.
Noting that government failed to recognise the importance of funding the ministry, she stressed that devotion of more funds will enable parastatals and agencies of the ministry perform optimally in addressing environmental and ecological challenges such as climate change, flooding, desertification.
"We did our oversight yesterday and with what we met yesterday, agencies need a lot of money to perform optimally. The budget for the Ministry of Environment is very small and the government has to look into this. Nigeria does not know the advantage of the Ministry of Environment," Tinubu said.
                                ALSO READ: 'My 100 per cent loyalty now with Ajimobi'
Tuesday's visit also saw Tinubu intimate Ajimobi about the contents of the law on the environment passed by the Senate, to include granting agricultural research institutes the autonomy to directly do business with the international community.
Also speaking, Director General, Forestry Research Institute of Nigeria (FRIN), Dr Sola Adepoju, said more funding of agriculture institutes will enable them to mechanise some of their activities to sufficiently meet the demands of the country.
On the importance of the enabling law, Adepoju said, "We can now do business with the international community; the colleges under FRIN have the status of the tertiary institution and we have been expanded to cover the entire country."
In his remarks, Governor Abiola Ajimobi avowed that, with its current Gross Domestic Product (GDP) of $16.1bilion, Oyo state was poised to be the third largest economy in Africa by 2043.
Ajimobi premised this optimism on the strides of the State government in boosting the state's economy through the focus on peace and security, infrastructural development, industrialisation and urban renewal, the agricultural development which was targeted at doubling the State's GDP by the next 25 years.
"Oyo state is currently the 18th largest in Africa. Through our own programmes, we believe that Oyo State will, within the next 25 years, be the third largest economy in Africa.
"We believe that with our current GDP of about $16.1 billion, we are looking at a situation where, within the next 25 years, we will more than double that. We started by creating a foundation of peace and security, consolidating on infrastructure by building a network of roads, promoting agriculture towards being the food basket of the nation as well as our industrialisation efforts," Ajimobi said.