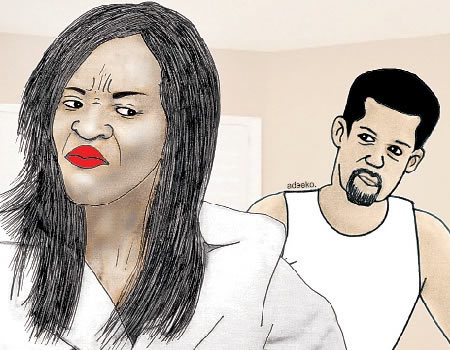 "The only way this court can help restore dignity back to me is dissolving my marriage to my husband.
"We have been married for nine years, but he has subjected me to inhumane treatment for these period of years. He treats me like an animal.
"Please, save me."
This was the prayer of Sarah Rasaki before Oja Oba/ Mapo, Court C Customary Court in Ibadan, Oyo State.
Sarah, a trader, has filed a divorce suit against her husband, Hammed, whom she accused of  battery and neglect of her and their four children.
"My husband is not bothered if our children and I are alive or dead.
"He doesn't care if we  ate or are well clothed.
"He has passed his role as breadwinner to me. I fend for the children, clothe and send them to school.
"The highest amount he leaves as feeding allowance is N300 and this can be just once in a month. Anytime he leaves this amount, he would rush back home in the evening demanding for his share of whatever I managed to prepare from the little amount, "Sarah stated.
"He boosts his ego by beating and hitting me.
"Whenever he wants to beat me, he would first tie my hands together and then hit me. This humiliating experience has become a regular pattern.
"In order to get rid of me, he took the children away from me and sent me packing late last year.
"My lord, I pray the court to award me custody of our four children, "she concluded.
"The best thing that can ever happen to me is to be separated from my wife, Hammed stated while responding to all  his wife had said.
"She said I don't take care of her, but she failed to tell the court I rented her a shop on three different occasions.
"I have dragged her before different courts due to her troublesome nature.
"The plain truth is that my wife is a lunatic which is my reason for sometimes tying her down when she starts misbehaving.
"She fights anyone and anything when her sickness comes on her.  And when this happens, she strips herself naked.
"I live in shame due to her behaviour. I have become a laughing stock in our compound and neighbourhood.
"My lord, I took the children from her because she's not in a good frame of mind to take care of them. I, therefore, pray the court to award me their custody, "he said.
Ruling on the suit after listening to both parties, the court president, Chief Ademola Odunade dissolved the union and awarded custody of the last child to the plaintiff.
He ordered the defendant to pay N4, 000 monthly through the court as the child's feeding allowance and N2, 000 for the plaintiff to pack her belongings from his home.
He was also asked to pay the plaintiff another N12, 000 as one year rent for a new apartment .