Mr Tokunbo Thunder-Balogun, son of the foremost and legendary Nigerian footballer, Mr Teslim Thunder-Balogun, has commiserated with Pa Reuben Fasoranti, the leader of Pan-Yoruba socio-cultural group, Afenifere, over the dastard killing of his daughter, 58-year-old Mrs Funke Olakunrin.
The killing of Olakunrin, shot dead on Friday, July 12, on the Kajola-Ore road in Ondo State by unknown assailants suspected to Fulani herdsmen, Thunder-Balogun said, "is a pointer to the President Muhammadu Buhari-led administration that there is need to further beef up the national security to stem the tide of rebellion against innocent Nigerians by yet to be identified organised assaulters on Nigerian highways."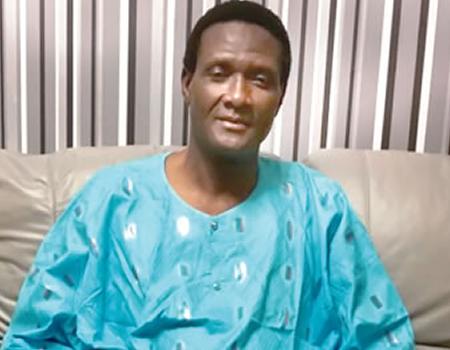 Thunder-Balogun, a Master's degree holder in Health Promotion at East London University with a Physical and Health Education degree at University of Ife (OAU), Osun State, currently, working as director of social and activities development in London, in his condolence message to the Fasoranti family and Afenifere leadership, said it was not giving to any man to take the life of a fellow human being, the reason the killers of Olakunrin should be fished out and be made to face the wrath of the law to serve as a deterrent to others.
He condemned the rising wave of criminal activities in the country, in form of banditry, kidnapping and armed robbery, which he described as "a menacing indication that all is not well with the way, manner, and strategy currently being employed to police the country," while he called on all the security agencies in the country to work together in ensuring the country is secured for both the citizens and foreigners to live in.
Thunder-Balogun said in his condolence message: "It is with a heavy heart I receive the news of the tragic death of your daughter, Mrs Funke Olakunrin, and really, there are no words to express my sorrow for this irreparable loss, but I, with my family emphasize with you, and with deepest sympathy, we express our sincerest condolences.
"Baba, may God bless and comfort you and your family. Our thoughts and prayers are with you and your family, at this trying time, when you had almost put behind you the death a daughter much earlier, the devil struck again, rudely snatching your beloved daughter. May you find the Lord's comfort and peace, we pray for you, Baba, and others she left behind, most especially her immediate family.
"Please accept my deepest sympathies for your loss; my prayers are with you and your children during this difficult time. May you find comfort and the strength to cope, Baba, our condolences to you at this sad time.
"I hereby call on President Muhammadu Buhari-led administration, the state governors and all the security formations in the country to work together and ensure the country is well secured for both the citizens and foreigners. The rising criminal cases in the country, and the latest killing of Mrs Funke Olakunrin is a pointer to the fact that something is wrong with the way, manner and the strategy being employed to police the country."