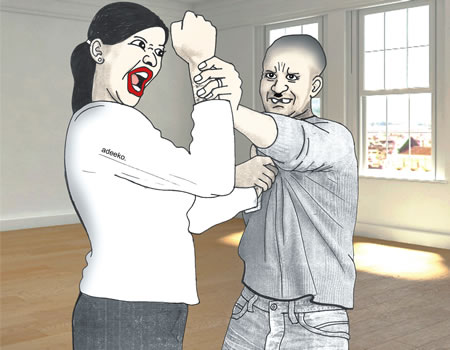 A woman, Omolara  Oyeyemi has approached  Oja Oba/Mapo Court C Customary Court Mapo, Ibadan, Oyo State, seeking for  a separation from her husband, Abiodun Oyeyemi.
Opeyemi alleged that her husband  abandoned his responsibility  as husband and father and was always fighting him.
He thus pleaded with the court to dissolve their union and give her custody of their children
"I have assumed the role of breadwinner in the home because my husband is irresponsible.
"He  dashes out of the home early in the morning when my children and I are still struggling to get out of bed and sneaks in in late in the night when we are already in bed.
"I can't remember when last he gave us feeding allowance. Any time I stay up late to discuss the welfare of our children with him, he turns it into a fight. The last time I did, he nearly  stabbed me with a scissors.
"He often descends on me with heavy blows and will refuse to open the door  to our neighbours  who have come to rescue me from his hands.
"I bought the electronics in the house because he refused to do so. Whenever he's around, he will tune high the radio  thereby disturbing our neighbours. Our neigbhours often complain  about this  but he has refused to change.
"I'm the one responsible for our children's education because he has refused to train them. I go hungry often times in order to give our children the best.
My lord, I'm fed up with such a lifestyle, please separate us, "she told the court.
Abiodun did not accept to claim. According to him, he didn't want their children to suffer.
'My wife has said all  that so as to be justified for leaving me.
"I have never for once shied away from my responsibilities. I'm committed to our marriage and my family,. That's all I have to say."
After listening to the duo, the court president, Chief Ademola Odunade adjourned the case till November 23 for further hearing.