This govt promised us change; where is that change now? —ASUU president
•How minister of education, Adamu, deceived ASUU – President •Nigeria not ripe for specialized universities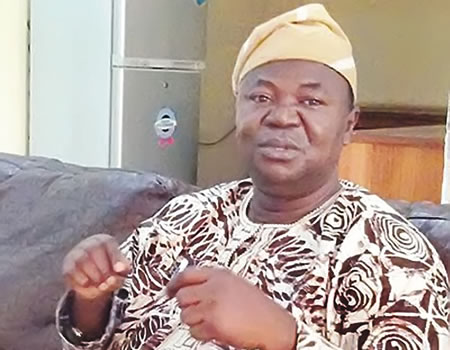 Professor Abiodun Ogunyemi, President, Academic Staff Union of Universities (ASUU), in this exclusive interview by TUNBOSUN OGUNDARE, once again lamented the Nigerian government's lack of commitment to the development of education, lack of integrity in implementing agreements and the unsavory consequences of both on the nation's education sector, among other issues. Excerpts:
How would you assess Nigeria's education sector after 59 years of political independence?
Our education falls short of expectation. If we look at all the indicators, we have had expansion at all levels from primary to tertiary schools but the quality also across levels has been compromised, particularly in the public sector. It appears over-politicisation of education has removed the substance in public education. Education should drive the development of a country. In every sector: economic, political space, socio-cultural, science and technology, education should show the way; but we do not, as a country, give sufficient attention to the sector. That is why our country has remained underdeveloped.
Development in what sense?
Development in all ramifications. Development is about change and transformation. If you see a country that pays lip service to education, you can easily predict that such a country has compromised its future. If we talk of the Asian Tigers and we are trying to toe their path, we should go and look at their stories. They give education a prime priority. If you also look at Japan today, which is the leading technological power in the world, you will see that up to 80 per cent of its youths –who form the major part of the economically active population – are literate. Finland has the best quality of education in the world, and that is why when you mention people with the best quality of life, you can't talk without mentioning them. But what we see in our clime is that our politicians have made education a campaign issue by declaring free education which they know they will not back up with funds. That is why they also establish new schools they don't have plan to develop. They have done this several times and still doing same, even till now. For example, the existing universities are crisis centres, yet government still wants to create more. I will give only one example to demonstrate this position and that is the Federal University, Oye Ekiti. Recently, the university announced publicly to charge N50,000 as acceptance fee for every new student. The university said the money would be used to develop infrastructure. Yet, that is a federal university where government is saying tuition is free. How do we classify that money? The university that is less than 10 years or so is now saying it will charge new students huge acceptance fee to develop infrastructure. That sounds absurd. In the first place, it means those who created the university had no plan on how to sustain it. In other climes where things are done properly, they will have at least a 10-year development plan from inception. Government is now proliferating universities in the name of specialisation. They are talking about University of Transportation, University of Technology, University of Environment and all that. We are just ridiculing our university education because there is no way these universities can grow well on their own. We are not ripe for such specialised universities. If you talk of University of Environment or Transportation, for example, you will need all the sciences – Biology, Chemistry, Physics and all that. And before you know what is happening, they will begin to clamour for social sciences and so on after business-oriented courses. Look at those various universities of agriculture and that of science and technology, you will see that many of them are running Business Studies, Economics and even English Language! University education in our country is politics-driven. For Nigeria to move forward, we have to have a rethink about our education.
How?
It is simple. ASUU has severally called for a state of emergency in education and the union is still standing by the call. The current Minister of Education, Malam Adamu Adamu, in November 2017, during the first term of this administration, at a ministerial retreat with the presidency, raised our hope; I mean ASUU's hope. He came out boldly at the forum to say that only Nigeria, among the African Union (AU) countries that was devoting less than 20 per cent of its annual budget to education. He openly criticised what government had been doing before – which is a very rare thing to do among the successive political leaders in the country. He said he was in total support for the declaration of state of emergency in education. We all clapped for him. We thought he meant what he was saying. But what have we seen two years after? The same story, if not even worse. We thought his action meant that he also agreed that things are actually wrong with the system; but where is the political will to bring about the change? This current government promised us change. Where is that change now? Change is about transformation with sacrifice. When we pay lip service to the word 'change', we will just be dancing in a cycle. This is the right time to break that cycle of underdevelopment in our country. We need to go back and do a rethink as a way forward. By developing our education, we will see genuine transformation in our country.
But what the paucity of funds as government usually claims?
That is a flimsy excuse. All is about priority and the willingness to cause a positive change. If government's claim of no money is true, why can't it then sit down and say, 'well, for now, we won't establish new universities; let us revitalize what we have first' –which is what ASUU has been calling for over the years? In 2012, government came up with a committee charged with the responsibility of doing a comprehensive assessment of the state of our public universities generally. The committee arrived at N1.3 trillion to revitalise and reposition the public universities, but government has failed to implement those findings. It has rather turned the establishment of universities to constituency projects, which is compounding the crisis. Maybe you don't know: every senator now wants a university or any other higher institution of learning to be cited within their senatorial district. There was a time they had over 80 proposals for new universities at the Senate. What are we doing that for? Government that is saying there's no money, why not sit back and put its institutions on ground in the right position, rather than creating new ones that will soon become crisis centres? The ones created by President Goodluck Jonathan's administration are already crisis centres. Somebody is now adding to the crisis and yet, people will come out to blame ASUU for clamouring for real change. Are those people expecting us to fold our arms and watch political leaders run down the quality of our universities or compromise the standard we all laboured for?
Does it mean government is unable to meet up with the latest resolution with ASUU?
No. Government is not even talking about the universities' revitalisation any longer. We signed this memorandum of action (MoA) with the government on February 7, 2019 and we expected government to have taken concrete steps for the fulfillment; firstly, to find a way of building the requirement around the budget. But we didn't see that in the 2019 budget and now we are moving to 2020. Nigerians should actually prevail on government. They should not be signing agreement they cannot honour or that they don't have intention of implementing. That is the root of the crises on our campuses. You cannot have industrial harmony when government cannot live up to its promise either to the union, or to the country as a whole. The union is supposed to serve as a watchdog of the society. If everybody keeps quiet about what is happening either in the education sector or political space, or economy, or agriculture and all that, it means we will soon end up a Banana Republic; and that will not augur well for us as a country claiming to be aspiring for greatness.
What exactly should be the focus then?
ASUU has already given that as a comprehensive position in November last year. Then, government asked us to make a position, which we did to the presidency through the then minister, who is still the current minister of education. The proposal is how to ensure sustainable standing of university education and the education sector in general. We believe that within that framework, they should be able to address the issue of revitalisation, especially the report of the NEEDS Assessment of 2012. 2012 to now is seven years, and the government is still dancing around its own report. That is very unfortunate for us as a country.
It appears ASUU has backed down on its agitation?
No, no, no. ASUU will never surrender. How do you expect such? ASUU is a union of intellectuals. Our concern is not just about university, but about the future of Nigeria. So, we believe that if everybody folds their arms, it means we are compromising the future of our dear country. It means we are also sowing the seed for the underdevelopment of our children and generations behind them. All Nigerians are stakeholders in the Nigeria project. When ASUU talks, we expect other stakeholders to do likewise so that together we can jointly prevail on government to pay the required attention not only to education, especially within the context of our proposal, but also the welfare of people. Because we teach and do research, we have the facts and figures. We know what is happening in other parts of the world. And if truly Nigeria wants to take its rightful place in the comity of nations, we must go back and address the rot in the education sector. And we must do that without listening to the dictates of the World Bank and International Monetary Fund.