They told me that they wanted me to have children for them, so that the children can be brought up to become jihadists like them —Phoebe Musa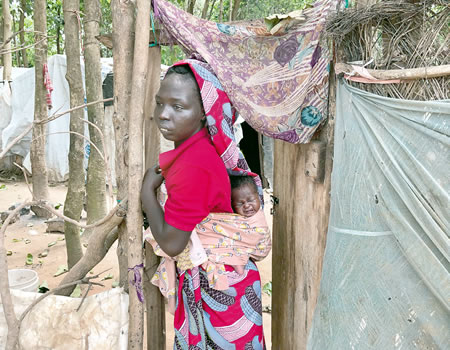 She cuts a timid demeanour and speaks only her native Chinese language. Her inglorious ordeal still weighs heavily on her mind. Phoebe Musa, aged 20, is lacking in self-esteem. Today, she struggles with her mental faculties to recall what day it was in 2014 that she was violently snatched from her village in Gwoza, Borno state, but the memory of the Boko Haram's attack floods to her like an action movie she has just seen. She vividly recounts how a large number of the terrorists stormed her village at dusk on that fateful day.
Even though her family members were aware of the dangers they were exposed to from the constant news of the insurgents' raids in towns and villages around them, they chose to maintain a fatalistic stance and waited for whatever fate will throw at them. Poor and wretched, they had nobody to look up to, talk less of where to emigrate as people who had not gone beyond their immediate environment all their lives.
Slightly built at about four and a half inches in height, Phoebe says her family decided to brave the odds and remained in their village hoping that the rampaging Boko Haram terrorists would bypass and never trouble them. But they were wrong. On this day, boom, the raiders on horsebacks, motorbikes and various military vehicles announced their presence with bursts of gunshots that were soon followed by rising flames from houses they had deliberately set alight.
Moments later, Phoebe, at just about 14 years old, found herself in the custody of the terrorists. She had been seized, blind-folded and dragged along by the insurgents who cared less about her cry and feeble struggle to break free. For days and nights, she toddled on with the Boko Haram cavaliers through shrubs and deserts to get to their hideout deep in the Sambisa forest. Once there and without her consent, she was handed out in marriage to one of the terrorists.
FG orders nationwide crackdown on substandard secondary schools
Now a loner, a withdrawn Phoebe, who arrived at Durumi Internally Displaced Persons (IDPs) camp in Abuja about a year ago to became one of its 3.000 inhabitants, tells Saturday Tribune about her abduction through an interpreter: "Immediately we got to their base, my abductors handed me over to a militant who married me." It was a whole new world for the former teen village peasant farmer of cereal crops. She says she was not able to escape as some more fortunate family members managed to do on that occasion. "The attack was very sudden, confusing and terrifying. I did not have the time to think of what to do," The consequence of that was to be made a sex slave to militants. Notwithstanding, she still considers herself lucky given the number of people killed on the spot during the attack, as well as those who were abducted and never returned.
For about a year and a half, Phoebe remained with her militant husband, got pregnant and had a child for him. The child did not survive. "I was still mourning the death of my first child when they handed me to another terrorist. I do not know what happened to my first husband," she volunteers. She also stayed with the second husband for about a year, got pregnant and had another child. This, too, died. "Things were very difficult for us in Sambisa. We went for days without food and water and so, my children died because I had nothing to give them. They died of starvation," she laments.
Soon after losing her second child, she found herself married out to a third militant. "They told me that they wanted me to have children for them, so that the children can be brought up to become jihadists like them," Phoebe reveals.
Towards the end of 2018, pregnant, she ventured out of their hideout in Sambisa forest to fetch water from a well. Mother luck smiled on her. She says was rescued by advancing troops, who took her to Pulka in Gwoza local government area before being relocated to Maiduguri, and from there to Durumi IDPs camp.
About a month ago, Phoebe gave birth to her third child for her third terrorist husband. But she hopes that she had never had the child. She apprises Saturday Tribune of how she has become more miserable since her arrival in the camp and her subsequent delivery of Katala, a baby boy, who, rather than be a bundle of joy, has become her burden. This is not because she does not love him, but for her lack of the requisite wherewithal to care for the baby.
Durumi IDPs camp has developed into several parts. The main camp is within a perimeter fencing where tents are provided for the displaced persons from many parts of the insurgency-ravaged northeast. Around the main camp are shanty structures built under the covering of large trees ostensibly because there is no more room in the main facility. Phoebe and her son dwell in a tattered shack among the spillovers. This group has no access to decent shelter, light, water, and sanitation. Phoebe says her parents, who are also in the IDPs camp avoid her because of her previous association with Boko Haram terrorists. "My father has rejected me because I had children for Boko Haram militants," she alleges. "But they know it is not my fault. There is nothing I could have done against the militants." She believes that since she arrived at the Durumi camp, she has been treated like a leper. "They have all run away from me. Even though my father is here in the camp, he doesn't want to see me, and what they give me (aid) here is not enough for me and my son. We are starving," she says with her fingers locked behind her underneath an agitated Katala strapped to her back, in a bid to calm him. Phoebe fears that Katala will not survive for too long unless urgent intervention comes their way.
Her parents were not available for comment as they were said to have traveled to Nasarawa state for farm work. Deborah Daniel, her cousin, also a displaced person, believes though that the young mother's parents may be shying away from her because they have no means to take care of her and her child.
However, Sani Audu, 30, also from Gwoza and a long term IDP in Durumi camp affirms that Phoebe has indeed been abandoned by her family and has not had things easy since her arrival because of her previous link to Boko Haram terrorists. "We are all IDPs here, we are not having the best of time, but her situation is pathetic and deserves the attention of government and well-meaning individuals," Audu declares.