Theresa May emerges second female British Prime Minister •26 years after first female PM, Margaret Thatcher
British Home Secretary, Theresa May, is making history as the second woman to emerge the Prime Minister of Britain, after David Cameron offered to resign as a result Britain's decision to pull out of European Union.
May is coming 26 years after Margaret Thatcher, who, in 1979, became the first woman British Prime Minister, until her exit in 1990, after she had ruled Britain for 11 years.
Cameron decided to relinquish power after the unpopular historic European Union referendum that eclipsed the exit of the United Kingdom from the EU, a decision, which though was against his wish, but only allowed for the referendum to fulfil his campaign promise.
Now, Cameron's decision to wilfully vacate office has set England on another path of history, paving the way for Britain to elect her second woman Prime Minister.
David Cameron is expected to vacate his position as Prime Minister on Wednesday after 52 per cent voted to leave EU in June.
The race to replace Cameron from 10, Downing Street, has witnessed several twists, owing to reluctance of touted candidates to take over the oblivious challenges that face the in-coming PM a United Kingdom with European Union.
For the first time in the history of England, two women; Home Secretary Theresa May and Energy Minister Andrea Leadsom, emerged as the leading successors, but the race took a new dimension early on Monday, after Leadsom pulled out of the race, leaving May as the heir apparent to the exalted seat.
May was appointed leader of the Conservative Party, which by extension anoints her as the waiting Prime Minister of England 37 years after Margaret Thatcher emerged as the first PM of England.
Before her appointment, Theresa May was Home Secretary since 2010 and Member of Parliament for Maidenhead since 1997.
May's wealth of experience in politics puts her in a vantage position to help steady the political ship of England rocked by the outcome of the referendum.
Born in Eastbourne, Sussex, May studied geography at St Hugh's College, Oxford. From 1977 to 1983, May worked at the Bank of England and from 1985 to 1997 at the Association for Payment Clearing Services, also serving as a councillor for the London Borough of Merton's Durnsford Ward. After unsuccessful attempts to get elected to the House of Commons in 1992 and 1994, she was elected MP for Maidenhead in the 1997 general election. She went on to be appointed Chairman of the Conservative Party and be sworn of Her Majesty's Most Honourable Privy Council in 2002.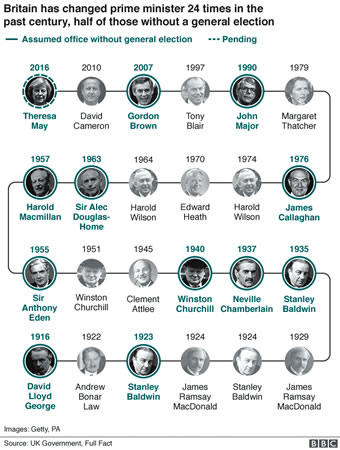 She served in a number of roles in the Shadow Cabinets of William Hague, Iain Duncan Smith, Michael Howard, and David Cameron, including Shadow Leader of the House of Commons and Shadow Work and Pensions Secretary, before being appointed Home Secretary and Minister for Women and Equalities in 2010, giving up the latter role in 2012. May is the longest-serving Home Secretary for 60 years and has pursued reform of the police, taken a harder line on drug policy and introduced restrictions on immigration, according to Wikipedia.
May's candidacy for the Conservative Party leadership election started in June and won the first ballot by about 50 per cent of the vote on July 5. On 7 July, May won the votes of 199 MPs, facing the vote of Conservative Party members in a contest with Andrea Leadsom.
While giving her acceptance speech as the Conservative Party leader, May expressed her humility and honour of being chosen to lead the ruling party.
May, on her Twitter page revealed that as Prime Minister, the choice of the people would always come first, reiterating that she will ensure that her country leaves EU as they have indicated in their votes.
She also stated, with hash tag #TM4PM, her intention to ensure the wide margin between the rich and the rest of the country is closed up. She said: "There is a gaping chasm between wealthy London and the rest of the country.
"It doesn't matter to me whether you're Amazon, Google or Starbucks; you have a responsibility to pay your taxes. As Prime Minister, I will crack down on individual and corporate tax avoidance and tax evasion.
"This is a different kind of Conservatism but it is consistent with our principles. We don't just believe in markets, but in communities. We must leave the European Union – and forge a new role for ourselves in the world," she tweeted.
The Conservative Party leader supported the Remain campaign during the referendum, but has vowed to go on with Brexit. "Brexit means Brexit."The campaign was fought, the vote was held, turnout was high, and the public gave their verdict," May said in her statement on Monday.
May's strength in the face of challenges would serve as an edge in uniting England, who has recorded recent violence in racism among the UK countries and the larger society.
In June 2014, May was forced to apologise when passport applications mounted without government approval, BBC said. It was reported that 493,000 passport applications that piled up and 10 per cent of them were not being processed within a three-week limit.
While responding to how she was handling her health condition after she admitted to Dailymail that she has Type 1 Diabetes after it was noticed that she had lost weight.
May said "The diabetes doesn't affect how I do the job or what I do. It's just part of life… so it's a case of head down and getting on with it."
With May joining other world women leader like German's Chancellor, Angela Merkel, and with United States election coming up later in the year (November), women taking the centre stage in world politics might be the new world order.