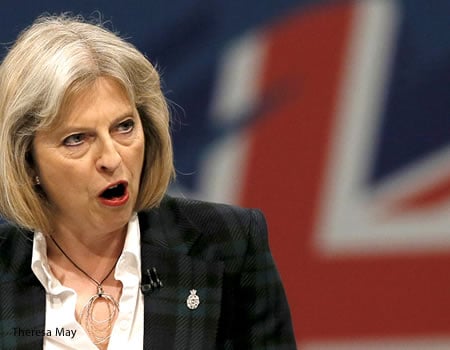 BRITISH  Prime Minister, Theresa  May, recently urged countries in the Commonwealth that have laws banning same-sex relationships to revoke such laws. She described them as outdated legislations.  May made the call while addressing leaders at the Commonwealth Heads of Government Meeting (CHOGM) held in London. Dangling a carrot before the leaders, May promised financial support for countries that would heed her call. It is not clear how such compliance in terms of revocation of the supposedly outdated legislations would translate to development for these countries, but the threat to their sovereignty is not in doubt.
If the laws of a sovereign country should ideally derive from its mores and traditions, how dare Britain make conditional suggestions to its former colonies regarding what laws to make just because they belong to the Commonwealth? It is difficult to fathom Britain's passion about force-feeding its acolytes with its own sexual preferences, seeing that this is a repeated request after a similar one made during David Cameron's tenure as Prime Minister, which was duly rejected.
ALSO READ: Osun 2018: I'll support whoever wins PDP governorship primaries —Senator Adeleke
Certainly, the United Kingdom is not bothered about Nigeria or any of the Commonwealth countries' interests as independent countries which should be free to determine their sexual direction based on their cultural and religious compasses. Britain, it would appear, simply wants commodious environments for its citizens based in Nigeria or any of these countries who may run foul of the law if they practise same-sex marriage in these countries.
Frankly, this request  has been made mainly because of the position of Nigeria and the other affected countries in the international system where they are largely considered as poor and needy nations that are hungry for aids and support from Britain. It is not likely that Britain will make this conditional proposal to India, which incidentally shares the same colonial experience with Nigeria but which has held tenaciously to its cultures and traditions. Britain is also not likely to make such supercilious suggestions to either China or Russia, countries that are higher up on the ladder of development and therefore not beggarly. There cannot also be any fear of sanctions either because these countries are on a par with the West in terms of advantages and it can only ignore them at its own peril.
It can therefore be surmised that Britain's  detestable condescension is a function of the affected countries' experiences of misrule and lack of direction and purpose which always force their leaders to beg for various aids and financial support.  If Nigeria had got its acts together, the British Prime Minister would not have made such a demand. She would have been busy making other negotiations with the Nigerian government instead of the sexual preferences of Nigerians. As expected, many interest groups in Nigeria have reacted negatively to the suggestion based essentially on their religious persuasions. In short, the suggestion has met with  general disavowal in the country.
To be sure, there are many more urgent national challenges than the promotion of same-sex marriage and no logic, however  persuasive, can prioritise it for now. Apart from the aids from Britain, what would the revocation of the law on same-sex  relations achieve for Nigeria? How is the revocation of the law going to make Nigeria a better country in terms of the economy, infrastructure and security? These are the  more pressing issues on the national agenda, not the sexual preferences of a minority that are largely considered as being sexually disoriented.
Still, the British Prime Minister's request should serve to nudge Nigeria in the direction of maintaining and sustaining its dignity and integrity by leaving the port of beggar nations supinely taking gratuitous insults from seemingly superior countries, especially if the aids carrot being dangled cannot really be separated from the loot that strayed into their shores from here in the first place.