There is no discipline in Nollywood because…. —Film maker, Nwachukwu Emioma
Nwachukwu Emioma is an actor, a scriptwriter and a movie producer. In this interview by FEMI OGUNTAYO, Emioma who has produced over 18 movies, talks about his career as a filmmaker, actors-producers relationship among other issues. Excerpts: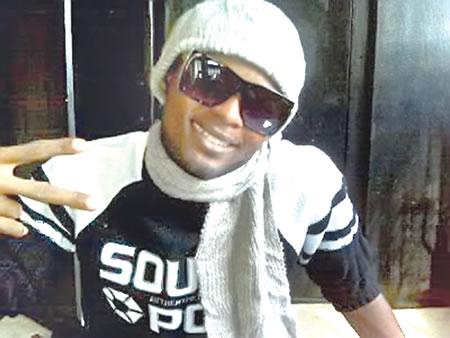 Actor or movie producer, which do you prefer to be called?
Well, I'm passionate about the career path that I have chosen and as such, the title doesn't really move me. However, my works which directly campaign against ills and highlight morals and help build courage are what I look back to and I say yes, I am a filmmaker (laughs).
What are your aspirations as an actor and a movie producer?
There are lots of things to talk about. From growing up, I have always wanted to lend my voice. I have always wanted to stand for what is right. I am driven by my watchword, which is to be a nation-builder and it gives me so much joy to affect lives positively as an actor and as a producer.
Do you think the Nigerian movie industry is meeting up with global standards in terms of storyline, graphics, costume and general production?
We have evolved and are still evolving. I don't believe in meeting global standards because the two environments differ. Since time immemorial, we have accepted Hollywood for the standard they have set and I believe Hollywood should also accept Nollywood for our own standards. Our stories are different, just like we are different as a people. So, no matter how much work we put into our productions, we won't still meet their standards.
I suffice this to say that, we tell our stories the best way we can. We don't shoot guns in our everyday activities but they do and they are quick to shoot guns in their films. Our stories are family and love-oriented and we tell these stories the way we practice it, just like Bollywood tells romance stories with slow motion and they make out with slow motion. We are Africans and make out with a lot of energies. We need to appreciate ourselves for the world to appreciate us.
What do you think could be done to improve the quality of our movie productions?
There is room for improvement, we can always improve on our picture quality and this can only happen when the funding is right. We scrimp and save in bits and pieces to raise a reasonable budget for shooting and there is always a limit to what one can do with limited funds. Investors are no longer forthcoming because a lot of investors have been duped by some miscreants in the name of production. I can't be on set filming for 20 days if my budget is not bulky. Actors who would have come to support your shoot based on the incentives you are giving won't give you their very best when they are preoccupied with thoughts of raising money to sort their problems. Even when they give you the time, they won't be in the right frame of mind to deliver and give the project the best performance. Producers will pay actors handsomely when they have reasonable budget. Funding is and has always been a problem.
How did the journey into the Nigerian movie industry start for you?
My journey into Nigerian movie industry is a dream come true, although, has also been a bitter-sweet kind of journey.  I started out as a scriptwriter who wrote a lot of scripts in the early 2000s and dubious producers cart away my stories. It got so disheartening at some point that I stopped writing and wished for the opportunity to produce my own film one day. As God would have it, when the time was right, I didn't just write a script that was produced into a movie, I produced the film and played the lead role. It was an indigenous movie entitled, Orogun Meji and it turned out a hit in 2011/2012. Since then, the rest is history
What are the challenges you have faced and are still facing as an actor and movie producer?
The challenges we face and are still facing as filmmakers are enormous.  Let's start with the internal problems. Actors have become dictators, and this is because producers are not united or should I say the Association of Movie Producers (AMP), is not functional.  This is aside the obvious fact that producers are their own enemies, because they are all out to compete and outshine the other.
Then again, you go to film in people's houses, at a certain time frame, they chase you out of the house. Should we talk about actors coming on set at their convenient time and wanting to leave almost immediately? 
There is no discipline in Nollywood because the guilds are not functional. Any money miss road can come and say I want to produce a film because he or she has the money.
Producers labour for the actors and the rest, but thank God for well-to-do producers like myself who would stop at nothing to checkmate these ills on my own set.
How many movies have you produced in all? Can you also mention them?
So far so good, I have produced 18 films. All the 18 films are written and produced by me, not to mention the fact that I financed all the 18 films. Their titles are Orogun Meji, Abbey Eleregbe, Ife Afeju, The Wannabe, Desperate Sisters, Silent Pain, Torment, Super Dads, Karma, A Perfect place to die, One Good Turn, Rivals, Secrets Are Saviours, Passion's Way, Keeping Mum and The Slave Driver.
Most of your movies are channeled towards marriage, why is this?
Most of my movies are channeled to marriage because of the rise in divorce.  The level of dysfunctionality with the present day marriage is disturbing. It is a trend that needs to be abolished. I remember when I wrote 'A Pain to Last' in 2006, veteran actress, Ngozi Ezeonu said to the producer, I like the script but most importantly, I want to meet with the writer. He must be a divorcee and the producer told her that he was just a lad and she replied he must have been raised by a single parent.
Lo and behold when we met, she was amazed that my parents are still living together and I was raised in a stable home front. What I am saying in essence is; these are relatable stories. They are topical issues that we need to talk about. Notwithstanding, I'm a sucker for laughter, so my movies are comedic as well and that could explain the reasons for the massive airplay they get.
How profitable is the acting profession?
Hmm, let me not shake this table o. Well, on a more serious note, it is profitable, it is just that actors are 'wannabes' and want to live beyond their means. But I won't explain this from my point of view because just last year, I drove 6 luxury cars not to mention that I was called a ritualist two times last year and I got into the police net endlessly because I drive posh cars and they would easily mistake me for a Yahoo boy. Here is the thing, aside acting and producing, I have a side hustle, which is, running my elder brother's business, because he doesn't even live in the country. So, acting or producing doesn't even give me enough to pay my expensive bills.
What is your biggest achievement since you joined the Nigerian movie industry?
My biggest achievement since I joined the industry is being an employer of labour. When I'm filming, I have over 30 people on set, people who I have to pay, provide shelter and supervision for. Not to mention walking on the streets and being appraised for your good jobs or getting DMs for such accolades.
Your most embarrassing moment? 
Two most embarrassing moments; my movie, Orogun Meji was released and I didn›t know. I was in church, some beautiful ladies kept staring at me and I thought I was wrongly dressed. I headed out of the church and some other ladies saw me and screamed Obama, which was my character name in the movie. I didn›t know what to say to them or do to them and my uncle said they are your fans and instead of waving or smiling at them, I went to hug them individually, that was fame right there and I couldn't even handle it.
The second one was, I was cooking on that fateful day, so I rushed out to get more oil and I thought the oil I was cooking with wasn't enough. The vendor sold a small bottle for N100 and I gave her N1000 note. When she tried to give me my change, she then said, I saw your movie, it was really interesting and the next person sitting there said, oh, he is an actor and is buying N100 oil. All these actors are really suffering.  So, I shamefully left the N900 change and walked away
Your words to aspiring actors or movie producers
My advice to actors: Attitude! Attitude to work, character, it is like a flat tyre, you either change it or remain at a spot forever. No matter how passionate and talented you are, if you don't have the right attitude to work, I'm honestly sorry. As for producers, keep doing the good job, someday, it sure will pay off.