The public should steer clear matters of traditional rulership —Oba Alao
By July 17, 2019, the Olugbon of Ile-Igbon in Surulere Local Government Council of Oyo State, Oba Francis Olusola Alao will clock two years on the throne. TUNDE BUSARI captures some important sides of the traditional ruler.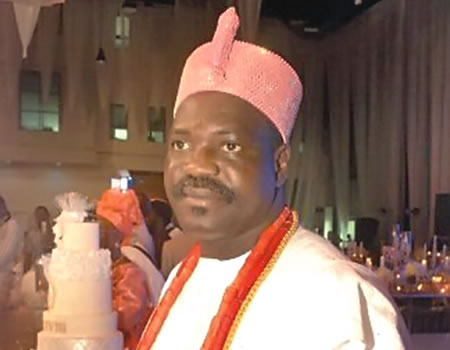 From childhood, the then young Francis Olusola Alao was known as prayer combatant who regularly confronted life challenges with spiritual fervor. Being a member of a choir group in the church as a son of a pastor at Christ Apostolic Church (CAC) further entrenched him in the way of the Lord. And when he grew to adulthood and particularly met the young lady, Olusola Adedoyin who later became his wife, and who currently pastors at the Redeemed Christian Church of God (RCCG), Alao was more fortified.
Confident and outspoken, he does not enjoy silence when things are not done right either by government or the governed. And when he is given the floor, he talks tough but beautifully blending articulation with logic on different subjects. However, his soft side is seen when his wife is involved in an issue that requires him to throw some figurative hard punches. As a matter of principle, he listens more during every discussion with his wife because, according to him, she is blessed with what a man needs to climb the ladder of life.
He shed more light on this, asking "Do you still call olori my wife? She has grown beyond that, and the Yoruba summed it up long time ago that when a wife has spent many eventful years in a man's life, she becomes the man's mother. I think this is the perfect picture of my wife, and to God be the glory.  Apart from being my mother now, she is also a pastor whose prayer has proven to be the engine that keeps the family and throne on motion.
"How she was brought up is one of her strong points, which is working well for her till date. Despite the fact that she had all the privilege a kid should have, she preferred to live a lowly life with her grandmother, a disciplinarian who taught her a lot of things about humility in the former Kwara State before Kogi was carved out. I cannot just exhaust what she is to me in a page. We have grown to even being seen as twins."
Much of this description was seen on March 3, 2018 at the occasion marking the 73rd birthday celebration of Senator Florence Ita-Giwa held at Echoes of Calabar Restaurant, Victoria Island, Lagos, where Oba Alao and his wife were the cynosure of all eyes when they arrived the venue of the exclusive gathering of dignitaries.
It was a function where the popularity of the couple soared higher as greetings from all directions accompanied them to their seats where they were later joined by another traditional ruler, the Oba of Igbobi-sabe, Lagos, Oba Owolabi Adeniyi who was also accompanied by his wife. How did Kabiyesi feel among those corporate personalities?
"What you saw was a true reflection of where I was coming from before I became the Olugbon. I had a successful career in corporate world. I think what happened was simply our way of showing honour and respect to royalty. I was happy as you could see me and Olori who even enjoyed her dance. It was a great evening in honour of Senator Florence Ita-Giwa who is well known both in the corporate world and politics. There is no doubting the fact that we had fun. That is how we unwind after palace work," he stated.
Soon after the Independent National Electoral Commission (INEC) suddenly announced the postponement of the just concluded general elections from February 16 few hours to the exercise, one of many prominent Nigerians who raised their voice against the decision was the Olugbon. He was simply agitated not only because he is a first class traditional ruler, he was livid because of the danger he said he had seen in the horizon as a result of the INEC alteration.
Aside that, Oba Alao asked Professor Mahmood Yakubu-led INEC to quantify the cost of the postponement on businesses and time, pointing out that the shift had reduced Nigeria to a laughing stock in the comity of serious-minded countries of the world, who had expected so much from the elections.
He declared: "Being a first class traditional ruler has conferred on me the obligation to go beyond traditional issues and lend my voice to public issues as that postponement. I am baffled to read about the postponement, and believed that Nigerians don't deserve that treatment. Leadership is about followership, and when you are given a national assignment as that, the leader must know how important the electorate are in achieving result. I said all I said in my capacity as a leader and patriotic Nigerian."
At the end of the presidential and National Assembly as well as governorship and state houses of assembly elections, winners and losers emerged and life continues. The incumbent President Muhammadu Buhari of the All Progressives Congress (APC) polled 15, 191, 847 votes against former Vice-President and candidate of the Peoples' Democratic Party (PDP) who recorded 11, 262, 978.
Regardless of a pocket of complaints which trailed some of the results in some states, Oba Alao heaved a sigh of relief, congratulating the electorate for exercising their civic right in a peaceful atmosphere. He stated that the worry he had expressed before the elections was all about having hitch-free polls that would not plunge the country into chaos as the nation witnessed in the June 12, 1993 elections.
"Again, as a frontline traditional ruler, I should not be seen folding my arm when I sense something that may affect the generality of the country. My voice then was an addition to the voice of other concerned Nigerians who probably saw what I saw. Though our voice did not reverse the postponement, the whole elections ended well and that gave me a sense of fulfillment, so to say. Within me, I know I played my part in my little way, which is what leadership is all about.
"I congratulate Nigerians and urge the elected to compensate the electorate with good governance. What is good governance? This people don't ask for too much. Give them basic things of life, like good schools, good roads, good health care scheme and affordable food, they are okay. They are not really interested in how much you take home at the end of your tenure once what they see as their welfare has been taken care of," he remarked.
To incur the wrath of Oba Alao now is to ask him about the affairs of Yoruba traditional rulers, as regards their relationship, which, in some quarters, is seen as unpredictable and volatile. One would be lucky if the Olugbon deliberately goes silent on the question. According to him, the public has no business in the affairs of traditional rulers who are all bound together by their special status as symbol of their forefathers.
"We should not abuse the so-called civilisation and turn traditional institution to subject of debate, especially on social media. To become a traditional ruler, one must have been destined. It is not about wealth or connection. So, the public should respect this and stay away from our affairs. I don't like to hear that this traditional ruler is not a friend to that traditional ruler. It is ridiculous, and the public should concentrate on other things and respect us as royal fathers," he admonished.
Since the Olugbon ascended the throne, hardly would he appear in public in a colour other than white when other traditional rulers are attired in colourful traditional ofi fabrics. One would be tempted to find out why Oba Alao sticks to all-white. Answering this question is as easy as the question itself.
"I have been fond of the colour white long before I became the Olugbon. I found the colour pure and holy and also attractive. It is a colour which guides you on your conduct knowing well that any mistake will reflect in the colour. You have to be very careful when you put on white. But I also like sky blue and brown. I must, however, admit that none of them can compete with white in my wardrobe," he said.