Worried by the influx of subscribers of mobile network providers in their retail outlets in major towns in Delta State, especially Warri and its environs, EBENEZER ADUROKIYA went to ascertain the cause and brings the report.
Mary, 19, was on her way from Airport Road where she had gone to buy a loaf of bread from a popular fast food bakery for dinner on a Thursday evening. After the purchase, she decided to board a tricycle, popularly known as keke,  home. Stopping a Keke that had only one passenger, an elderly man, she hopped in with her fancy bag containing her mobile phone and other valuables and placed the bag on her lap.
In the course of the short trip, the keke driver politely asked her to properly help him in tucking in the tarpaulin cover of the keke beside her seat. Noticing her struggling with the tarpaulin, an elderly man sitting beside her offered to help. When she was through, she noticed that the keke had arrived at her bus stop; she alighted from the keke and paid with the money she was holding in her hand. Some moments after the keke had driven off, she decided to make a call and that was when she noticed that her bag had been invaded! How come? She wondered and tried to bring out her phone only to realise that her phone was missing! It suddenly dawned on her that the man, who sat beside her, must have used one hand to collect the phone while he was pretending to be helping her roll up the tarpaulin! And to think she just bought the smart phone a week before that incident was heartbreaking!
The sad experience of Mary is common and also one of the ways phone thieves, who disguise as Keke riders and passengers, pilfer people's valuables across urban areas in Delta State such as Asaba, Warri, Ughelli, Agbor, Sapele and the rest.
In Warri and environs in particular, the act of losing one's valuables, especially phones in keke to either riders or their conniving passengers on transit, is commonly described as "hustling." The menace has made commuters scared and contributed to the worsening state of nightlife among the naturally convivial people.
It has, therefore, become common to see desperate individuals besieging outlets of mobile telecommunications provider's across the state to retrieve their stolen sim cards in order to restore their lines. A visit to one of the retail outlets of a giant mobile network provider in Warri revealed that virtually all the network subscribers had the same complaint of theft of their mobile phones while on transit in keke.
Speaking with Sunday Tribune on how his Tecno Pouvoir 3 Air which costs N30,000 in 2019 was stolen, 27-year-old graphic designer, Henry Wilfred, described his experience as shocking and inexplicable.
"I was going to church at DSC roundabout from Mofor, so I boarded a keke. When I entered, I don't even know how to explain it (laughs). It all started with the keke rider asking me how much I had on me. I told him N500, so he asked me to give it to him, but in the process of bringing it out, I don't know what happened and how it happened. He was still driving when I brought out the money and suddenly, he said he didn't have a "change" that I should alight, that he couldn't go any further!
"So when I alighted, I wanted to make a phone call and I reached for my phone in my pocket, only to find out it was already missing. And that was the end of it! I can't just explain how it happened," he said.
Another victim, Constance Ikogho, 24 years old, who lost his N69, 000-worth Tecno Camon 12 Pro, narrated his ugly encounter similar to that of Mary thus: "I entered a keke and told the driver that I was going to PTI road; he said I should board. There was one old man beside me. When we were close to PTI, he said I should help him tie the tarpaulin used to prevent rain from drenching the keke. I was tying it, but he said I wasn't doing it properly. So, the old man beside me shifted closer to me and was trying to show me how to do it, using one hand, but unknown to me that his second hand was already inside my bag!
"After tying the tarpaulin, the old man then told the keke man that he would soon alight that the driver should give him his 'change.' The driver asked me where I was going again and I said I was going to PTI road; he then said he was not going to PTI road again and that he would be stopping at Effurun Roundabout.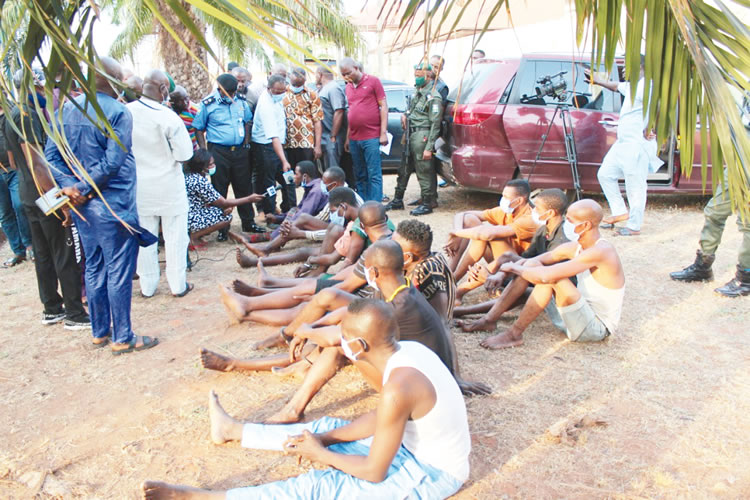 After complaining about him taking me halfway, I came down. The keke left, but while checking  the big bag I carried, I noticed that my small bag was opened and some items were already missing. I took another keke and pursued him, but unfortunately, because the road was so busy and too many kekes plying the road, I couldn't catch up with them. That was how my phone was stolen. So, before I could go to retrieve my line, they had already hacked my bank account and  transferred N20, 000 as well as used N4, 000 to buy airtime".
A graduate of Mass Communication from The Federal Polytechnic, Auchi, Wisdom Alokpa's story on how he lost his phone he bought with savings from his NYSC allowances drew some tears. According to him, "on Saturday 6th of March when I was coming back from the local government election, I boarded a keke from Main Market going to Igbudu Market. On our way, the keke driver said I should help him arrange the tarpaulin that was disturbing us in the backseat. While I was doing that, I never knew something funny was going on. I can't say what happened, I just don't know how it happened. On the way, he told me the fare was N150 instead of the usual N100. I protested I would pay N100, but he was still insisting on N150. To avoid an argument, I asked him to stop and let me alight from the keke and he did. Less than 10 seconds after I alighted from the tricycle, I just noticed that my phone was gone!
"I couldn't chase after them because they had gone far  and mingled with other keke. That was how I lost my phone. The thing has become too rampant and it's annoying. Some people say what they use juju to confuse people inside the keke."
A 63-year-old man, who declined identifying himself at one of the communication network outlets where he had gone to retreat his line, had a different experience in the keke he boarded as he was robbed at gunpoint.
"I boarded a keke at Orhuvworun. When I entered, I met two other passengers at the backseat; when we drove for like two poles away from where I entered, the guy close to me just brought out a pistol and pointed it at me, telling me to bring out all my money. I told him I didn't have money, he then snatched the phone from me and almost pushed me out of the keke. They are using the phone now to contact all my family members because up till now, I have not been able to block my sim", he lamented.
Another sextagenarian and businessman, John Maya, fell to the loafers who stole people's phones and other valuables via keke. "Early February, I went to the revenue house near PTI Conference Centre. So, I boarded a keke to Effurun Roundabout, a stone throw from where I'm going to stop. A man at the back said he had N500 and the keke man said I should bring the N50 I was holding to give to the man as 'change.' The keke man looked at the N50 that I gave to him and said it was torn that I should leave the money that I shouldn't pay. I thanked him and came down. After coming down, he zoomed off just for me to check my phone only to realise that it was already missing. Just like that!"
The last respondent believes mobile phone thieves on commercial tricycles in the state engage in diabolical means to hypnotise their victims before dispossessing them of their valuables. For Mrs. Gift Osaro, the thieving process, which usually takes the victims unawares, is a proof that the criminals use voodoo.
Venting her anger in pidgin, she conjectured vehemently: "See e no get watin anybody won tell me, na juju these boys dey use. Person go fear to waka for night come still fear to waka for daytime, for watin na? The juju wey dem dey use go fail them one day I believe. Because na juju dem dey use o, If nobi juju, how you go tell me say before person dey put hand for your bag, you no go feel am. Na juju they dey use for the people wey they dey thief from."
Meanwhile, security operatives, especially those of the Delta State Police Command, have begun to clamp down on thieves who use tricycles to dispossess commuters of their valuables. Speaking with the Police Public Relations Officer (PPRO), Bright Edafe, a Deputy Superintendent of Police (DSP), he said several suspects have been arrested in various parts of the state in connection with the mode of crime in line with the clampdown mandate handed by the Commissioner of Police, Ari Muhammed Ali.
According to him, between March 3 and 11, no fewer than six suspected phone thieves including a 16-year-old boy, Obi Ebie, had been arrested for stealing a Tecno Camon 15 phone valued at N63, 000, and other brand of phones using keke and possession of firearms.
He added that "the command has been working very hard to bring them to book, as a matter of fact, we have started recording successes."
With the aggressive clampdown on the high rate of people losing their phones to thieves inside tricycles especially in Warri and environs, it is believed that in no time, the number of suspected thieves, who use tricycles to pilfer people's belongings, especially phones, sometimes at gun, or knife point, would be a thing of the past.
YOU SHOULD NOT MISS THESE HEADLINES FROM NIGERIAN TRIBUNE
We Have Not Had Water Supply In Months ― Abeokuta Residents
In spite of the huge investment in the water sector by the government and international organisations, water scarcity has grown to become a perennial nightmare for residents of Abeokuta, the Ogun State capital. This report x-rays the lives and experiences of residents in getting clean, potable and affordable water amidst the surge of COVID-19 cases in the state…
Selfies, video calls and Chinese documentaries: The things you'll meet onboard Lagos-Ibadan train
The Lagos-Ibadan railway was inaugurated recently for a full paid operation by the Nigerian Railway Corporation after about a year of free test-run. Our reporter joined the train to and fro Lagos from Ibadan and tells his experience in this report…  police foil bank robbery  ;  police foil bank robbery  ;  police foil bank robbery  ;  police foil bank robbery.