The financing of the Nigerian civil war and its implications for the future economy of the nation
Full text of a lecture delivered by Chief Obafemi Awolowo, Vice Chairman of the Federal Executive Council and Federal Commissioner for Finance, under the joint auspices of the Geographical Society and the Federalist Society of Nigeria at the University of Ibadan, on 16th May, 1970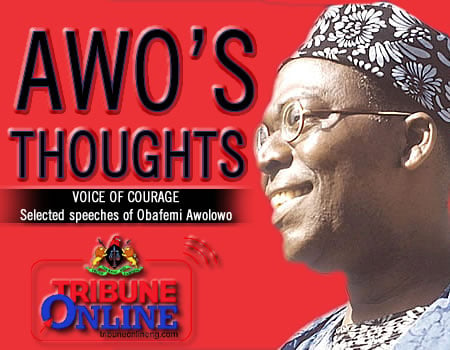 CONTINUED FROM LAST WEEK
THROUGHOUT the war we were extremely anxious to steer clear of balance of payments difficulties. We had no doubt that if we were faced with any such difficulties, we would have been subjected to unbearable humiliation and embarrassment. The supporters of Ojukwu, some of whom were very powerful and dominant in international finance, would have been too happy to seize the opportunity of such a financial crisis to subdue us, or, at least, to make things extremely difficult for us. They would certainly have exploited the situation to drive a hard bargain on behalf of the rebels. We, therefore, made up our minds to conduct our financial affairs in such a manner as to preclude our having to have recourse to the International Monetary Fund for anything, even for our Automatic Drawing Rights. It is not that the International Monetary Fund would not have been sympathetic. The important point which weighed on our minds was that the stringent and constraining circumstances antecedent to such a recourse would have dealt a shattering blow to our morale and self-confidence, and the country might, as a result, suffer diplomatic defeat on a number of fronts. So, we resolved to avoid this ugly eventuality; and the economy responded, beautifully and gratifyingly, to our desire.
In pursuance of the policy of conserving our foreign exchange reserve, we had had to cut down heavily on our imports. The importation of certain items of luxury goods was completely banned, and so was that of many items of necessaries which we were satisfied could be produced locally. Items of goods which were considered necessary, but which were not being produced locally were allowed to be imported, either without licence or under licence. For the purposes of the latter, a high-powered Import Quota Allocation Committee of officials was set up to ensure that licences were not issued in excess of freely available foreign exchange reserve minus the amount required for the purchase of military hardware.
Before the war, Commercial Banks kept and disposed of their foreign exchange earnings as they wished. Furthermore, the world was divided into Scheduled and Non-scheduled Areas; and it was stipulated that transfer of foreign exchange to Scheduled areas did not require the approval of the Exchange Control Officer. These arrangements created dangerous loopholes, which, whatever might be the rationale or justification for their adoption in the past, should not be tolerated under war-time conditions, and even under conditions of great need for rapid development. In order, therefore, to prevent leakages through these loopholes, and to have effective control of all the foreign exchange earned on all transactions emanating from Nigeria, we directed the Commercial Banks, operating in the country, to surrender all their foreign exchange earnings to the Central Bank. At the same time, we abolished the unnecessary distinction between Scheduled and Non-Scheduled territories of the world, so that any transaction in foreign exchange would have to have the approval of our Exchange Control Officer.
There are other avenues of possible leakage of foreign exchange which we had had to close. Only one of them need be mentioned. As you know, there were a good number of companies in Nigeria which were only tiny overseas tentacles of giant global octopuses. Their foreign exchange accounts, in so far as they related to Nigeria, were. not easy to ascertain. We could only rely on their good faith, and their word of honour, which we never doubted, for whatever figures they gave us. But we thought it would be much neater and more businesslike to put this state of affairs beyond the intangible pale of mutual good faith, and place it within the ambit of direct and independent arithmetical identification by our own officials. Accordingly, we amended the law to require all companies, operating in the country, to be incorporated under our laws. In this way, every aspect of their operations, including foreign exchange transactions, would be Nigerianised, and would thus become distinguishable from those of their parent companies abroad.
CONTINUES NEXT WEEK