The business of Christmas
Season of boom and gloom for traders
The season is always a time of celebrations. The business side of it is also interesting as lots of purchases are made. TADE MAKINDE reports that traders are complaining that they are not making enough sales, but not everybody is complaining.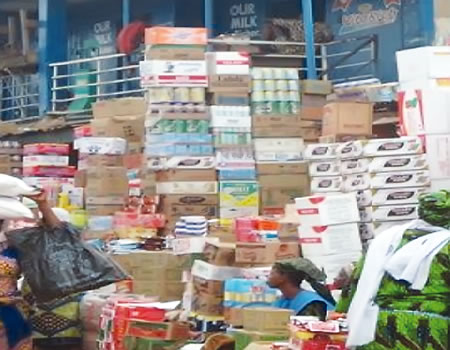 AS buyers make last minute purchases for their Christmas needs, traders are complaining of low patronage, occasioned by glut in the economy.
At Balogun market in the heart of Lagos Island, Christmas business was in full gear when Sunday Tribune visited. Traders have different opinions concerning what the situation is this year compared to what it was last year. Some even said there is no difference comparatively.
Mary Effiong sells foodstuffs, but according to her, the customers expected have not been coming, a situation she attributed to the bad economy.
"We just sit down all day with no one to buy anything. I have not seen this kind of dullness in the market with all the years I have been trading here in Balogun market. Since morning that I have been in the market there have been no customers. The customers usually arrive by 3pm and by 7 pm, no one will be here again. Even to buy clothes for children there is no money," she lamented.
Other traders like Samuel Obi, who sells footwears and 'Mummy Sadiq' a clothes seller, spoke of similar experiences despite the fact that Christmas is only a few days away.'
The situation is not different in Ibadan, Oyo State preparations are in high gear . Traffic had begun to build up as commercial activities continued to rise. Many people who told Sunday Tribune that they had saved for Christmas, said they had suddenly found out that their money could only buy a few goods.
Ade Fasehun is one of them. He had struggled to save a little above N30,000 and was optimistic of having a better Christmas this year compared to last year. He was disappointed as his N30,000 was not enough to buy what he had on his purchase list.
"Just under one year, and with serious hard work, I managed to save N30,000, but after three days of shopping, I have nearly exhausted the money. I am at a crossroads because there are still things to be bought, and I will also need some cash for other purchases. I have to take my kids to the cinema, parks, etc; it is not enough that I was able to buy them few clothes and shoes," he explained to Sunday Tribune.
A female employee of a new generation bank in Ibadan was spotted by Sunday Tribune on Wednesday night as she tried to convince passers-by to buy children's clothes from her, but her efforts did not yield much fruit.
"I needed to augment my monthly pay if my kids are to have a nice Christmas," she explained, adding that after her day in the office she often ends up at her mobile shop, which is her Sienna vehicle. That night, most buyers preferred to buy food items from traders around her.
"I made a mistake selling children's clothes just because I took the words of a colleague, who convinced me I could make money from selling the stuff. My younger sister had warned me that many Nigerians would spend their money on food items rather than clothes this festive season due to cash crunch.
"As a banker, I should have known that. Many customers who used to save money last year didn't do so this year. In fact, most of those we considered as middle class persons either took loans from micro finance banks to get by, or did not save much. It was hard getting cash this year and I have invested wrongly," she admitted.
The situation in Oja-Titun, Sabo, Ile-Ife, Osun State, is not in any way better as traders who lamented the sorry case of the economy exceeded those who appraised it. Most of the traders lamented that the economy has sorely affected buyers' patronage.
According to Adereti Caroline, who sells foodstuffs in the market, "business is not encouraging. There is no money. People are not buying anything, even for the Yuletide. We just pray God should give us grace and peace to celebrate it. Business is not moving at all. People desire to buy, but there is no money.
"When there is no money, there is no business. When there is no money, parents who want to buy things won't be able to. But there is nothing God cannot do. I have faith that with God, nothing is impossible. Things can change within the twinkle of an eye. Last year was better than this year's Christmas for sure. May God have mercy on us."
A trader in textile materials in the same market, Adegoke Sola, also acknowledged that the economic situation was affecting business but said that "Few buyers are coming around, hence we thank God."
Safejo Adenike, a pepper seller, would rather blame the nation's leadership for the current gloomy situation in the economy. As far as she is concerned, "there is nothing on ground. Nigeria has changed. Things are not right business-wise because we don't have good leaders. If we have leaders who are not greedy and corrupt, there would have been a boom in businesses generally.
"Our leaders strive for their pockets alone. There is nothing yet to show that the Yuletide is here with us. Things are dull, I've not sold items worth N500 since I opened shop today (penultimate Saturday)," she lamented.
If others were complaining, Mrs Akinborode, a seamstress is not. As far as she is concerned this is the season for people in her business and she is making the most of it.
"Ours is a seasonal business and Christmas is one of those seasons. We appreciate God because things have been bearable. People have been blessed to buy textile materials and they have been patronising us. Those customers who have been coming to sew clothes for the yuletide surely must have saved hard, or they earn huge salaries because it has been a difficult year for many. We still hope that more people will come as the festive season draws near. We have even started sewing overnight," she stated.
For Ezekiel Anifunshola Olapade, another textile and fabric materials dealer at Ogunpa market in Ibadan, the number of customers has been disappointing.
"It is dismally low," he complained. Continuing, he said: "Those who planned to buy five or more bales of our products, which range from N1,500 to 2,000 for each product depending on customer's financial capacity, usually end up buying just one or two. That reduction in quantity bought has really affected our business when it should have been the opposite because it's Christmas. Customers always save for Christmas. I don't know what has happened this year," he explained.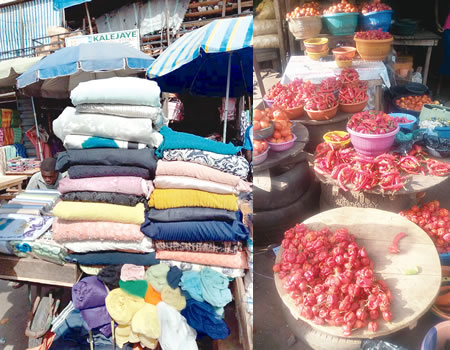 Asked what customers now buy the most despite paucity of cash, Olapade said there is nothing his customers wouldn't want to buy, but for poor finance. "So, we can't say actually the products that have been bought most. But we know very well that last year was more profitable for us.
"We don't know why things have gone wrong in the country this year, maybe it's because of the forthcoming elections, but then, the poor financial situations of most of our customers have negatively affected us. For most of our customers, if the government does not pay them, we will not be able to sell. Unless government begins to pay workers' salaries, which we will surely benefit from, things will surely get worse," he said.
Olapade, however believes in divine intervention. "We do hope in God for positive changes. Since we don't have any other business, we will keep on hoping in God that things change for better," he stated.
Mr Ola Alaso, a textile trader is also worried about the state of things. He had expected that at this time of the year and so close to a major election, workers would be paid backlog of salaries and incentives, but this was not so.
"They (customers) are simply not buying. This indicates that the economic situation of our customers is far from smooth," he stated.
Mrs Sholamu Wilson who sells shoes and bags at Dugbe market, in Ibadan, stated that most buyers are going for foodstuffs though patronage of last year was better than that of this year
Asked if customers are coming for her textile products she answered in the affirmative: "Yes, they are. Who doesn't wear clothes? People are buying what they can afford for themselves and we thank God. Though the market is competitive, yet we can have more customers by selling good products."
Also, for a beverage seller, who simply goes by the name Iya Aanu, this is not her season. "Only a few customers are buying beverages this festive period," she lamented, noting that the slow-moving business is giving her sleepless nights.
But it's not all gloom as some customers still buy a few things such as tomato paste, milk and other beverages from her.
Seyi Olatunde, a poultry seller at Bodija, Ibadan market, is however, smiling to the bank because he has sold out most of his turkeys.
"At N11,500 for males, and N5,000 for females, I have sold more at a higher price this year compared to last year," he declared beaming with smile.
Smart enough to observe a trend last year, Seyi stopped raising chickens this year and focused only on turkeys because, according to him: "its mortality rate is low compared to chickens, just as it is more profitable. By this time last year, I had sold less than half of my entire chicken stock, while I had sold over two-thirds of turkey. Now, I have sold 157 out of my 185 turkeys. I am sure to sell the remaining before Xmas
In another 48 hours, both traders and buyers would sit back and reflect on the holidays, analyzing how much had been spent and made. For some the business aspect of Christmas would have been worth the while; for others hope can only replace disappointment.
—Additional reports by Olamide Eniola and Shalom Orido.